Does Turmeric Body Oil help Your Skin Glow?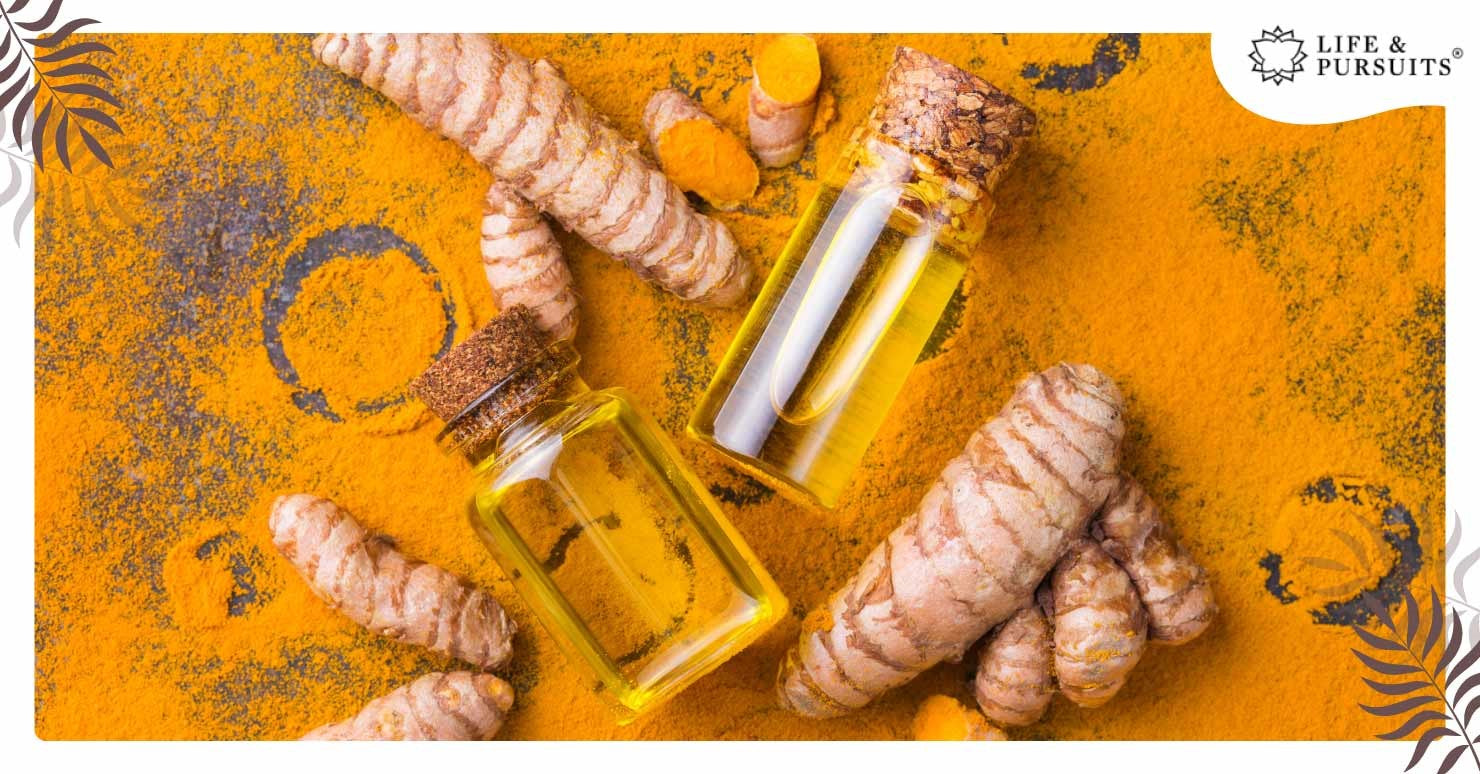 Turmeric, or the Indian Saffron, has been long associated as a herbal spice with multiple uses in cooking, medicine, and, more importantly, skincare.
Healthy skin is the one that is supple and blemish-free. But unfortunately, infections and harmful microbes dull the skin and affect its integrity. That's why we bring you a skin elixir—Life & Pursuits Turmeric Body Oil.
Thanks to its collagen-boosting properties, turmeric body oil works on the affected skin and smoothens the skin tone giving it a natural, healthy glow.
Read on to know more about the benefits of turmeric body oil for glowing skin:
7 Ways Turmeric Body Oil Can Help Bring Out Your Glowing Skin
Curcuma longa, the golden spice, has been a kitchen and skincare favorite in every household for over generations because of its revitalizing properties.
You can trust good old turmeric to do good to your heart, brighten skin, purify the blood and revitalize your system, and all you'd need is a pinch.
That's how potent this miracle spice is, and let's see why your skin needs a splash of turmeric now and then for that healthy glow:
1.  Makes your skin smooth and even-toned
Turmeric works beautifully on blemished and acne-prone skin, thanks to its anti-inflammatory properties, making skin even-toned and smooth.
Also, turmeric is an expert facial hair remover. And it's straightforward to use:
Combine turmeric with flour or cold milk and apply it as a facemask.
Rinse off with warm water and pat dry.
You'll notice unwanted facial hairs gradually reducing and stopping in time.
2.  Clears blemishes and spots
Turmeric Body Oil is an effective cure for hard blemishes, breakouts, and acne marks because of its collagen-boosting properties, which help reduce dark patches and clear difficult scars.
Turmeric also treats hyperpigmentation and clears skin infections that cause damage and acne.
3.  Removes tan and brightens the complexion
Turmeric is an expert dead skin removal agent. And thanks to this superpower, it is widely used in a range of cosmetic products such as chemical peels, exfoliating scrubs, and face masks.
The turmeric body oil would help create a healthy skin barrier that combats skin damage and replenishes its natural glow.
Turmeric body oil by Life & Pursuits is a specially formulated skin food that restores skin's natural radiance by balancing moisture and enhancing the overall skin tone. 
4.   Delays aging
The curcuminoid pigments in turmeric boost the production of antioxidants which delay the appearance of wrinkles and lines and enhance skin texture.
In addition, the presence of bioactive compounds shields the skin from pollution, damage, sun exposure, and harmful UV rays that damage the skin.
5.  Fights acne and skin infections
The turmeric body oil's antimicrobial properties manage the skin's microbes and protect it from acne-causing microbes that cause intense acne breakouts.
Antioxidants in the skin help strengthen its defense system that fights against radical damage and soothes damaged skin by preventive oxidative stress.
6.  Effective for sensitive skin
Turmeric is godsent for those of you with sensitive skin primarily because of its soothing quality. It evens out the complexion by fading dark spots and acne scars.
This keeps the skin smooth and soothes irritated skin. In addition, regular use of turmeric body oil promotes the function of skin membranes and boosts collagen resulting in luminous skin.
7.  Treats dryness
Life & Pursuit's Turmeric Body oil is a nourishing blend of oils that hydrates the skin and restores its natural moisture. Turmeric-infused oils replenish skin and strengthen the skin barrier by fighting against external damage and preserving its elasticity.
Collagen-boosting properties of turmeric quicken the formation of new tissues, thus keeping skin healthy and expertly delaying aging. A smooth and even-toned skin that's free from scars or breakouts automatically glows, and turmeric body oil works to heal your skin by restoring its natural glow.
Turmeric Body Oil by Life & Pursuits for a Golden Glow
At Life & Pursuits, we understand the goodness of nature and organic natural products. To preserve mother nature and, by extension, the human race from the harm of chemical processes and commercial cosmetics, we have a strict no-toxin policy. All our products contain 97%+ natural ingredients that are organically processed to store maximum efficacy and usefulness.   
Turmeric Body Oil is a heavenly combination of nutritious oils, like coconut, sesame, sunflower,, almond, argan,, moringa, and extracts of mulethi, green tea, turmeric, manjistha and amla, and Gotu kola making it an elixir for skin health and natural glow.
Turmeric helps with skin rejuvenation, while coconut oil and Vitamin E-rich argan oil gently repair damaged skin and provide long-lasting moisturization.
The super-light and non-greasy formula of turmeric body oil makes it an all-time favorite body oil. In addition, its non-comedogenic properties make it ideal for long-term use since it wouldn't clog pores.
Directions for Use:
Gently massage turmeric body oil on the skin in circular motions until it gets absorbed into the skin.
Wash it off with a mild cleanser, if necessary.
Best to use before bath as cleansing oil or during bedtime instead of night cream and wash it off in the morning.
However, we recommend a patch test on the elbow or neck before proceeding with actual use.
All our products are free from parabens, silicones, sulfates, and synthetic minerals that affect the environment and therefore are ranked green on the EWG safety index.
Check our skincare, face care, and hair care products for a toxin-free, natural skincare that heals, repairs, and rejuvenates the skin without the ill effects of its chemical counterparts. 
Take a look at our skincare range to learn more about Turmeric Body oil and other organic body oils for healthy, glowing skin. For a glowy, radiant, and healthy skin that feels fresh and bright all day, pamper yourself with a dash of turmeric body oil and let it soak in all the goodness.