Face Care
Ayurvedic Dosha Skin-Care Routines to Overcome Skin Dullness and Aging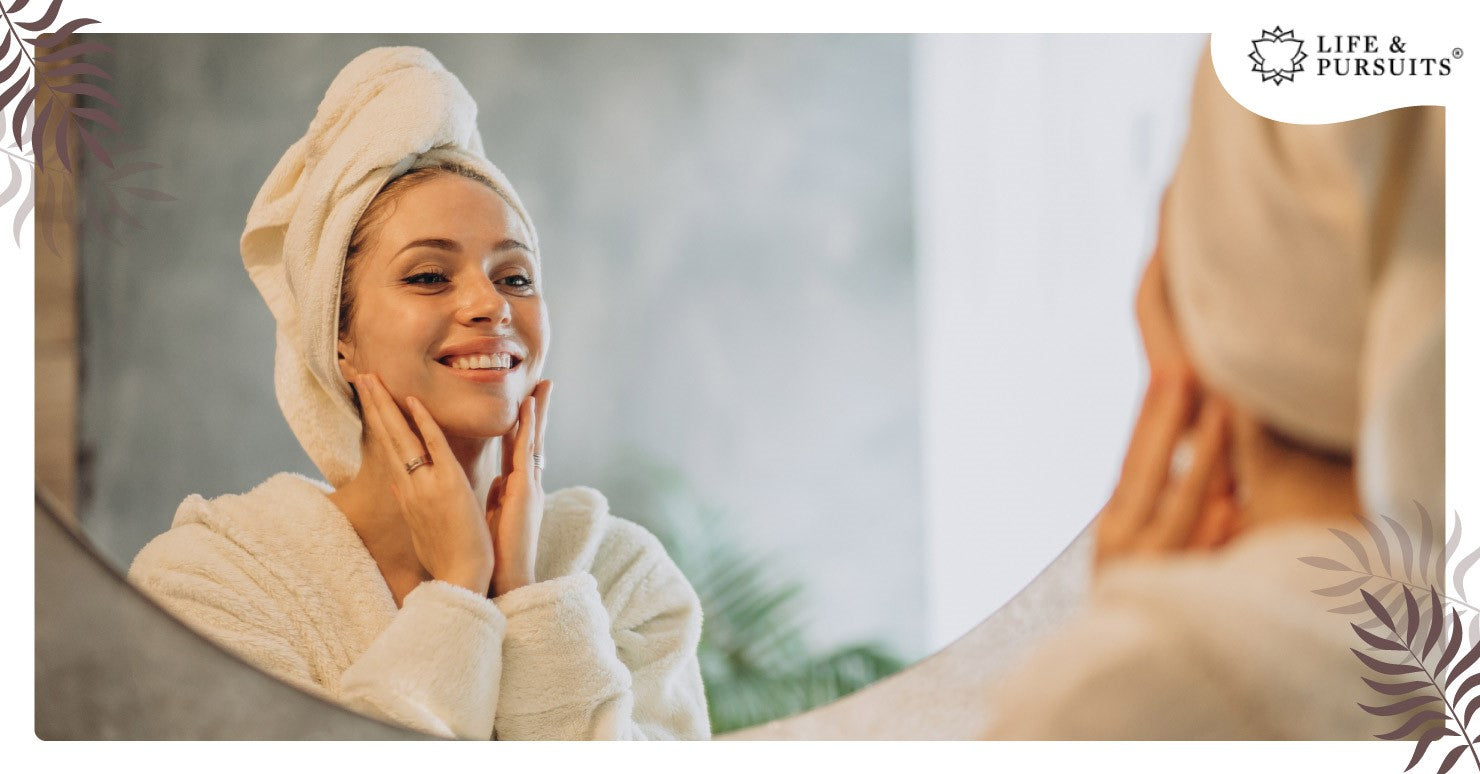 Dullness and aging skin is a cause of concern for many around the world. According to Ayurved, imbalanced doshas lead to skin problems like dullness and anti-aging. Let us find out the ideal anti-aging skincare routine as per doshas.

What is Ayurveda?

Ayurveda is a system of natural medicine from India that is over 5,000 years old. This ancient medicine practices restoration of life and balance within the body.

The basis of Ayurved is five elements:
1. Vayu (air)
2. Jala (water)
3. Aakash (space or ether)
4. Prithvi (Earth)
5. Teja (Fire)

These five elements make the three doshas or life forces. These include Vata dosha, Pitta dosha, and Kapha dosha, collectively called tridoshas.

How Do The Tridoshas Affect Skin Care?

According to Ayurved, there are different ways in which the three doshas can affect the skin. Any imbalance in the dominant dosha of the body can lead to various skin conditions.

Changes in lifestyle, diet, stress, and pollution can cause changes in the doshas. The three doshas and problems related to each are as follows:

Vata:

This skin type is prone to dryness and cracked skin which fastens the skin aging process. Vayu/air element governs the Vata dosha. It causes moisture evaporation from their skin, leading to dull, dry skin. They even develop more wrinkles and rough skin.

Pitta:

This skin type is fair, sensitive, and thin. It is prone to acne, moles, and freckles but tends to age moderately. Agni or fire elements govern the pitta dosha. It makes the pitta skin type prone to skin damage and photosensitivity.

Kapha:

This skin type varies from normal to oily, firmer, and ages slowly compared to the other doshas. Kapha governs Prakriti/ earth and water elements. Thus, the skin is cool to the touch and develops lesser wrinkles.

What Does Dull Skin Look Like?
The characteristic of dull skin is a rough, uneven appearance that feels dry on the touch. It tends to be more common in people over the age of 30. The Vata dosha aggravation leads to dull and dry skin.

You will observe pale, dull skin with the appearance of fine lines and wrinkles. Dull skin looks lifeless, pigmented, stretched, dehydrated, and loses its natural glow.

Rejuvenation of Dull Skin Using Ayurved Dosha Anti-Aging Skin Care Routine

Restore and maintain healthy skin balancing the doshas in the body. Ayurveda has anti-aging skin care routines to match the doshas and overcome dullness.

Let us look at the anti-aging skincare routine to cure skin dullness using Ayurved doshas.

Vata Dosha Skin Care Routine

Vata dosha skin type requires the most nourishment and hydration. It is prone to dryness and dullness. The best way to nurture dry skin is by
1. Cleansing the skin using organic honey and fresh rose cleanser.
2. Hydrating and moisturizing the skin using moisturizers, humectants, and emollients.
3. Finally, massage the face with facial oils to lock in the moisture and maintain a dewy look.

Pitta Dosha Skin Care Routine

Pitta dosha skin type is sensitive and prone to tanning, sunspots, and acne. It needs protection from sun rays. Cooling herb extracts such as aloe vera, rose, and jasmine help it stay nourished.

1. Use a face pack or ayurvedic Ubtan mixed with rose water.
2. Cleanse with water and spritz the face with a non-alcoholic facial tonic mist. It helps in the rehydration of the skin.
3. Apply a sun cream with SPF 25 to reduce the effects of sunburn.
4. Massage the face at night using a warm oil massage to replenish the moisture content.

Kapha Dosha Skin Care Routine

Kapha dosha skin type is dull, oily, and thick with enlarged pores. It is prone to cystic acne and attracts impurities from the environment.

1. Deep cleanse the skin using a Multani mitti ubtan (Fuller's Earth Clay).
2. Refresh the skin with pure rose water toner.
3. Apply light moisturizers with SPF 25 to protect the skin from sun damage.
4. Apply a night cream for rejuvenation of the skin.

Ayurvedic Face Masks for Dull Skin

Several natural remedies help overcome skin dullness caused due to imbalance of the doshas. One such remedy is an all-natural topical facemask for dull, dry skin as per Ayurveda dosha.

Rose Face Mask for Vata Dosha

Take 3 to 4 fresh roses and remove their petals. Take 2 to 3 tablespoons of milk (raw milk, if available) and one tablespoon of organic honey. Add it to a blender and blend into a fine paste. Apply on your face and neck and allow it to stay for 20 minutes. Wash off using lukewarm water. This face pack will help your skin look fresh, rejuvenated and reduce wrinkles.

Aloe Vera Facemask for Pitta Dosha

Take a fresh aloe vera leaf and carefully peel the gel from within it. Add one tablespoon of lemon, honey, and water to the aloe vera gel. Mix and apply it to the face for 2 minutes. Rinse with water. This face pack will help remove skin tan, reduce acne, and give you more youthful, radiant skin.

Sandalwood Facemask Suitable for Tridoshas

Mix a tablespoon of sandalwood powder with a spoon of powdered almonds. Add 1 to 2 tablespoons of milk and make a paste. Apply it to your face and neck and allow it to dry. Wash with lukewarm water. Sandalwood facemask works well for all skin types. It helps remove blemishes, spots, and skin infections and has anti-aging effects.

There are different anti-aging skin care routines for dull skin caused by Ayurveda doshas. Following the correct anti-aging skincare routine is necessary for the best results. Life and Pursuits have many organic, natural remedies to overcome skin dullness. The Saffron Face Oil helps reduce dark spots, moisturizes dry skin and gives a healthy glow.

Find your ayurvedic dosha to manage skin imbalances. It takes a lot more than moisturizers to maintain healthy, glowing skin. Consume a diet and follow an anti-aging skincare routine as per your Ayurveda dosha for younger, radiant skin.