Hair Care
Brahmi Hair Oil - The Solution for Every Hair Problem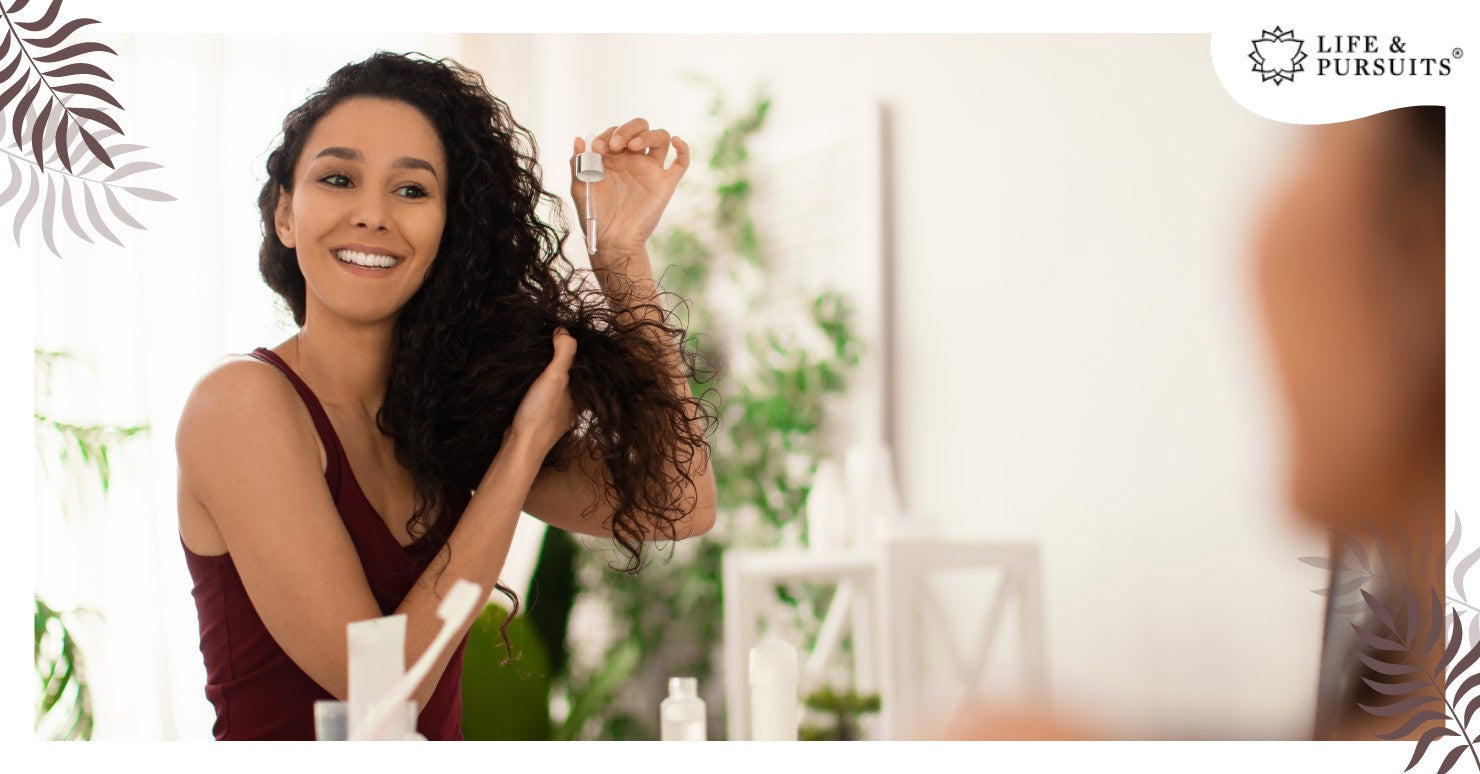 Ayurveda has been known to treat myriad ailments, and Brahmi hair oil is no different. Known as the 'herb of grace,' Brahmi hair oil promotes long, thick, and lustrous hair. Brahmi is derived from Bacopa monnieri and has been used medicinally for centuries due to its wide array of benefits. Brahmi encourages hair growth and strengthens and fortifies each strand, resulting in voluminous, thick hair. Massage with its oil also improves blood circulation to the hair follicles and soothes the scalp.
This article will further explore how the herb of grace can do wonders for the health and beauty of your hair and scalp.
The 5 Amazing Benefits of Brahmi Hair Oil
When it comes to having healthy, strong hair, Brahmi is one of the key ingredients you'll want in your haircare routine! Why? Because the incredible benefits of Brahmi can transform your hair for good!
1. The Ultimate Split End Solution
Let's face it; split ends are a common problem, and they occur when the tips of your hair become damaged and split. Between hot hairstyling tools, product overuse, and hair coloring, getting split ends can be practically inevitable. But you don't have to live with dry, damaged hair.
Brahmi hair oil is an all-natural way to protect your hair against split ends, dryness, and itchiness. It also gives your hair a lustrous shine while keeping it healthy. Brahmi hair oil, as a preventative measure, can help you avoid those pesky split ends and keep your hair looking fabulous.
2. Say Goodbye to Hair Loss
A wide variety of reasons can cause hair loss, but one of the most common is the lack of nutrients, and Brahmi is packed with nutrients that strengthen the roots of your hair. This wonder herb has been used for centuries to treat hair fall, promote hair growth, and stop hair loss and thinning. Applying it regularly will keep your hair roots well-nourished. Brahmi hair oil is also an excellent natural remedy for treating dry scalp. The antioxidant components not only help in rejuvenating your scalp but also promote the growth of healthy hair.
3. Say Hello to a Clean, Healthy, and Dandruff-Free Scalp
Brahmi is an excellent scalp-nourishing herb that leaves the scalp healthy, hydrated, cool, relaxed, and dandruff-free. It balances the scalp's natural moisture levels, efficiently moisturizing it and preventing any moisture-related issues. Brahmi hair oil is rich in fatty acids and antioxidants that protect the scalp from various genetic and external factors that can cause swelling, dandruff, and other scalp conditions. It also absorbs excess sebum and moisturizes the scalp, making it ideal for those who suffer from dryness, flakiness, or irritation.
4. Long, Thick, and Beautiful Hair Is No Longer a Dream
Brahmi contains many nutrients, like calcium, vitamin C, and zinc. These nutrients enrich your hair follicles and boost hair growth. Applying Brahmi hair oil to your scalp strengthens your blood vessels and stimulates hair growth.
This wonderful herb, known to promote hair growth, is also one of the best medicinal herbs used to treat hair loss. It contains high levels of phytochemicals and minerals that stimulate hair growth and increase each hair strand's thickness and volume. Brahmi makes hair voluminous, with a natural shine and bouncy texture. It is rich in essential fatty acids for the overall health of your hair and scalp.
5. Stop Graying in Its Tracks
Going gray is a natural process that happens to everyone, but if you start seeing gray hair appearing prematurely, it can be quite a shock. Most people don't go gray until they're well into their 50s, so in your 20s, it can be quite a bummer. So what can you do about it? You cannot reverse gray hair, but you can reduce further graying by using Brahmi hair oil.
Brahmi hair oil is believed to prevent graying by supplying essential nutrients to the hair follicles, protecting the hair pigment, and promoting circulation in the scalp. 
How to Use Brahmi Hair Oil for Amazing Results
To use Brahmi hair oil, warm it slightly (being careful not to make it too hot), then apply it directly to your scalp and hair. Brahmi hair oil is most effective when massaged gently into the roots. Leave it on overnight and wash it off with a mild shampoo the next day. Regular head massages with Brahmi hair oil will promote better blood circulation and encourage faster hair growth.
When massaged into the scalp, the oil is absorbed quickly and efficiently. Brahmi is usually combined with sesame oil or coconut oil to create a potent mixture that will leave your hair looking and feeling fantastic.
Why Choose Life & Pursuits?
At Life & Pursuits, we offer organic Ayurvedic wellness and personal care products. Our products combine the ancient wisdom of Indian Ayurveda with the modern quality standards of the West.
All our products are carefully formulated by Ayurvedic Physicians with the support of Cosmetic Chemists, ensuring the purest, most potent blends.
We are a purpose-driven organization aiming to create awareness about the harmful chemicals and toxins in everyday products. We believe that everyone has a right to know what they put on their skin and hair. With this knowledge, they can make more informed choices about their products and ultimately lead healthier lives.