Hair Care
How to Use Life & Pursuits' Maha Bhringraj Hair Oil for Curly Hair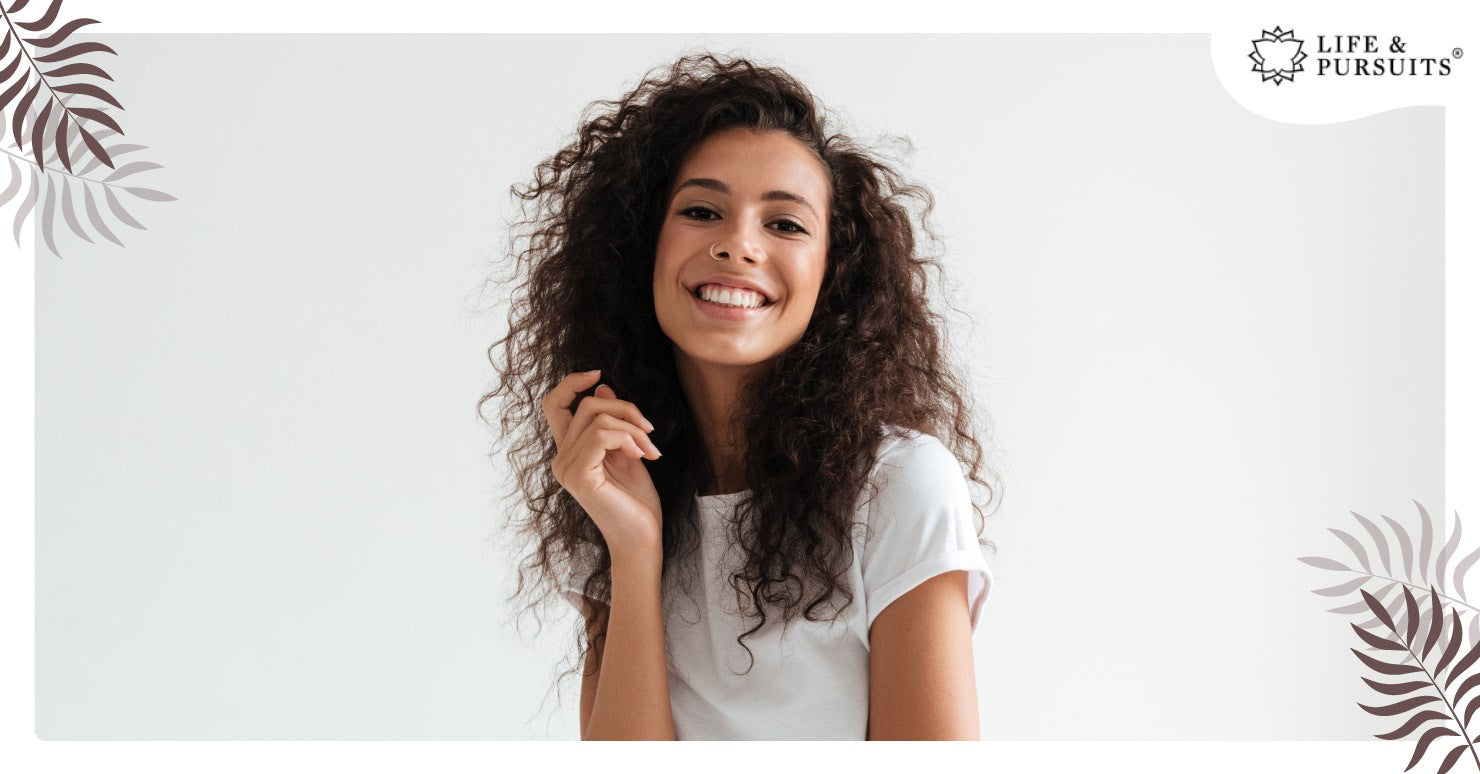 Your curl crown has the power to turn heads as you walk down the street. Use the potent Maha Bhringraj hair oil and see for yourself!
Managing curly hair requires dedicated efforts, and (sometimes) it may even add to the everyday stresses of life. Curly hair beauties can have a tough time keeping their hair healthy and lustrous. But some things are worth putting effort into, would you disagree?
Maha Bhringraj hair oil is a great solution to protect and maintain all hair types. The Organic Bhringraj Hair Oil by Life & Pursuits is one miracle oil that can solve all your hair-related issues, regardless of whether you have wavy, curly, or kinky hair.
In today's post, we'll show you how to use Maha Bhringraj hair oil for your mane and look gorgeous. But first.
What Is Maha Bhringraj Hair Oil?
Maha Bhringraj hair oil is a herbal oil made using Bhringraj leaves and holds a special place in Ayurveda. This oil is a powerhouse of vitamins, proteins, antioxidants, and nutrients. Hence, you can consider it the best solution for all your hair problems.
A massage with Maha Bhringraj hair oil offers the best nourishment to curly hair. It increases hair growth and adds softness. Since curly hair is prone to dryness, dullness, and frizz, applying Maha Bhringraj hair oil can be significantly beneficial.
Benefits of Maha Bhringraj Hair Oil
Bhringraj is also known as "Kesharaj" (meaning "Ruler of the hair") in Ayurveda. Let's take a look at the benefits of this hair oil.
1.    Boosts Hair Growth
Massaging your scalp with Maha Bhringraj hair oil causes Vasodilation (your body's natural process in which the blood vessels widen). This results in better blood circulation, and ultimately you can witness a steady boost in hair growth if you keep practicing it regularly.
2.    Controls Hair Fall
It's no secret that people with curly hair experience a lot of hair fall. Numerous factors, such as exposure to pollution, lack of nourishment, everyday stress, and lifestyle choices, contribute to damaged hair.
Using Maha Bhringraj oil weekly will help in controlling hair fall. Regular massage with the oil can help you relax, prevent hair fall, and also make your curls more manageable due to the added moisture.
3.    Treats Scalp Infection
Bhringraj extracts are effective against several hair-and-scalp-related problems. One of them being scalp infections.
In humid weather, curlies with thick hair often end up with sweaty scalps, dandruff, and even infection. Maha Bhringraj hair oil has antimicrobial properties that can help you deal with such scalp infections.
4.    Improves Hair Health
Curly hair has a mind of their own. They are wild and unmanageable. Moreover, humid weather, nutritional deficit, improper hair care, etc., only add to the troubles here, making them look dull and lifeless. All curlies know that a shiny curly bob is more enticing than dried long hair (hair health >>> hair length).
A massage with Organic Bhringraj Hair Oil by Life & Pursuits deeply nourishes your hair and provides the necessary minerals to fight dryness and dullness. The blend contains 7 certified organic ingredients suited for all hair types and textures.
Using Life & Pursuits' Maha Bhringraj Hair Oil
This amazing hair oil can be used as it is or combined with other ingredients to make a nourishing DIY hair mask. Follow the massage routine mentioned below to enjoy the goodness of Ayurveda on a regular basis, or jump onto the next section to discover DIY hair masks for curly hair.
Following are the steps to apply Maha Bhringraj hair oil:
Warm up the oil in a microwave or pan for a better experience. It shouldn't be too hot to touch.
Massage the warm oil into your scalp in a circular motion for 15 minutes and apply some to your hair length.
Make a bun/braid and leave it on for a minimum of 30 minutes or keep it overnight. Wear a satin bonnet or sleep on a satin pillowcase to avoid staining your sheets. Additionally, you can use a heat wrap to open up the cuticles allowing deep penetration into the hair strands.
Wash it off with a mild (Sulfate-free) shampoo and follow up with your usual styling ritual.
Note: People with type 4A–C hair can also use this oil in their styling routines.
Best DIY Curly Hair Masks With Maha Bhringraj Hair Oil
Incorporating Maha Bhringraj hair oil into your everyday hair care routine can help you achieve dream-like curls.
This is why we couldn't wait to share a few DIY hair masks made with this wonderful oil with you. These DIY packs can be used for wavy hair (2A–C), curly hair (3A–C), and kinky hair type (4A–C).
●      Nourishing Protein Hair Mask
Ingredients: 1 egg + 2 tablespoons of Maha Bhringraj hair oil
Mix both the ingredients well in a container, and the superfood for your hair is all set. The mixture should be enough for medium-length hair.
This protein mask will nourish your hair, improve hair texture, control hair fall, and add life back to your hair so that the result is more defined curls.
●      Moisturizing Hair Mask
Ingredients: 2 teaspoons of hibiscus powder + 4 tablespoons of Maha Bhringraj hair oil
Take both the ingredients in a container, stir nicely and leave it to rest for about 5-10 minutes (if possible, leave it under the sun for better results). The colorful mixture is good for medium-length hair; you can adjust the proportions accordingly.
Use this DIY deep conditioning mask to make your curls soft and frizz-free. It also reduces dandruff and gives you soft and bouncy curls.
How to Apply
Now that you know the best DIY masks for your curly hair, it's time we tell you the steps to apply these masks.
Hair masks work the best on clean hair. So, start with cleansing your hair using your regular shampoo.
Apply your DIY hair mask to your scalp and hair and work through different sections.
Let the mask sit for 15-20 minutes under a heat cap (if you are using the protein mask) or for 30-45 mins ((if you are using the moisturizing mask).
Wash your hair with a mild shampoo and rinse thoroughly.
A Quick tip – Do not over-shampoo your curly hair as they tend to be dry. Shampoo only when you feel your hair is dirty or too greasy.
Continue with your regular styling routine.
If you are okay with wearing protective hairstyles outside, try a different method. Wash off the hair mask using only water, and rinse thoroughly. Then air-dry, make a protective hairstyle, and keep it like that for a day or two. You can go with your regular wash-day routine the next time. Do this once a month, and you'll notice the difference.
Wrapping Up
Maha Bhringraj hair oil can be the holy-grail product that you have been waiting for to get bouncy and healthy curly hair. This versatile product can be used in multiple ways; whether you want to add it to your deep conditioning mask or enjoy a rejuvenating head massage, Organic Bhringraj oil will not disappoint you.
This hair oil promotes hair growth, strengthens follicles, reduces dandruff, and prevents hair loss.
Want to know what else you can do to improve the health of your locks naturally? Check out this post for a complete guide!