Hair Care
3 Ways To Reduce Frizziness and Split-ends with Amla Hair Oil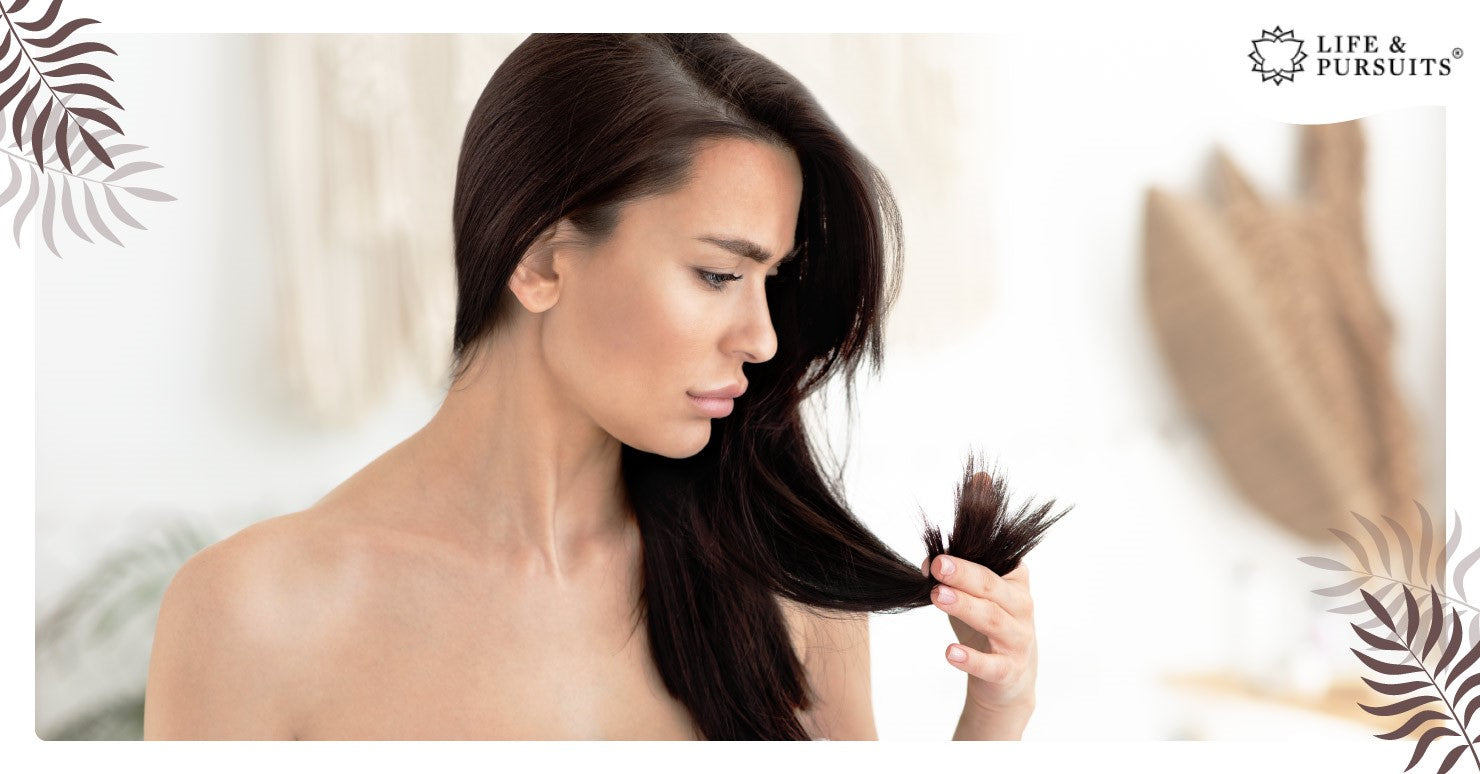 Living in a hot and humid climate brings more than just rain – it brings frizz and split ends!
It can be frustrating to deal with frizzy hair, especially when nothing seems to work. As for split ends, they are the ultimate indication that your hair may be weak and damaged.
As annoying as these hair problems are, one can never be sure what causes them. However, what one can be sure of is the solution to these hair problems– amla hair oil.
There has been a devoted following for this natural beauty oil for centuries. It is used to deal with frizziness and recover damaged hair, strengthen hair, reduce hair loss, and much more.
Nevertheless, what do the scientific studies say? Here's the lowdown on everything you need to know about the oil and its benefits.
What is Amla Hair Oil?
For years, people have been obsessed with Amla, the Indian Gooseberry. Amla oil is traditionally made by steeping dried fruit in a base oil. Then, the oil is purified and filtered.
Here are some of the facts to know about amla oil that makes it such a wonder ingredient for haircare:
The roots of Amla oil belong to Ayurveda, the traditional Indian medicinal system.
It may have various positive impacts on your hair due to its high vitamin C content, antioxidants, and polyphenol content.
Many essential fatty acids strengthen the hair follicles and give them strength and luster.
It's a topical treatment for your skin, hair, beard, or scalp.
Exciting, right? Now let's move forward to how Amla oil can help you combat your hair problems.
Amla Hair Oil For Frizzy Hair
Amla oil is a fantastic conditioner for hair because it is high in vitamin E and fatty acids. It works wonderfully to eliminate frizz while leaving the hair silky and lustrous.
With regular use, it can help you control and manage your frizzy hair to a great extent.
Amla Hair Oil For Split Ends
Amla hair oil is a great ingredient for naturally achieving healthy, strong, and thick hair. Amla works to replenish nutrients in your hair while hydrating and nourishing your dry locks, healing split ends, and strengthening follicles.
Additionally, the oil shields your hair from external aggressors that can cause further damage. Applying it to your scalp and hair strands can be very beneficial if you have split ends, dry hair, dry scalp, color-treated hair, or heat-damaged hair.
Other Benefits of Using Amla Hair Oil
That's not all. Ayurvedic practitioners say amla hair oil has a lot of other benefits including:
Amla oil is high in carotene and antioxidants, thus stimulating hair follicles and promoting hair growth.
Amla oil can potentially be a successful treatment for hair loss since it can block the enzyme 5-alpha reductase, which encourages hair growth and strengthens roots.
Massaging Amla oil into your scalp can help loosen dandruff and make it easier to get the buildup off your scalp when you wash your hair. It also keeps your scalp nourished and clean enough to reduce flakiness, itchiness, and dandruff.
3 Ways To Apply Amla Hair Oil To Reduce Frizziness and Split-ends
Amla hair oil is a must-have in any hair care routine, as it can be used to combat frizz as a styling serum, overnight as a strengthening hair treatment, or before washing your hair for a deeply conditioning ritual.  Here's how:
Overnight amla hair oil repairing treatment
Brush your hair and massage the Amla hair oil into your scalp for an overnight repairing and conditioning treatment. Cover your pillow with a silk cloth to avoid friction and frizz, and sleep peacefully knowing that your hair will absorb all nutrients locked in the amla hair oil.
Simply wash it out in the morning with a repairing and conditioning Shampoo and Conditioner. Make sure to wash off the oil thoroughly from your hair. Repeat once or twice weekly for restored, healthy hair that is irresistibly nourished, soft to the touch, and frizz-free.
Amla hair oil quick conditioning treatment
Alternatively, if you are running short on time but want to treat your hair with some love and care, you can try this quick treatment. All you have to do is take a generous amount of amla oil on your palm, rub it, and massage it on your scalp and strands a 45-60 minutes before washing your hair.
This gives your follicles plenty of time to absorb all beneficial nutrients before rinsing and gives you healthy and shiny hair.
Amla hair oil as a frizz control serum
Another great way to use amla hair oil is to apply it as a frizz control serum. You can put a few drops of the oil on damp hair after a shower so that it absorbs easily into your hair strands.
You can also create a mixture of water and Amla oil, store it in a spray bottle, and spray it onto your hair ends and mid-lengths.
This will give your locks added moisture, frizz control, and protection if you have dry, frizzy, or split ends.
However, use a natural or Ayurvedic amla hair oil that suits your hair. Don't forget to run a patch test before using the oil on your hair.
The Best Natural Hair Oil For You- Life & Pursuits Amla Brahmi Hair Oil
When choosing hair or skin care products, nothing can be better than opting for natural, organic, and ayurvedic products.
Life & Pursuits ensures that you get only the best products packed with all the goodness of nature and ancient ayurvedic treatments.
One such product that can work wonders for your hair is Life & Pursuits Amla Brahmi Hair Oil. It is a perfect blend of organic ayurvedic extracts to nourish and condition the scalp and hair.
The oil promotes hair growth, strengthens hair follicles, nourishes hair, fights frizz, adds shine, and prevents breakage and split ends. Moreover, it is suited for all hair types, textures, and age groups. Sounds great, right?
Get yourself the best hair care treatment for frizziness and split ends with amla hair oil and achieve healthy, shiny, and soft hair.