Face Care
5 Facts About Bakuchiol Oil - Nature's Alternative to Retinol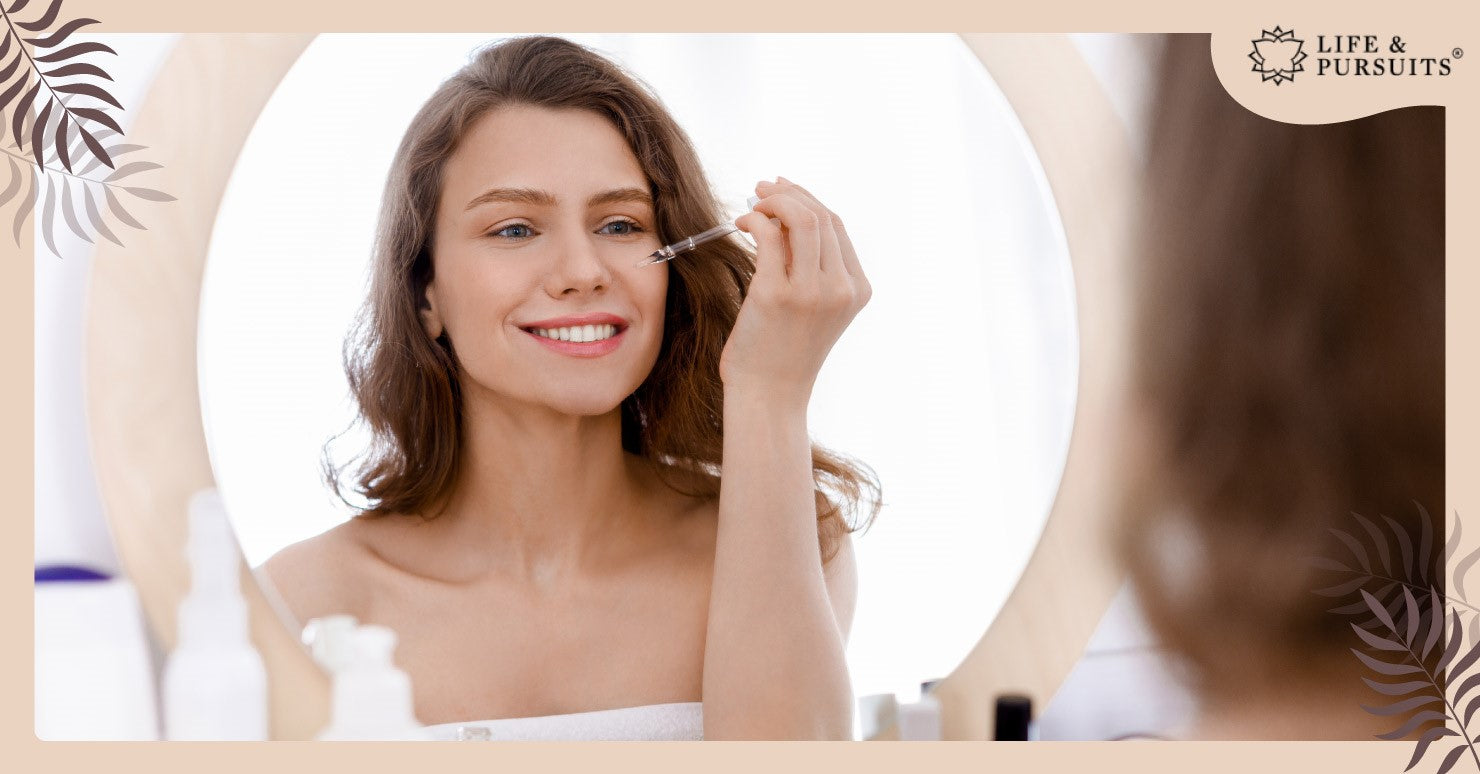 Tricky to pronounce, but Bakuchiol is the miracle ingredient your skin needs. The natural retinol alternative is said to have several benefits for your skin, and currently, Bakuchiol oil is hitting mainstream skincare as a powerful ingredient.
Bakuchiol is a vegan, plant-based extract that works for acne and signs of aging and has complexion-improving properties too. A lot of people have incorporated Bakuchiol oil in their skincare regimen, especially people who follow minimalist skincare but want to address multiple skin-related concerns.
Here's everything you must know about Bakuchiol before you buy Bakuchiol oil to make your skincare routine more effective.
What Is Bakuchiol?
Bakuchiol is a compound found in the seeds and leaves of the plant Psoralea corylifolia or Babchi. This plant which grows in the Indian sub-continent and Southern Africa, is popular for its antiseptic properties.
Babchi is a herb widely used in Indian Ayurvedic medicines and Chinese medicines. The plant-based ingredient helps to heal, soothe, and calm the skin due to its anti-inflammatory and antibacterial properties.
Bakuchiol Oil for Skin
Bakuchiol is known as nature's retinol. It is effective for several skin issues but does not make your skin sensitive to the sun like retinol. In fact, Bakuchiol works well for sensitive skin.
A study mentions that while retinol may make your skin irritated, Bakuchiol oil is an effective and tolerable option. Here are a few benefits of this potent ingredient:
Helps with anti-aging - Bakuchiol oil has anti-aging properties. It reduces the appearance of fine lines through skin cell regeneration like retinol. It plumps up your skin, reducing wrinkles and restoring skin firmness.
Suits all skin types - Bakuchiol oil can be used by anyone just by changing the concentration a little. It works well for every skin type - dry, normal, and sensitive skin.
Helps in skin healing – Bakuchiol promotes cell turnover and regeneration. It has anti-inflammatory properties that help to soothe the dull & damaged skin and heal from the inside out.
No dryness or irritation – As mentioned, Bakuchiol oil suits all skin types. Unlike retinol, the plant-based extract does not dry out your skin or cause irritation. Bakuchiol oil is gentle and is not known for causing any skin irritation.
Even toned skin – Bakuchiol oil deeply penetrates the skin, thereby reducing hyperpigmentation, acne marks, and the appearance of dark spots and blemishes.
Prevents oxidation – Bakuchiol contains antioxidants that prevent oxidation of excess oil and keep your pores clean. Also, you can fight unwanted bacteria with Bakuchiol as it has antibacterial properties.
5 Facts About Bakuchiol Oil
Bakuchiol oil has grabbed a lot of attention recently with its effectiveness. Being a natural ingredient, people prefer products infused with this oil over other skincare products like retinol which has side effects.
But before you get your Bakuchiol product, take a look at these five facts about the plant-based, vegan ingredient popularly known for its anti-aging properties.
#1. Bakuchiol Manufacturers
Sytheon is the primary Bakuchiol manufacturer. The company is a leading vendor to cosmetic brands or skincare companies that require Bakuchiol for any specific product like Bakuchiol oil.
The company has a unique extraction method that is cruelty-free and yields vegan produce. The manufacturer extracts just the Bakuchiol molecule (>99%). This method allows the manufacturer to achieve an exact concentration of 1% to be added to skincare products.
#2. Babchi Seed Harvesting
The Babchi plant is widely available, and they are wild-harvested and not farmed. There are guidelines that companies harvesting Babchi seeds must follow to ensure sustainability and biodiversity. These guidelines prevent the manufacturing companies from overharvesting the seeds, thereby contributing to agricultural exploitation.
Sytheon uses cruelty-free processes to manufacture Bakuchiol. The company's website has detailed everything about its sustainability policies.
#3. Bakuchiol vs. Retinol – The Anti-aging Ingredients
Bakuchiol works like retinol to target collagen and melanin production. The plant-based ingredients rose to popularity in 2018 from a study published in the British Journal of Dermatology.
The study highlights a few major aspects of Bakuchiol vs. retinol.
Both Bakuchiol and retinol help achieve even skin tones and brighten your skin.
12 weeks post the use of Bakuchiol and/or retinol significant reduction in fine lines and wrinkles was witnessed. While Bakuchiol decreased wrinkles by an average of 19%, retinol reduced them by an average of 23%.
Note that the difference in average wrinkle reduction rate (19% by using Bakuchiol and 23% by using retinol) may also happen as a result of different sample sizes of the research and study design.
Apart from the above two points, what makes Bakuchiol slightly better than retinol is that, unlike retinol, Bakuchiol does not cause irritation, dryness, or burning sensation.
#4. Bakuchi Oil Extraction
Extracting Bakuchi oil from Babchi seeds is a complex process. To extract pure and concentrated Bakuchiol oil, a special extraction method called monomolecular extraction is used.
If Babchi seeds are cold-pressed or expeller-pressed, you can have Psoralea corylifolia seed oil. Again, if the extraction is carried out with a solvent like acetone or ethanol, you will have the Psoralea corylifolia leaf and seeds extracts. But these are not pure and concentrated Bakuchi oil. They represent unrefined carrier oil.
Though these carrier oils contain some amount of Bakuchiol, they can cause skin irritation if the concentration of unwanted substances like psoralens is high.
#5. Bakuchiol Is the Best for Beginners
Are you just starting with an anti-aging skincare routine? Then, Bakuchiol is the best option to power up your regime.
The ingredient is natural, and there are no side effects reported from applying Bakuchiol oil. However, when incorporating the plant-based anti-aging alternative, ensure that you get the oil from a trustworthy organic brand like Life & Pursuits.
On the other hand, if you are past your first aging signs, go for retinol. This is because Bakuchiol isn't as well-proven as retinol.
Wrapping Up
Bakuchi oil is undoubtedly one of the best skincare ingredients that's natural, effective, and has no side effects at all. It minimizes the signs of aging, tightening your skin and restoring the lost elasticity.
Furthermore, Bakuchiol oil also helps to brighten the skin, thereby reducing dark spots and blemishes. Overall, it makes your skin even toned.
So now that there's no doubt about the power of Bakuchiol oil, you should make it a part of your skincare regime. Start using, see the difference, and spread the word!
Looking for a trustworthy brand? Explore Life & Pursuits and get the best products for your skincare regime now!
Also Read: Why Bakuchi Face Oil is the One Grooming Product Every Man Should Have