Hair Care
5 Unputdownable Reasons to Start Using Aloe Soothing Hair Oil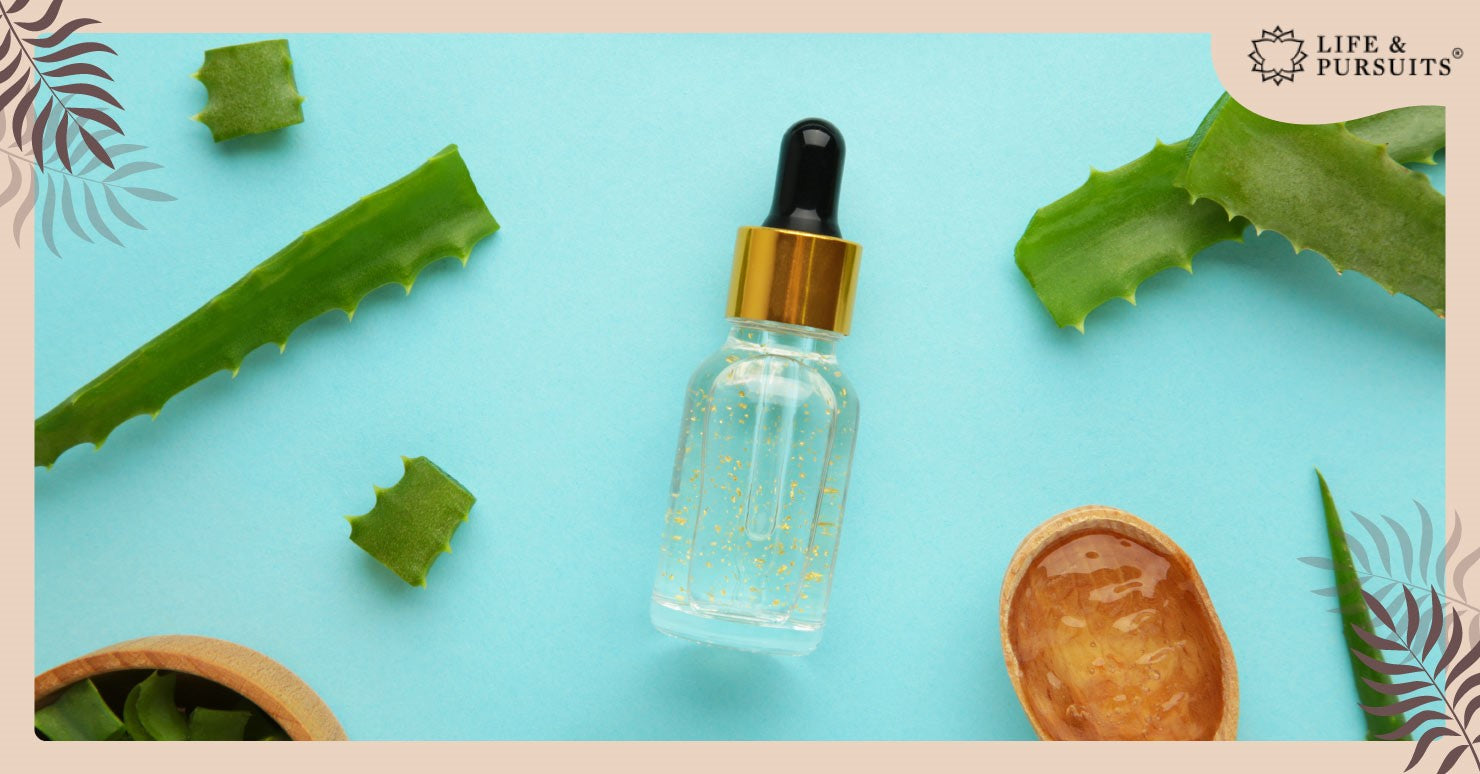 Think salon-like hair, think wavy, silky mane, and think frizz-free styling experience. Aloe vera does all that to your hair and more. From boosting volume to eliminating breakage, you'll fall in love with aloe as you start using it. Soon, you'll experience its numerous benefits not just on hair but on your skin and body too.
Medically and physically, aloe vera has multiple health benefits with almost nil side effects making it the most precious succulent ever. And they're straightforward to grow at home.
All you need to do is pot it and place it in sunlight. Being a succulent, it needs very little water to grow and is practically low maintenance. And for the ones who can't grow them, there's the Organic Aloe Soothing Scalp Oil (aloe vera and a mixture of precious oils and herbs) for you.
Continue reading to find out how you can reap bountiful hair using the Aloe Soothing Scalp oil and some exciting tips to use raw aloe vera on your scalp.
Aloe Soothing Hair Oil: The Complete Hair Care Package
Aloe vera's gel-like consistency makes it ideal for giving a hydration boost to your skin while the succulent's natural soothing properties cool the scalp.
When combined with natural oils like coconut, olive, or tea tree, aloe packs so much goodness into the scalp that every day becomes a good hair day.
This is Organic Aloe Soothing Scalp Oil for you: a concoction that combines the unputdownable benefits of aloe vera with other, equally precious herbs and organic oils.
Let's dive into the incredible benefits of using the Aloe Soothing Hair Oil and why you should have one in your kitty:
1.   Strengthens hair
Aloe is a powerhouse of essential amino acids, fatty acids, and vitamins A, C, E, and B-12, hair elixirs. Also, aloe vera has a chemical structure similar to keratin - the protein responsible for strengthening, nourishing, and repairing hair.
Additionally, it helps retain moisture longer in hair strands, making the scalp and hair strong, nourished, and hydrated.
2.    Promotes hair growth
The proteolytic enzymes in aloe help clean the excess sebum and dirt on the scalp and unclog the follicles in hair. Clearing unwanted sediments helps nutrients enter the hair follicles and boost hair growth. Aloe promotes deep cleansing and quickens the growth of strong and healthy hair.
3.   Soothes the scalp
Aloe soothing hair oil by Life&Pursuits contains the goodness of ingredients like ginger and coconut oil which help control the itchiness and irritation on the scalp by cooling it.
Aloe also treats flaky scalp and dandruff that aggravates itching by soothing the scalp and removing excess dirt.
4.   Conditions hair
Aloe Soothing Hair Oil, as the name indicates, has aloe and a mix of conditioning ingredients like sunflower oil, coconut oil, tea tree oil, tocopherol, and castor oil.
These ingredients combine to make hair as soft as silk by eliminating all signs of frizz and breakage. Aloe also helps create a strong moisture barrier which helps hair stay hydrated for a long time giving it a shiny, healthy texture.
5.   Keeps scalp squeaky clean
Aloe vera extract helps remove dirt, balance sebum secretion, and protect from pollution - the absence of hair pollutants automatically keeps your scalp and hair cool and clean. Happy hair results in a happy face and aloe's superior cleansing abilities make it indispensable for hair health.
Ways to Use Aloe Vera on Hair
The Organic Aloe Soothing Scalp Oil is an excellent daily hair maintenance formulae. Alongside this oil, we also recommend using raw aloe vera for added benefits.
The best part is that aloe vera gel needs very little preparation time for application—all you need to do is scrape the gel from the leaves and pulse it to the desired gel-like consistency.
Listed below are three ways to use aloe vera extract:
You can combine it with the natural oil of your choice - olive, coconut, castor, etc., or apply the extracted gel on your scalp as a hair mask and leave it on for 30-40 mins before rinsing it off with a mild shampoo.
If you don't have the time for a pre-wash routine, we recommend using aloe gel for hair wash. How? Simple. Squeeze some aloe and mix it with your regular shampoo. This would automatically work as a shampoo plus conditioner for your hair and make it soft and naturally shiny.
Or, you can use aloe as post-wash conditioning. Doing so would keep the moisture intact and efficiently detangle hair without causing any breakage.
Aloe Soothing Hair Oil: A Must-Have from Life & Pursuits' Haircare Range
Life & Pursuits combines the wisdom of Ayurveda and scientific research to deliver organic haircare, skincare, and baby care products prepared with 97-percent-plus natural ingredients.
Our personal care range consists of meticulously sourced ingredients that are potent and toxin-free with maximum goodness stored in them.
 Now, why choose Aloe Soothing Hair Oil by Life&Pursuits?
Aloe Soothing Scalp Oil contains aloe vera, tea tree, shea butter on sunflower, castor, and coconut oil
The presence of actives like extracts of ginger, ajwain, Brahmi, methi, and Shatavari, provides relief from dry, itchy scalp.
Tea tree oil stimulates hair follicles and boosts hair growth and regrowth.
Shea butter provides deep nourishment and soothes the itchy scalp.
This unique blend of organic, cold-pressed oils, and the goodness of ayurvedic herbs, increase volume and improves hair integrity.
Aloe's inherent ability to soothe and calm guards hair and scalp against dryness and dandruff. Combined with camphor, lemon, peppermint, and rosemary oils, aloe soothing hair oil calms the scalp and ensures proper hydration, leaving it fresh, clean, and bouncy.   
Oh, and we did tell you about our no-toxins policy, didn't we? We are strictly against parabens, heavy metals, synthetic fragrances, synthetic colors, and other harmful chemicals like sulfates, phthalates, hexane, formaldehyde, and silicone. And all our products are green-marked on the EWG safety index.
With complete transparency and the promise of the safest ingredients, we deliver sustainable cosmetic and personal care products that are environment-friendly and rank high on efficacy.
Check our skin care, baby care, and hair care products for authentic and chemical-free personal care products.
Aloe soothing hair oil is a heavenly formulation of power-packed ingredients that repairs, nourishes, and hydrates hair from root to tip. Pamper your hair with a daily dose of aloe oil.