Hair Care
Best Ways to Deal With Hair Loss During Winter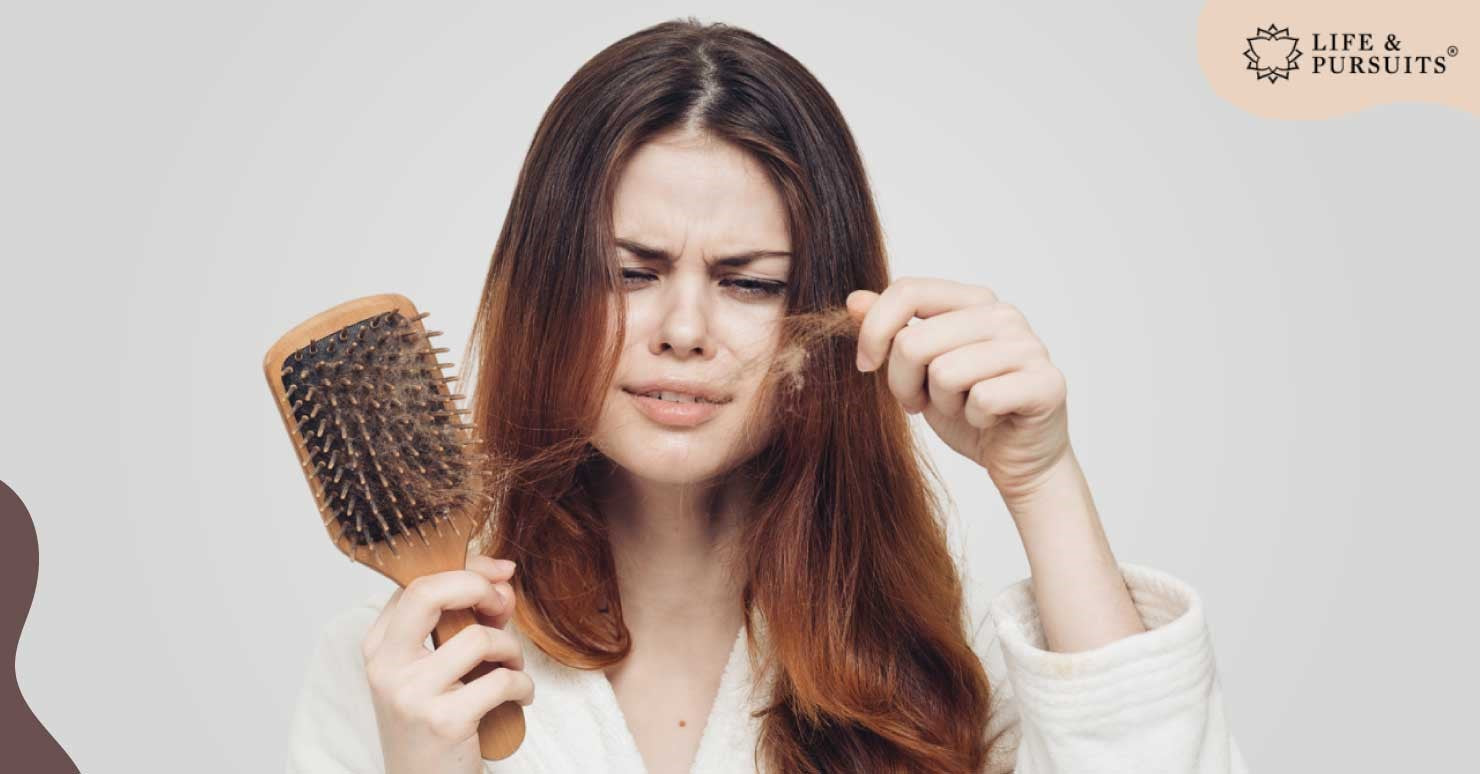 Winters are  a time when our hair becomes
frizzy
 and we experience hair loss,. while combing.  If you see a lot of hair on the floor after a shower,  don't panic. The reason for excessive hair loss in winter is due to the dry air, This can also result in hair damage and breakage of hair strands. Dandruff also increases due to dry scalp leading to itchiness on scalp! 
Enough of these problems! Let's talk about the solutions. Life & Pursuits has a range of ayurvedic products that can help with hair loss problems during the winter! The bhringraj oil is the answer to all your hair issues. 
Here are 4 Ways to Deal with Hair Loss during Winter 
Oil massage
Scalp massages help detangle and remove the frizziness from your hair in the winter. The Bhringraj oil helps by deep conditioning and increasing the  circulation in your scalp which in turn  makes your hair follicles stronger!
Take a few drops of the Bhringraj oil,  massage your scalp, and leave it for an hour or longer before you wash your hair. It penetrates deep into the hair follicles and makes them healthier.  It also has hair vitamins that keeps your hair frizz-free and healthy.  Massaging with the essential oil maintains the shine of your hair and ensures good nourishment.
The Bhringraj oil also reduces dryness and prevents itchiness!
Eat healthily and stay hydrated

Make sure you eat the right vitamins, for example Vitamin B or B12. . Vitamin B12 helps in promoting healthy hair growth and increases hair density.
Make sure that your diet includes essential vitamins and minerals. Vitamin A provides sebum to the scalp to keep it healthy. Vitamin E promotes blood circulation in the scalp and keeps the hair follicles healthy. 
Nutritional deficiencies can lead to excessive hair loss as the scalp is unable to produce new hair follicles. It is important to make sure that you consume sufficient greens and proteins. Fish, curd, soya, tofu, eggs, and meat promotes hair growth and reduces hair loss.
Keep yourself hydrated during the winters. Drinking water and other healthy liquids keep your hair hydrated and prevents split ends! 
Use hair products that are right for your hair.
To achieve shiny and radiant hair, its important that you use the right hair products. The Bhringraj oil from Life & Pursuits is the best way to control hair loss during the winter. 
If your hair is dry, use products that will help with conditioning. Conditioners help in moisturising and retaining the moisture on the outer layer of the hair, hence your hair looks healthier and radiant. It also keeps your hair hydrated and prevents it from getting brittle. It  ensures that your hair is protected, that it has a layer of protection over the strands, and that it doesn't look dull or lifeless.
You can also use natural home remedies and apply them to your hair to keep the shine intacted. These remedies can be practised two to three times a week. Aloe vera gel is a commonly used natural remedy that helps hair retain its radiance and shine.  
Avoid taking hot showers
It's winter and we tend to take hot showers, did you know that its not good for your hair health? Heat damages your hair and taking long hot showers makes your hair more frizzy. Although lukewarm are okay for you as the water can keep you comfortable and not damage your hair.
Try and reduce the use of curling irons, straighteners and even blow dryers as excessive heat can damage your hair.  You should use a hair protection spray before using all of these hair styling equipment as your hair cannot take extreme heat.