Hair Care
Can Herbal Hair Oil Prevent Itchy Scalp in Winters?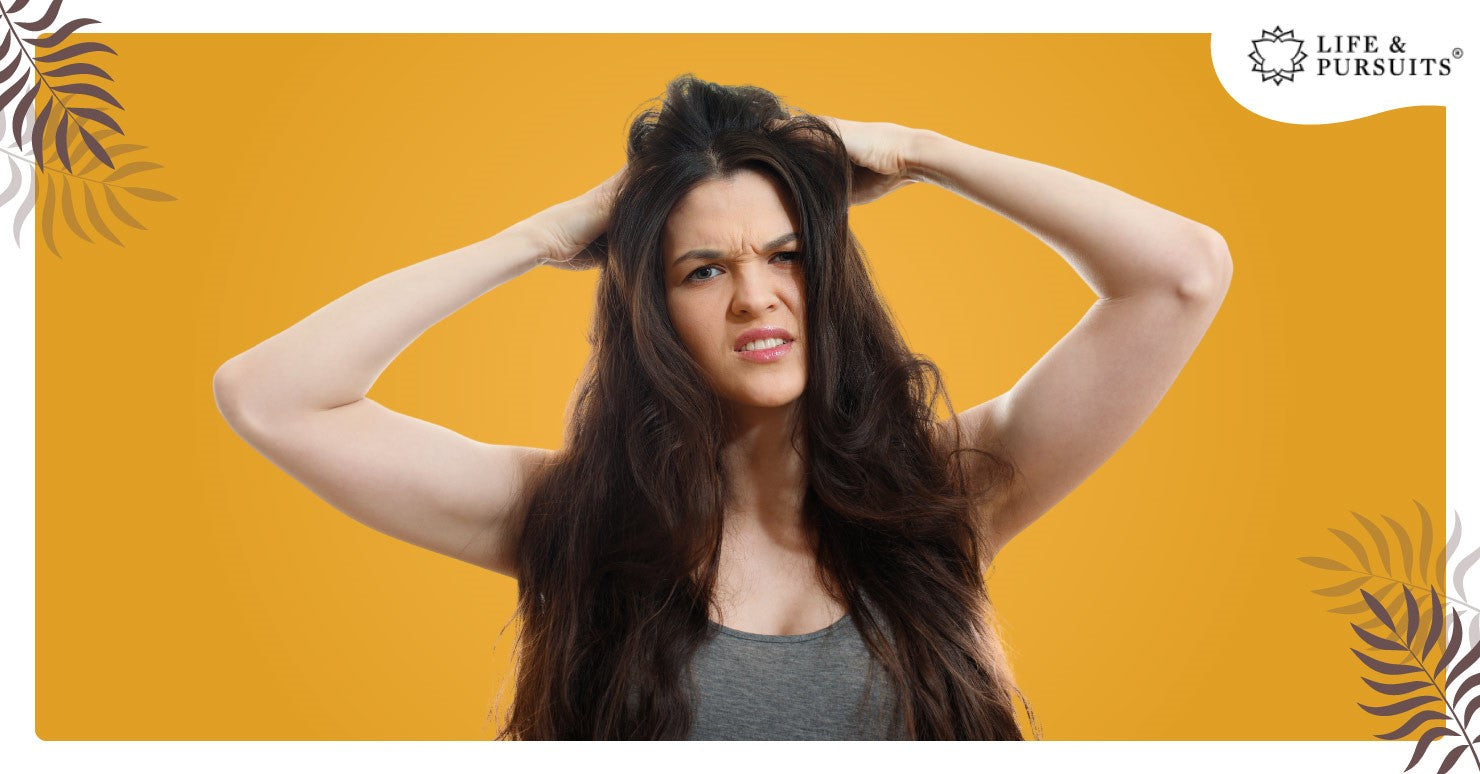 Dealing with an itchy-dry scalp can be exasperating as an itchy scalp frequently accompanies dandruff. These factors make the winter season particularly unfavorable for good hair days.
You're not alone in this. According to statistics, over half of the world's population fights with this on a regular basis. But that doesn't mean there aren't any itchy scalp remedies available.
Itchy scalp in Winters: Causes and Symptoms
Signs of an itchy scalp can sometimes be seen with the naked eye. Your skin may become scaly or flaky, for instance. Sometimes, though, you may have an itchy scalp despite the absence of any outward symptoms.
Dandruff is a significant contributor to itching in the wintertime of the scalp. The effects of cold or dry air might escalate this further. Aside from dry air, an inflammatory skin disease called seborrheic dermatitis can also be responsible for making your head itchy in the winter. Stress, pressure, an overgrowth of yeast on the skin, a shift in the weather, or a shift in hormone levels might all play a role. Itchy, flaky, or irritated scalp are frequent complaints.
This article will explore home treatments and strategies for avoiding itchy scalp throughout the winter.
Natural Hair Oils for an Itchy Scalp During the Winter:
Here is a list of natural oil treatments to help you get rid of your itchy scalp this winter!
1. Argan Oil:
Because it is rich in antioxidants, using Argan oil for your hair is unquestionably wise. It is also excellent for adding moisture to your hair and scalp since it soothes dry scalp and prevents irritation. Aside from that, it has a pleasant scent and effectively moisturizes dry skin.
Take a few drops in the palm of your hands and spread evenly. Then, massage your head for around ten minutes, improving blood circulation. After the massage, cover your scalp for 10 minutes using a shower cap or heat cap.
And lastly, follow up with your regular hair-care routine with the shampoo and conditioner. You can do this a few hours before your shower or even leave the oil overnight.
2. Bhringraj Oil:
Bhringraj oils are perfect for soothing your itchy scalp and preventing it from drying. In addition, it promotes hair growth and provides rich nutrition for the scalp and roots of the hair.
We recommend Bhringraj Scalp Hair Oil, which consists of a potent blend of therapeutic herbs such as Bhringraj, Amla, Hibiscus, Neem, and others. It is recommended to massage this hair oil into your scalp 2-3 times a week for at least three months to keep all hair issues at bay.
3. Aloe Scalp Oil:
Aloe vera's antimicrobial and soothing properties can help you evade itchy scalp in winter. This natural moisturizer is your best bet for achieving silky, tangle-free, dandruff-free hair.
Apply the organic aloe scalp oil to your scalp, leave it for about 15 to 20 minutes, and then wash up with regular shampoo. To maximize benefits, do this technique twice weekly.
For best results, you can check out the Organic Aloe Soothing Scalp Oil, formulated with ginger and coconut oil, which hydrates and soothes the scalp to prevent itching and flaking. Its nourishing composition supports a healthy scalp and enhances natural conditioning. Additionally, it also moisturizes your hair deeply to prevent frizz and dryness.
Few Tips for Your Winter Hair Care Routine
What if we told you that an excellent, hassle-free, easy-to-follow itchy scalp treatment is your hair wash routine? Yes, you read it right. A proper hair washing routine may do wonders for soothing an itchy scalp.
Read on to learn some things to take care of about your hair wash routine so you don't get an itchy scalp.
1. Select a Hydrating Anti-dandruff Shampoo
To alleviate an itchy scalp, you must use a hydrating anti-dandruff shampoo, particularly in the winter. \Mild Shampoos with active components such as zinc pyrithione, salicylic acids, etc. will keep your hair moisturized but will also protect your hair from dandruff-causing micro-organisms that create an itchy scalp.
2. Wash Regularly
Not washing your hair regularly leads to the flakiness of the scalp and may cause dandruff. Therefore, during the winter, one must wash their hair at least once every week to prevent the chances of dandruff and an itchy scalp.
3. Avoid Extremely Hot Showers
We are aware that winter requires hot, steamy showers. While this may feel pleasant, it can dehydrate your hair and skin. Therefore, it is essential to avoid using hot water. Instead, lukewarm to cold water effectively moisturizes the scalp and hair and locks in that moisture.
If you can't do away with hot showers, make sure to go for a cold rinse at the end of your shower to prevent moisture loss.
4. Massage Thoroughly
Every time you wash your hair, you should thoroughly cleanse it by massaging your scalp since this promotes blood circulation and maintains the cleanliness of your scalp. Remember to use fingertips only (not your nails) and apply light pressure while doing this.
Take Away
As it is clear that scalp oiling is key to solving major hair problems like drying and itchy scalp in winters, it is equally essential to use toxin-free natural hair oils. In addition, regular massaging of the scalp using our recommended products can do wonders for your hair and keep your scalp hydrated.
You can also check out other Ayurvedic hair, skin, and face care products from Life and Pursuit by clicking here.