Skin Care
Golden Elixir of Skincare - 7 Benefits of Turmeric Body Oil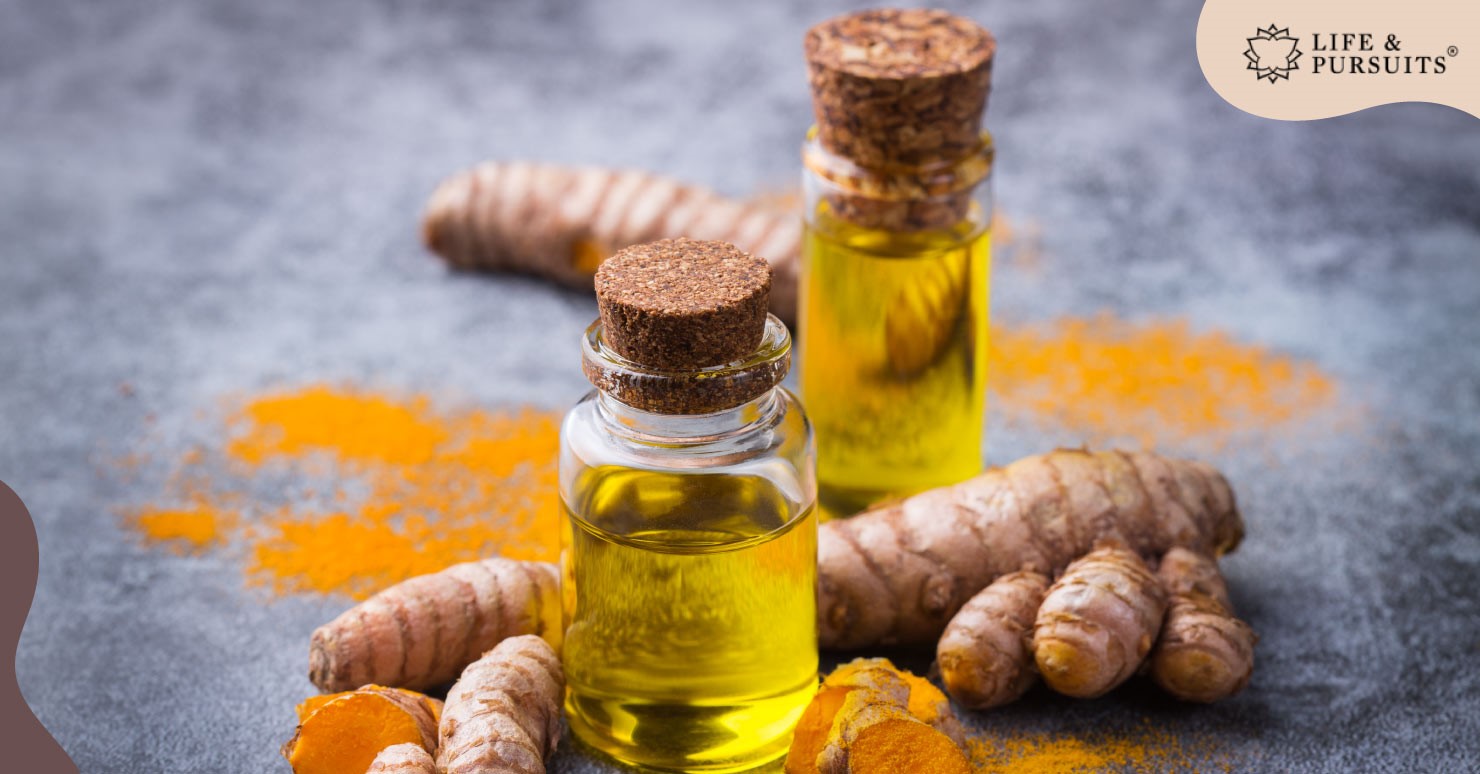 We're always amazed to find efficient ways to take care of our skin. We can't go for expensive spa facials or high-end beauty products all the time, but it doesn't mean we can't enjoy the luxury or advantages of these procedures!
Turmeric is a wonderful beauty ingredient for eliminating blemishes, providing a glow to your complexion, and combating hair loss. Turmeric essential oil, like turmeric powder, is extracted from the roots of the turmeric plant and has multiple anti-microbial properties.
So, let's see the whats and hows of turmeric body oil as a beauty agent.
Also Read: 5 Reasons Why Facial Oils are Dry Skin's Superfood
What is Turmeric Body Oil?
Turmeric is most commonly linked with the finely powdered spice that is used as the major ingredient in curry recipes to lend a natural, vibrant orange-yellow color; however, this plant and its byproducts have a long and varied history. Primarily grown in India, Turmeric has been traditionally used in both culinary and cosmetic applications, as well as religious observances as a symbol of peace, health, happiness, fertility, purity, prosperity, and new beginnings.
Turmeric oil is derived from the roots of the   by steam distillation, as is the case with most essential oils. Today, this Essential Oil made from distilled Turmeric rhizomes, also known as root stalks, may be used in the same way as traditional turmeric powder, and its warm, earthy, woody scent can even provide emotional advantages.
NOTE- Before applying essential oils to the skin or hair, keep in mind that they should be diluted with carrier oils. Do not apply turmeric oil to your skin directly. Before using it, combine it with a carrier oil such as coconut, olive, jojoba, or apricot oil.
What are the Skin Benefits of Turmeric Body Oil?
Turmeric was once widely utilized as a beauty element in practically every home. The use of this miracle spice has decreased as a result of urbanization and the availability of new skincare products on the market. However, it's time to rediscover this golden spice and reap its benefits as a skin elixir.
1. Anti-aging solution
Turmeric essential oil has a lot of benefits for turning back the clock and restoring a youthful, bright appearance. It noticeably reduces wrinkles, fine lines, and sagging in the face, cleanses, tones, and tightens pores, and imparts enough moisturization to revitalize dull, dry skin, thanks to its astringent characteristics and ample antioxidants.
Mix 4 drops of turmeric oil + 4 tbsp almond oil.
Use your fingertips to massage your face, concentrating on the wrinkles. Wipe away any excess oil with a tissue.
Include this in your evening routine to prevent symptoms of aging.
Also Read: Why organic aloe vera gel is the wonder herb you need this summer
2. Aids to cure skin infections
Turmeric essential oil has anti-inflammatory properties as well as anti-bacterial and anti-fungal properties, making it ideal for treating skin infections, dryness, and rashes. Applying a thin coating of this regenerating essence to peeling, irritated tissues relieves eczema, dermatitis,, as well as healing wounds and soothing damaged skin.
3. Pimple outburst treatment
Turmeric essential oil has bioactive components that effectively reduce skin irritation. It's a fantastic home remedy for treating acne flare-ups since it reduces swelling and redness, and soothes damaged, peeling tissues. Turmeric herbal body oil has a light consistency and may be applied to the face smoothly to help regulate sebum oil production and preserve the skin's pH.
4. Removal of scars and lesions
Acne is a skin disorder that arises when dead cells, dust, and germs clog the pores of the skin. Once severe acne has healed, it might leave scars.
Turmeric Oil is a popular rejuvenating component in skincare routines due to its high content of antioxidants and renowned ability to retain the skin's softness, smoothness, and natural shine.
Mix 1-2 drops of Turmeric Oil with 2 tbsp of Apple Cider Vinegar or 1 tbsp of a preferred Carrier Oil.
Gently massage the mix into wrinkle-prone regions of the face, such as around the lips and nose, as well as the forehead and neck.
This not only moisturizes, but also promotes elasticity, cleans acne-prone skin, and brightens and evens out areas damaged by excessive sun exposure.
5. Helps in relieving inflammation
Turmeric oil contains curcumin, a natural anti-inflammatory ingredient that can provide instant relief from inflammation.
Add 4-5 drops of turmeric essential oil to a carrier oil like coconut, jojoba, or olive oil to make an anti-inflammatory mixture. Apply to the problem area.
6. Cracked heel treatment
Turmeric oil may be used to treat cracked heels since it is a powerful therapeutic agent.
Before sleep, mix a few drops of turmeric oil with 2 tbsp coconut or castor oil and massage liberally on your feet.
Regular usage will develop soft heels in no time.
7. Lightens skin tone
Curcumin, present in Turmeric, helps lighten the skin and minimize hyperpigmentation. Exfoliation with turmeric oil aids in skin tone evenness. This makes turmeric oil the best candidate for removing dead skin cells and brightening the complexion.
Mix 1 teaspoon of turmeric oil with 1/2 teaspoon of chickpea flour.
To produce a fine paste, thoroughly combine both the components. Massage the paste onto your face and neck in circular strokes.
Allow 20 minutes for the paste to set before rinsing with warm water.
Life and Pursuits' Organic Turmeric Body Oil
Here at Life & Pursuits, we take pride in the fact that our items are created organically and naturally. We are an entirely cruelty-free company.
We believe in providing long-lasting care using reliable products. There are no parabens, sulfates, or mineral oils in our Organic Turmeric Body Oil. It is also free of artificial scents and colors. So you can be certain that when you use this product on your body, you're using organically grown materials directly harvested from nature.