Skin Care
How To Use Turmeric Body Oil To Lighten Tanned Skin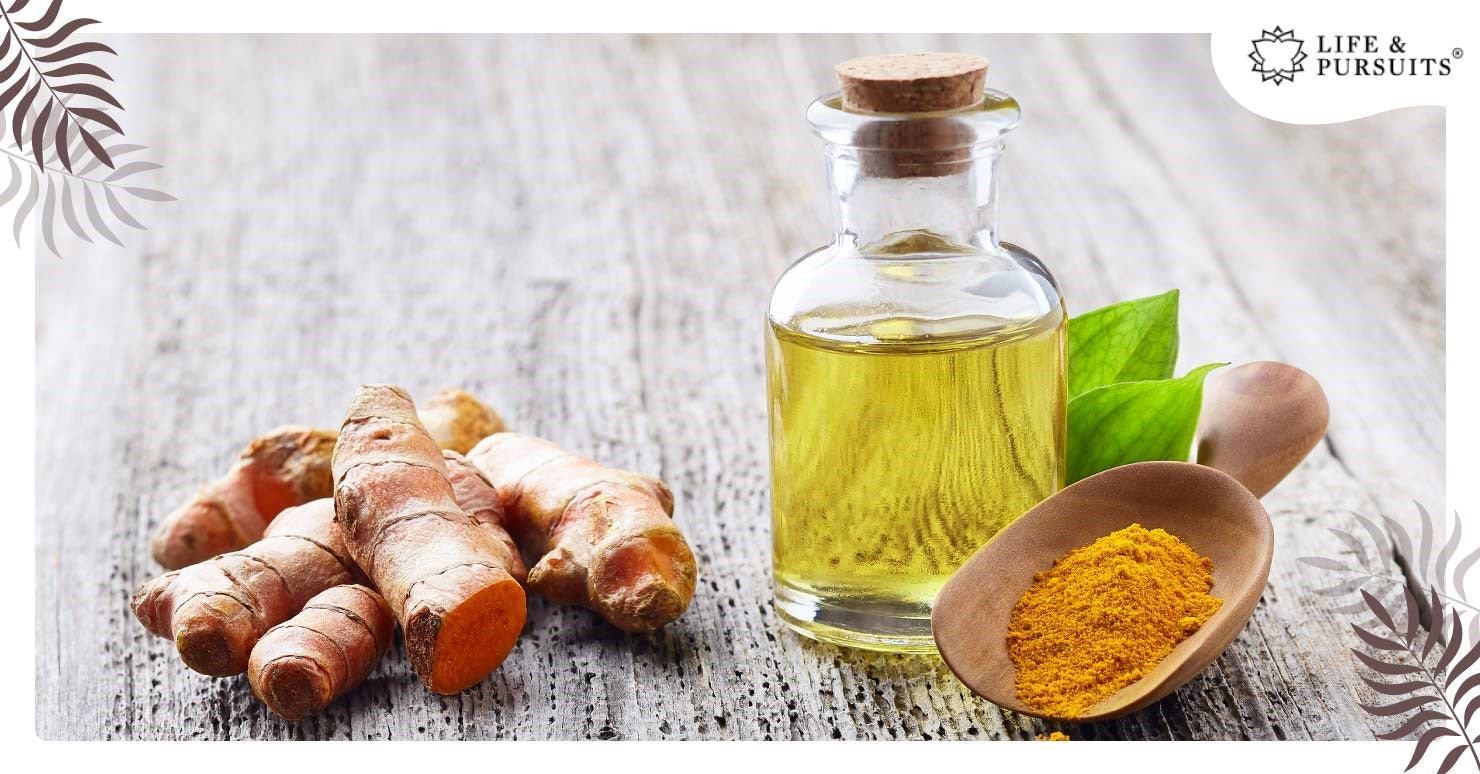 Summer is a cheerful season, but no one likes the growling sun over their heads all day.
When our skin is exposed to strong sunlight, it is bound to experience tanning and dullness. Moreover, harmful UV radiation strips the skin of its moisture content and causes other skin problems such as dark spots, hyperpigmentation, and patchiness.
So, if this worries you from stepping out in the sun during summers, then fret not! Ayurveda has the perfect solution for you. All you need is Turmeric body oil to fight your tanning, dullness, and dark spots.
Why Turmeric Body Oil Is Good for Your Skin
The most buzzed-about skincare ingredient right now is turmeric.
It contains a bioactive element called curcumin, which is the key to various benefits provided by turmeric. It also delivers some major skin benefits, according to dermatologists. 
Dr. Patel, an experienced dermatologist, says, " [Turmeric is] a potent anti-inflammatory, anti-microbial, and antioxidant [that] combats free-radicals and free-radical damage,"
This clearly states what good turmeric products can do for your health and skin. It has been used for centuries in the form of powder, paste, oil, etc., to fight several skin issues.
Benefits of Turmeric Body Oil For Your Skin
There is a lot that turmeric oil can do for your skin, but its main benefit is giving you glowing, radiant skin. Here are some specific ways Turmeric body oil can benefit your skin:
 1. Brightens Your Skin
Its antioxidant and anti-inflammatory characteristics can help lighten the skin tone, reduce the excess production of melanin, and reduce dark spots.
Moreover, Turmeric oil is high in antioxidants that enter your skin to help fight hyperpigmentation and promote the function of the membrane cells, ultimately brightening the skin.
 

2. Helps You Get Rid of Tan
Turmeric oil has long been used as a natural skin whitening agent and for its antibacterial properties. This is an excellent alternative to chemical peels for exfoliating dead skin cells and removing tans.
Turmeric oil also acts as a natural healing agent and aids in the relief of sunburn, rashes, and allergies induced by UV radiation.
3. Soothes Skin Rashes & Eases Sunburn
A study published in the Journal of Cosmetic Dermatology stated that turmeric was found to have photoprotective properties that can be beneficial for hydrating the skin and promoting sebum production.
In addition to treating skin conditions such as dermatitis and psoriasis.
4. Treats Acne Breakouts
Cutibacterium acnes bacteria can cause lesion-type acne on your skin, and turmeric can be a great remedy to treat such acne.
According to a study published in PharmaTutor, the active component in turmeric oil known as curcumin has potent antioxidant properties that can help fight acne vulgaris. Turmeric's anti-inflammatory properties reduce skin inflammation and eventually heal the skin.
5. Slows Down Skin Aging
It contains curcuminoid pigments, which aid in the production of antioxidants. These antioxidants protect skin cells from free radical damage and can even postpone the appearance of aging symptoms like dark spots, fine lines, and wrinkles.
Furthermore, the other bioactive compounds present in Turmeric oil aids in the slowing of the aging process. They protect your skin cells from environmental damage, pollution, and harmful UV rays.
6.

Moisturizes Your Dry Skin
Dry skin is a common issue in the winter season and can make your skin appear dull and dehydrated. But, Turmeric oil can help your skin survive the harsh winters.
To moisturize your skin, use Turmeric body oils, turmeric-infused skincare products, or homemade turmeric masks or packs. It accelerates the removal of dead skin cells, allowing new skin cells to regenerate.
How To Use Turmeric Body Oil?
If you want to achieve tan-free, radiant, and glowing skin, turmeric oil can be helpful. There are multiple ways to apply Turmeric oil:
1. M

assage it
Dilute 5-6 drops of turmeric oil in 10ml of a base oil, and gently massage into the skin. Massages aid the body's natural recovery process and improve skin elasticity and firmness.
2. Take a bath with it
Fill a warm bath, and add 4 to 6 drops of turmeric oil. For best results, soak in it for at least 10 minutes and let the oil do its magic.
3.

DIY as a night face mask
There are many ways to DIY with Turmeric. And here is an easy one that you can do at night.
Mix 2-3 drops of turmeric oil with three tablespoons of olive oil and store it in a small container. Use a few drops of this mixture to massage your skin every day before bed, and let it rest on your face overnight. The result will be soft and glowing skin.
If you have hypersensitive skin, it's best to do a patch test for any product you use. 
Life & Pursuits Turmeric Body Oil
If you want a natural skin treatment with turmeric body oil, then Life & Pursuits Turmeric Body Oil can be the best option!
It is certified organic Turmeric oil and free of any harmful chemicals. It replenishes your skin, hydrates it, soothes dryness, removes tan, and brightens skin tone while improving skin texture.
Moreover, it is suited for all skin tones, textures, and ages. So you no longer have to worry about whether the oil will suit your skin type or not.
So grab your Turmeric body oil now, and be confident about going out with beautiful skin, even in summers!