Skin Care
Is There a Right Way To Apply Body Oil After Showering?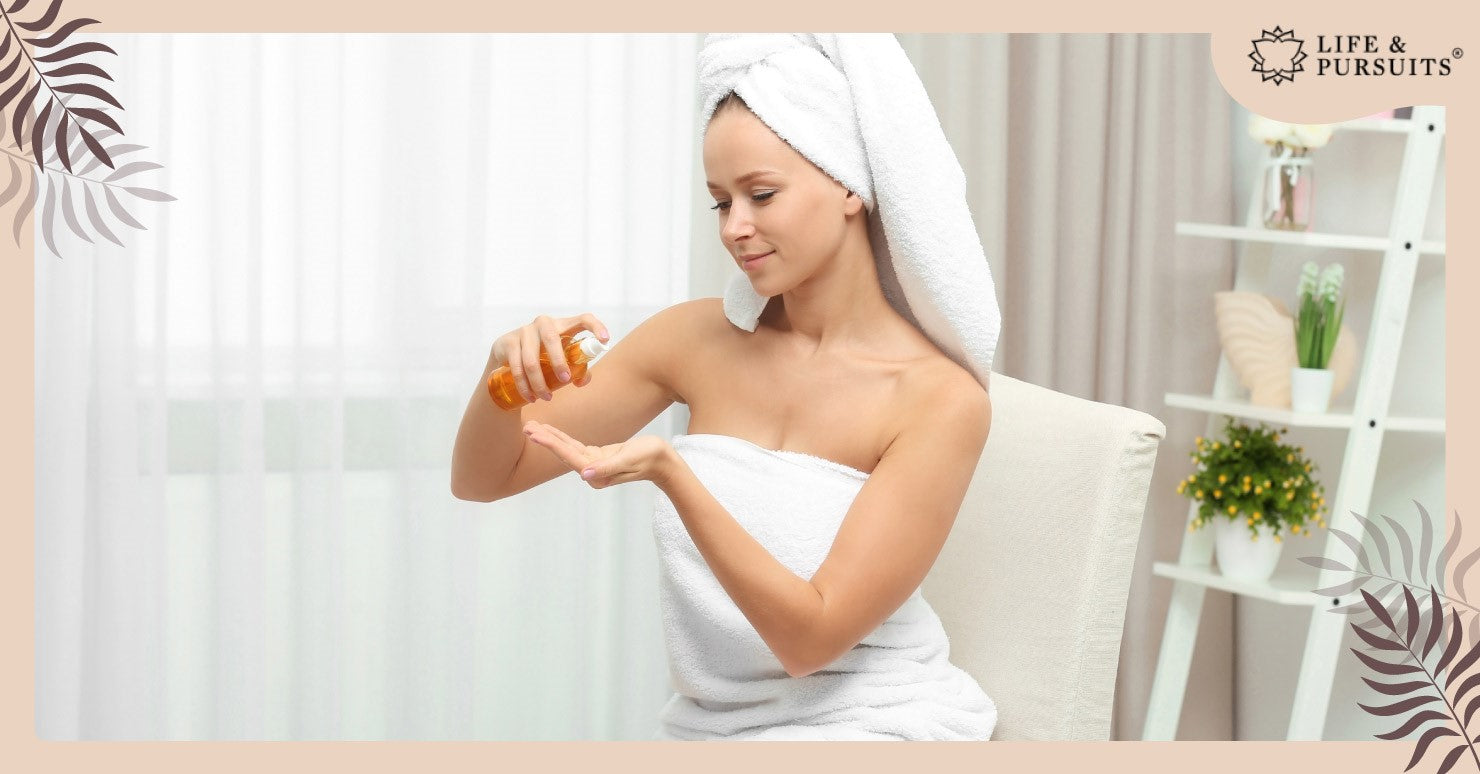 When we consider skincare, we frequently look at our faces, but what does this mean for the skin on our bodies? As the greatest organ in our body, we must give our skin a little more care and attention, as it is often concealed by clothing. Body oil is a simple and efficient means of accomplishing this. Good body oil may help revitalize dry skin and provide it with the additional care it needs, all while feeling like a delightful treat! This article will explain all you need to know about body oils and the right way to apply after-shower body oil.
Who Needs Body Oil?
Body oils are generic and may be utilized by nearly everyone. Dry skin types may find relief in organic and vegan body oil since their skin may generate less oil than other skin types. This will assist in retaining moisture and replacing any natural oils that the skin may be unable to produce.
Adding nourishing body oils to different skin types is a terrific approach to attend to regions of the body that are sometimes overlooked. In addition, they are a simple and efficient method to boost your self-care habits and indulge yourself!
When To Apply Body Oil?
Although you can use body oil before a shower to avoid moisture loss during the shower, the most common way to apply body oil is after a shower. The clever idea is to use body oil on your still-wet skin immediately after your shower.
When your skin is still wet and warm from the shower, it will absorb body oil much more quickly, and you won't have to struggle with greasy skin. Once the body oil has been applied, work it gently into your damp skin, and then use a towel to absorb any leftover moisture.
After a shower, body oil can be used as needed. Once or twice per week should be plenty to seal in moisture and maintain moisturized skin. If you have dry skin or dermatitis, you may need to use body oil more often, even after every shower.
Why Apply Body Oil Following a Shower?
There are several reasons to use body oil after showering.
1. Lock in Moisture After a Shower
Your skin is exposed to water, the chemicals in the water, and your soap when you shower. Your skin will become dry from the exposure to and as a result of these chemicals dissolving the natural oils in your skin.
Applying body oil to your skin after a shower will lock in some of your skin's natural oils. In addition, using body oils to prevent further moisture loss prevents your skin from continuing to dry out.
2. Antioxidants Help Revitalize Skin
As a result of the shower's drying effect on the skin, it is vital to replenish lost moisture and prevent additional moisture loss to avoid skin cell damage. Even if your skin is moist from the shower, this does not indicate that it is hydrated.
Using a moisturizing lotion or body oil may guarantee that your skin cells remain fed, hydrated, and plump. This minimizes wrinkles and other symptoms of skin aging, such as sunspots and dryness.
3. Body Oil Replenishes the Skin's Natural Defence
Infections and microbes can enter the body if the skin becomes very dry, which damages the skin's cells and creates an entry point for them.
Body oil after a shower guarantees that your skin is well sealed against bacterial diseases.
How to Apply Body Oil Following a Shower?
Body oil application in the shower may be complicated. However, follow these techniques to safely use body oil and reap the benefits of your skincare regimen.
Step 1: Shower in Lukewarm Water
While you may like a hot, steamy shower, your skin does not. Choose a lukewarm temperature, as your skin will lose more moisture when heated. After soaping, thoroughly rinse the skin.
Step 2: Measure Your Body Oil
Next, determine how much body oil you need to treat each body part. Utilize a modest amount to minimize spilling.
A bottle with a pump motion is ideal for body oil since it prevents the possibility of distributing too much at once.
Step 3: Apply Body Oil in the Shower
Gently sprinkle the body oil over your palms, rub them together, and then massage it into your moist skin. Repeat this process until all body parts have been treated.
Applying body oil to the soles of your feet might cause you to slip and fall on the bathroom tiles.
Step 4: Wipe Your Body With a Towel
Finally, wipe or dab your body with a towel to remove any extra water from the shower. Avoid vigorously rubbing your towel on your skin. Using a warm towel, you can also wrap it around your body to absorb extra moisture.
While body oil can be applied to dry skin, it will leave an oily residue on the skin's surface. To eliminate this residue, you may need to cover yourself in a moist or hot towel, utilizing the heat and water to soak the extra oil and expand the pores of your skin so that the oil can be absorbed more effectively.
Best Natural Body Oils
Our experts recommend natural body oils from "Life and Pursuit," a brand that offers 'Organic Ayurveda' wellness and personal care products.
Life & Pursuits body oils are harmless and toxin-free. The range of body oils offered by Life & Pursuits suits both men and women. Their Organic body oils, Organic Turmeric Body Oil, and Lavender Body Oil offer natural Ayurvedic therapy, replenishing skin moisture and restoring its radiance. It makes the skin supple, velvety smooth, and gives it a healthy-looking glow. It also soothes dry patches on the skin and improves overall skin texture.
To explore more organic and ayurvedic products, visit the official website of "Life & Pursuits."