Hair Care
The Right Ways to Use Bhringraj for Hair Growth and Shine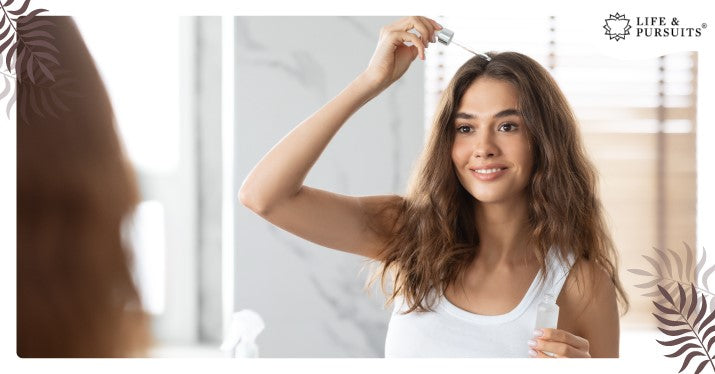 Having good hair days with thick, abundant, frizz-free hair is a dream come true for many people. However, it is not insurmountable. Haircare, like skincare, needs a greater understanding of your body's needs to optimize hair development and scalp health, and bhringraj for hair growth, shine, and health tops the list of remedies. 
While most commercial shampoos and conditioners promise to reduce hair loss and promote hair growth, your body requires food from the inside to get the benefits. Ayurvedic oils come in useful here. They're made of potent herbs that nourish and strengthen hair from root to tip.
For millennia, the oil from Mahabhringraj or Bhringraj (meaning king of herbs) leaves has been touted as a magical hair elixir — it is prepared by blending the Bhringraj plant's leaves with a carrier oil.
In this article, we'll go over the advantages of Bhringraj for hair and how to utilize Bhringraj oil to promote healthy hair development.
Bhringraj For Hair Growth
Leaves of the Bhringraj plant, also known as False Daisy in English, are infused with carrier oil over heat to prepare what is popularly called the Mahabhringraj oil. 
In Ayurveda and medical research, the oil has specific importance. 
Bhringraj oil is high in minerals, including iron, vitamin E, magnesium, polypeptides, steroids, calcium, and vitamin D, and is enriched with the goodness of nature. This oil is the best option for hair as it is high in proteins. 
Benefits of Bhringraj For Hair Growth
Here are some reasons why Bhringraj oil is beneficial for hair: 
Bhringraj oil has a thick consistency that aids in its absorption. This aids in the treatment of dandruff and dry scalp.

Bhringraj oil on the scalp regularly promotes blood circulation and stimulates the scalp. This, in turn, stimulates the development of new hair. 

In addition, it can dilate blood vessels, increasing blood flow to the hair roots and stimulating new hair growth.

The cooling qualities of Bhringraj oil are well-known. Therefore, regular use of this oil can help reduce stress and hair loss caused by stress.

This oil is high in hair-friendly antioxidants, preventing hair loss and encouraging new hair development.

With its high nutritional content, Bhringraj oil may increase the condition of our hair and cure split ends, guaranteeing that our hair develops without interruption.

Eclipta alba

extract (Bhringraj) was

proven beneficial

in combating bacteria and fungus in research. As a result, it may also help treat some bacterial infections.
5 Ways to Use Bhringraj for Hair Growth
Here are a few methods to integrate Bhringraj for hair into your beauty regimen and reap its benefits:
1. As A Hot Oil Hair-Massage
Warm up a tiny amount of our Organic Bhringraj Hair Oil using the double boiler technique: place the container with oil in a bowl of hot water, ideally made of copper. Then, massage the Ayurvedic oil into the hair, starting at the scalp and working to the ends.
Wrap a towel soaked in warm water over your head and keep it on for 30 minutes. Then, rinse with a sulfate-free hair cleanser until the water runs clear. This oil will minimize scalp irritation, stimulate hair growth, and reduce the recurrence of dandruff when used daily.
2. Bhringraj Oil With Onion Oil
Onion oil and Bhringraj oil, two excellent hair care components, can fight hair fall and give gloss to the hair. Apply a mixture of 1 part pure Bhringraj oil and 12 part Onion Hair Oil to the hair roots and length. 
Allow an hour before shampooing and conditioning your hair with a light wash and conditioner. They both supply the required vitamins and proteins for healthy hair development. 
Onion oil is well-known for taming frizzy hair and giving it a natural sheen.
3. Bhringraj Oil And Castor Oil
Combine equal portions of Bhringraj oil and Organic Castor oil in a double boiler and warm the oil combination before applying it to your scalp and hair. 
Before washing it, leave this oil mixture for about 30 minutes. This mixture can assist with various hair issues, including split ends, dandruff, and hair loss. 
Castor oil has anti-inflammatory compounds and fatty acids to help decrease scalp irritation and encourage hair development.
4. Bhringraj Oil With Hibiscus
Combine a handful of hibiscus leaves and blossoms with the amount of Bhringraj oil. In a pan, heat the oil and add the chopped leaves and petals. Bring the oil to a boil until the oil darkens. Strain the oil once it has cooled down. 
Hibiscus can help deep-condition and soften hair, and cure itchy scalp and dandruff.
5. Bhringraj Oil With Coconut Oil
Make an oil mix by combining Bhringraj oil and coconut oil. First, warm the Bhringraj-coconut oil mixture for 30 seconds, and later massage the oil into your scalp in circular strokes. 
Allow the oil to sit on your skin for another 30 minutes after massaging for 15 minutes. Then, allow your hair to air dry after using a sulfate-free shampoo.
Coconut Hair Oil promotes hair development, enhances hair quality, adds luster to dull hair, and offers natural conditioning.
Our Bhringraj Hair Oil, a mix of potent ayurvedic herbs and seeds bursting with nature's bounty to boost scalp health and hair nutrition, has been created in response to your needs at Life & Pursuits.
Organic Bhringraj Hair Oil is packed with beneficial ingredients like amla, hibiscus, sesame, and castor oil, all of which are rich in vitamins and minerals necessary for a glossy mane and a healthy scalp. 
Organic Bhringraj Hair Oil is available for purchase on our website and Amazon.com.
Life & Pursuits' haircare and skincare range are natural since all our products are toxin-free. Our goods are obtained, molded, and produced via certified organic and natural ingredients. 
Try our Organic Bhringraj for hair growth oil to reap the benefits.