Skin Care
Saffron Face Oil - A Magical Cure for Skin Damage Steeped in the Wisdom of Ayurveda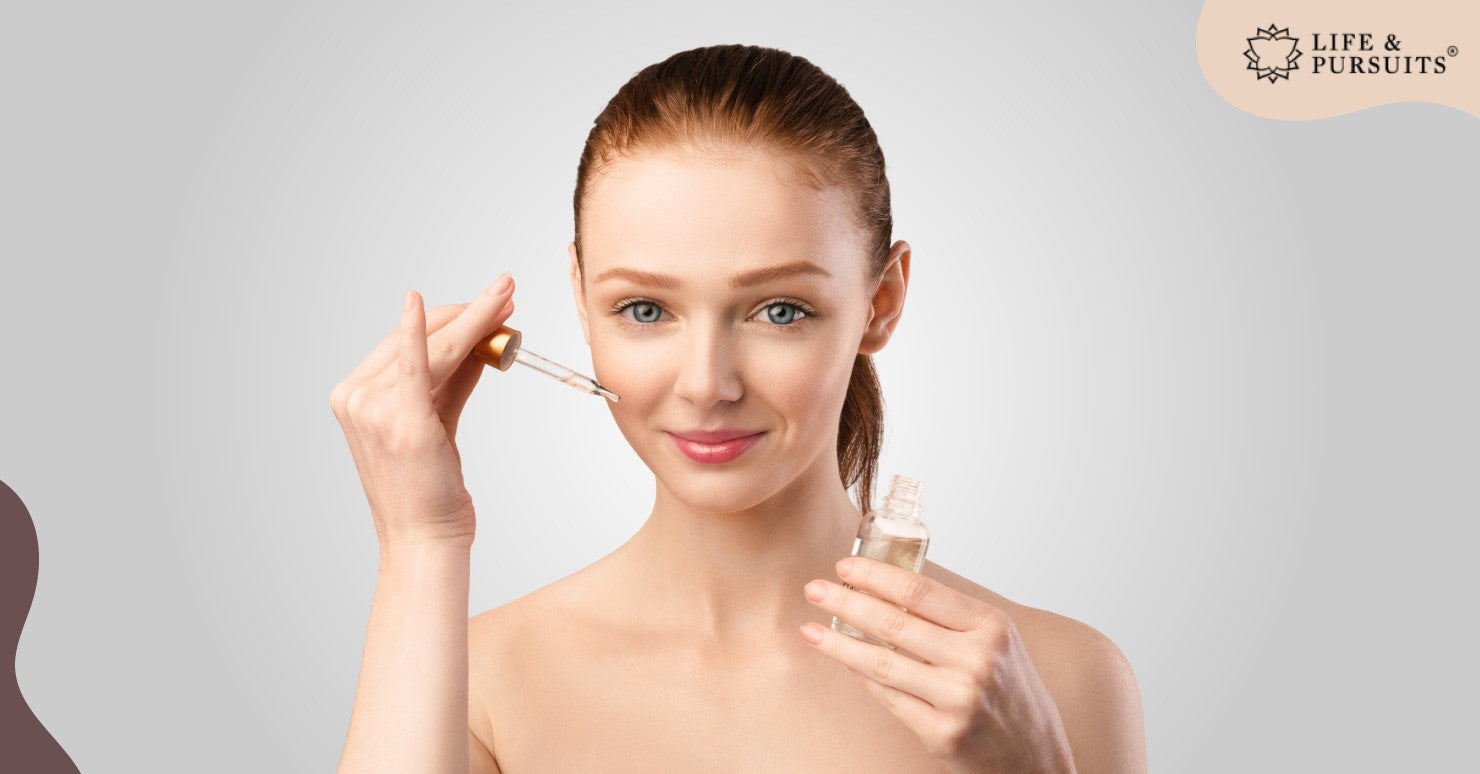 City life in the twenty-first century is not easy. Harsh sunlight, air pollution, and toxins can severely damage our bodies. And our skin - the first barrier against these harsh conditions, bears the brunt. But fret not; we have devised the perfect formula to solve this problem. 
Saffron Face Oil is the Vitamin C boost that your skin needs to restore its radiant glow. Enriched with turmeric and saffron, this face oil reduces dullness and pigmentation. What's more, it is hydrating and also cooling in the harsh summer. 
Read: How Can An Ayurvedic Diet Help You Keep Your Cool This Summer?
Benefits of Saffron Face Oil 
Saffron has a reputation for being the most expensive spice available. Harvested from the stigma of the Crocus flower, this fiery red seasoning packs a burst of flavor in a tiny sprinkle. However, its skincare benefits are just as popular. Paired with the abundant goodness of turmeric, pomegranate, apricot oil, and olive squalane, this face oil forms a powerful barrier between your skin and the harsh toxins in the air. Moreover, it seeps into the deeper layers of your skin tissue to bring out the radiance from within. 
Reduces dark spots
Enriched with the power of vitamin C, this face oil nourishes your skin from within, brightening it and giving it a smooth texture. It also helps to reduce dark spots and pigmentation. After using this face oil for a period of time, you will notice your skin tone evening out and develop a natural radiant glow. 
Soothes the skin
Constant exposure to harsh sunlight and summer heat can burn the skin, causing it to become inflamed. The turmeric extract present in our Saffron Face Oil is a natural anti-inflammatory agent. It cools down any angry, damaged parts of the skin and repairs them. It fortifies your skin from within in an all-natural way. 
Reduces signs of aging
Face Oils are lipophilic, which means they are fat-soluble. They can, therefore, seep into the deepest layers of the skin and activate from within. They are also one of the most moisturizing skincare products available in the market. Moisturization ensures your skin remains elastic and younger-looking. 
The organically sourced ingredients assure your skin receives all the benefits of industry-grade face oils naturally. They reduce fine lines and premature aging, giving you supple, younger-looking skin. 
Read: Why Organic Aloe Vera Gel Is The Wonder Herb You Need This Summer
Key Ingredients of Saffron Face Oil
Extracted from the lap of nature, this lightweight face oil is made with three powerful ingredients - Turmeric, Vitamin C, and the crowning jewel - Saffron. Devoid of any sulfates or parabens to dilute their potency, these ingredients get straight to work when applied to the skin. 
Vitamin C
Vitamin C is a powerful ingredient known for its anti-oxidation properties. When applied to the skin, it is absorbed deep into its layers, infusing the tissue with a breath of fresh air. The result is the reduction of hyperpigmentation, dark spots, and an even, all-around glow. 
Turmeric
Turmeric is a popular home remedy in India. Coming straight from the books of Indian grandmothers, evidence of its healing properties can be traced back to the Ayurveda. Known primarily for its antibacterial properties, turmeric is also an anti-inflammatory agent. 
Did you know that in many South Asian wedding rituals, the bride is ceremonially anointed with turmeric due to its skin brightening properties? Turmeric soothes the skin and removes impurities, giving a bright, clear, and clean glow. It also helps reduce the fine lines and wrinkles.
Saffron
Now for the jewel in the crown - Saffron. An extract of the Crocus flower, this incredibly fragrant herb acts as a natural barrier against the harmful UV rays of the sun. Like Turmeric, Saffron also bears antibacterial and anti-inflammatory properties. It is known to reduce the visibility of minor scars as well as acne. It also helps reduce hyperpigmentation of the skin and is a boon against suntan. It is no wonder that Asian Queens & Princesses would bathe in saffron-infused milk! Add a hint of saffron to your skincare routine and feel like royalty yourself.
How to Use the Face Oil?
This face oil can fit into your skin routine conveniently. Take a few drops of the oil and gently massage it onto your cleansed face. You can use your fingers (clean fingers, please!) or a Gua Sha or Jade Roller for better results. When done, apply a moisturizer of your choice to seal the goodness of these ingredients. 
At Life & Pursuits, we consider it a matter of pride to say that our products are made organically and naturally. We are a 100% cruelty-free brand. 
We believe in delivering care that lasts with products you can trust. Our Saffron Face Oil is completely free of parabens, sulfates, and mineral oils. It also does not contain any synthetic fragrances or colors. So rest assured, when you apply this product to your face, you are applying organically sourced ingredients picked from the bounds of nature.