Hair Care
The Many Benefits of Coconut Oil and How to Reap Them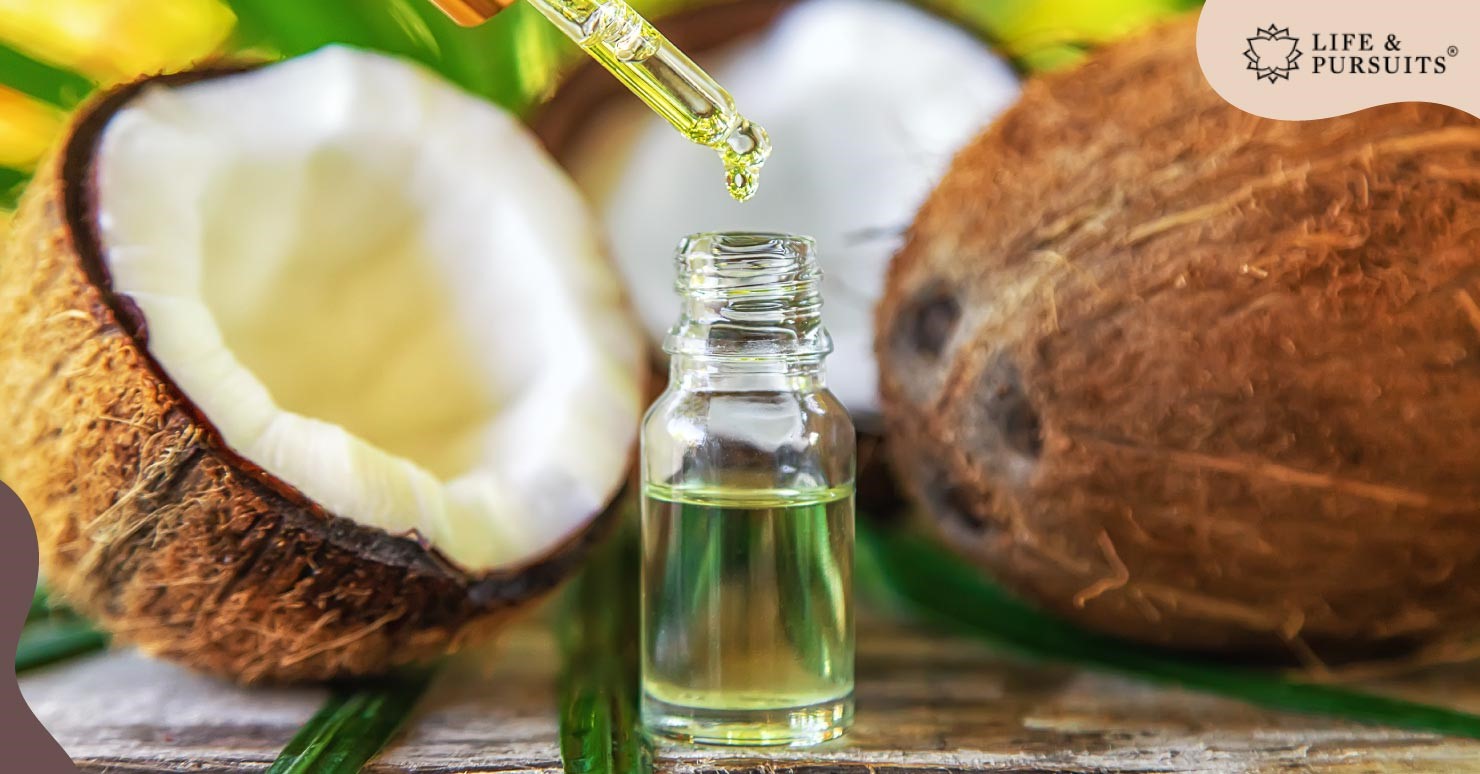 Hair oiling is an age-old practice to enhance hair growth and stimulate blood circulation to other body parts. Regular oiling with natural hair oils protects your hair from sun damage and pollution while regulating body temperature and strengthening hair roots. 
Rich in medium-chain fatty acids, Coconut Oil is one of the most effective natural hair oils for hair growth and scalp health because of its easy absorption into the hair shaft and the protection from losing essential nutrients and proteins.
Extracted from the flesh of coconuts, coconut oil is fast becoming a kitchen and skincare staple across continents because of the various health benefits. Be it skin, hair, or heart, if there is one oil to keep your body healthy in and out - it's the coconut oil!
Let's discuss the many benefits of coconut oil and why you should start using organically prepared coconut oil for healthy hair.
Coconut Oil - One of the Best and Most Effective Natural Hair Oils   
Coconut oil is the miracle ingredient for shinier, silkier, and Rapenzul-like hair; when there's enough volume, you can use it to pull a truck. A bit dramatic, yes, but no kidding. There's enough evidence to support the amazing benefits of coconut oil and how, with regular use, you too can sport the hair that listens to you and does not cause panic attacks.
Using Coconut Oil:
1. Prevents Damage
Applying coconut oil on hair before a wash helps minimize the protein loss it sustains during a wash and reduces hair damage. Regular application of coconut oil also prevents hair damage caused by UV exposure, pollution, and everyday breakage and moisture loss. 
2. Helps with Hair Growth and Boosts Volume
The presence of 40-50% lauric acid in coconut oil makes it easier to get absorbed into the hair shafts and strengthen the hair follicles, thereby nourishing hair and enabling growth. And coconut oil doesn't just stop with hair follicles - it penetrates further above into the cortex and hair cuticles to shield them from damage and keep it moisturized.
3. Prevents Hair Loss
Because of its antibacterial and antifungal properties, coconut oil protects your scalp from harmful pollutants that cause hair fall and improves hair strength and vitality. Regular application of natural hair oils like organic coconut oil replenishes the moisture content in hair and prevents dryness and irritation.
4. Treats Dandruff
Dryness and dandruff irritate the scalp and create a breeding ground for lice and other infections affecting overall hair health. Massaging your head frequently with coconut oil would moisturize the scalp and protect it from bacterial and fungal infections.
Applying coconut oil as a pre-wash oil protects the hair from dryness and nutrient loss. However, for dandruff-prone hair, it is advisable to not over-oil your hair or to keep it on for more than two hours because it makes the scalp greasy and aggravates dandruff.
5. Protects from Sun Exposure
Coconut oil has an in vitro SPF value of approximately 8, higher than other natural hair oils like olive, sesame, castor, almond, mustard, and chaulmoogra, making it ideal for blocking harmful UV rays and protecting your hair from damage due to sun exposure.
With these many benefits packed in it, the humble coconut oil has a longer shelf life when compared to other oils because of its high percentage of saturated fat at 83%, which causes it to remain solid even at room temperatures.
6. Adds Luster
Organic cold-pressed virgin coconut oil is nutrient-dense oil; when massaged on the hair, it improves blood circulation and prevents hair damage caused due to stress, pollution, or hormone imbalance. Regular massage with organic cold-pressed coconut oil by Life & Pursuits would help relieve stress and pass the nutrients onto the hair and scalp making your hair shiny, bouncy, and healthy.
7. Prevents Head Lice and Reduces Frizz
The anti-bacterial properties of virgin coconut oils make it a miracle cure for those who suffer from head lice as it prevents lice and eggs from sticking on the hair strands, reducing irritation and itching.
And because of its moisturizing properties, coconut oil helps tame adamant frizz and makes hair smooth and silky and everything you want it to be.
Why Life & Pursuits?
Life & Pursuits is a brand dedicated to offering nature's bounties to remedy skin and hair care troubles and encourage a healthy and natural lifestyle. Made with 97%+ natural ingredients, our products are organically prepared without heavy metals or chemical fertilizers and are marked green on the EWG safety index.
Also, all our products are certified by two of the most stringent organic certifications - USDA and India Organic, which places our brand among the best natural skincare and haircare providers with products that are a masterful blend of ancient Ayurvedic wisdom and technological efficiency.
Organic Cold-Pressed Coconut Oil by Life & Pursuits
Extracted from fresh coconut milk, Life and Pursuits' Organic Cold-Pressed Coconut Oil is free from hexane, parabens, synthetic additives, and preservatives, making it ideal for all skin types, especially for sensitive skin.    
Organic coconut oil has a vitamin and fatty acid-rich composition that does wonders for your hair by boosting hair growth, enhancing texture, and fighting infections and allergies.
How to Use Organic Coconut Oil
As a Pre-wash routine:
Massage your hair and scalp with coconut oil and leave it on for at least 30-40 minutes or ideally overnight.
Wash it off with a mild shampoo.
 As a post-wash conditioner:
Applying coconut oil on wet hair would help detangle the strands and reduce the breakage while combing.
Conditioning your hair after a wash would make it lustrous, smooth, and soft.
As a hair mask:
Massaging your scalp with coconut oil in a blend of conditioning ingredients like aloe vera would deeply nourish the hair and strengthen the hair from root to tip.
Life & Pursuits offers sustainable skincare, haircare, and baby care solutions that are organic without any harmful side effects that chemical products might otherwise cause.
Based on ayurvedic science, Life and Pursuits offers some of the best Natural Hair Oils that do more than just hair protection - deep nourishment and strengthening.