Face Care
Top Benefits of Under Eye Serum and How to Use it Properly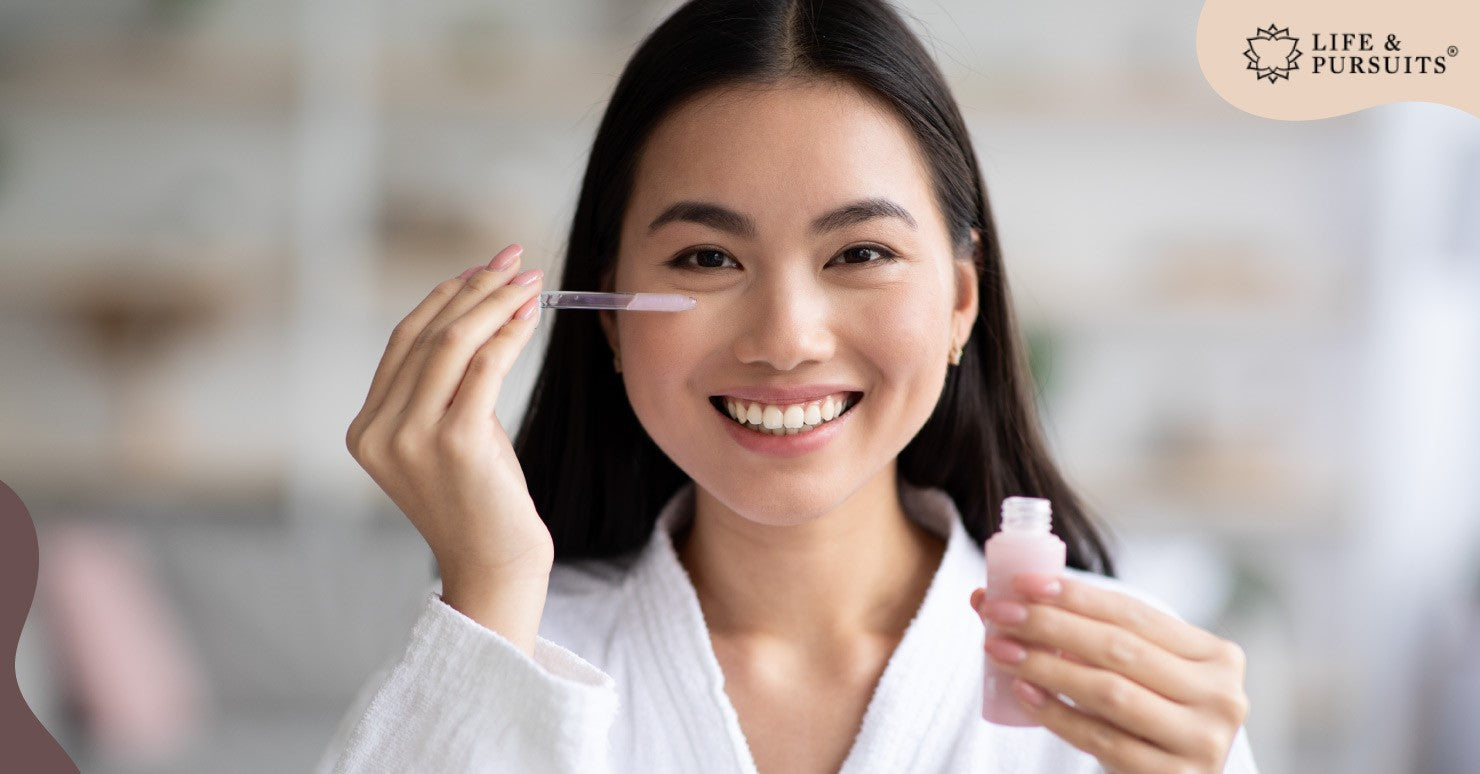 The unsung heroes of the skincare world are under-eye serums. Eye serums nourish and moisturize the under eye area to reduce dark circles and puffiness and brighten the overall facial appearance.
However, if you're using under-eye serum regularly and still don't notice any noticeable changes, there's a chance you're not using it correctly.
But don't worry, this will be a thing of the past in no time. How? Because we're about to show you how to use it properly to get the most out of it.
What is an Under Eye Serum?
In general, a serum is a potent skincare product with a light texture that allows it to penetrate deeply into the skin and deliver active ingredients. As a result, it is frequently used to combat signs of aging, such as wrinkles.
The under-eye serum hydrates and nourishes the delicate skin around and under the eyes. Being one of the most delicate regions of your skin, it is natural to notice signs of fine lines, wrinkles, crow's feet, puffiness, and dark circles in the under-eye area.
When it comes to formulation, under-eye serums often sport active ingredients such as vitamin C, marine algae extracts, retinol, lemon extracts, and cucumber, among others, to work their magic.
Marine Algae Extracts: What is it, and How's it Beneficial in Under Eye Serums?
Since ancient times, marine algae extracts have been used in alternative cosmetics for skin diseases. However, marine algae extracts are now widely used in skin care products because of their high bioactive compounds.
For instance, a team of scientists discovered that topical application of brown algae increased the thickness and suppleness of human cheek skin. These findings imply that the extract has anti-aging properties and could be used in various cosmetics.
Marine algae have also been found to deliver robust UV-ray protection. In addition, studies have found that red algae extracts, coupled with vitamins A, E, C, and G. biloba, can considerably increase the performance of sunscreens, avoiding UV-induced DNA damage and inflammation.
PS: Please note that one of the leading causes of puffiness, wrinkles, and general skin damage is UV rays.
Another study found that marine algae mixtures improved the moisturizing and firming effects on human skin.
Red algae, brown algae, blue-green algae, and green algae are the four major seaweed classes that make algae extract. Omega 3 fatty acids, amino acids, vitamins A, B, C, and E, and antioxidants and antifungals are all found in each class and help to promote skin health.
All these essential bioactive elements make algae extracts a promising candidate for an ingredient in under-eye serums.
Other notable benefits of marine algae include:
Hydrates dry skin
Diminishes the appearance of hyperpigmentation
Manages inflammation
Protects against sun damage
Clears clogged pores
Reduces fine lines
Top 4 Benefits of Under Eye Serums
Even if you don't think you need it right now, using an under-eye serum can help keep your skin firm and supple in the future.
However, there are numerous other reasons to use it! Here are four of the advantages you'll enjoy if you use them regularly:
1.    Prevents common signs of aging and puffiness
Dehydration and environmental stressors are two major causes of dull, tired, and slack-looking skin, especially the delicate skin under the eyes. Antioxidants and moisture-giving ingredients in a natural eye serum can help keep these aggressors at bay.
Sleep deprivation, allergies, and aging can all contribute to puffiness caused by fluid buildup. Ingredients that reduce these visible signs of fatigue can be found in the best eye serums.
2.    Highly concentrated for specific concerns
The most significant benefit of eye-area serums, including face serums, is highly concentrated. In addition, eye serums effectively manage eye-area concerns like puffiness and crow's feet due to their potency and ability to be combined with heavier eye creams.
The skin around our eyes loses some of its elasticity with age. Eye serums are dedicated to restoring your skin's natural beauty.
3.    Soothes tired eyes
Use an under-eye serum with calming, nourishing ingredients to soothe your under-eye area. Depending upon the formulation, they can be rich and creamy or light and non-greasy, with a slight coolness.
They work wonders on dark spots and puffiness, smoothing them out and making them less noticeable. This ensures that concealer is applied evenly and does not accumulate in the expression lines of your face throughout the day.
4.  Lightweight and absorbs easily
The consistency of the under-eye serum is its distinguishing texture and feel. Creams are creamy, whereas serums are fluidic. Because of this fluidity, eye serums absorb quickly and feel light on the delicate under-eye skin.
As a result, serums are especially beneficial for those with oilier skin who require hydrating skincare without adding weight.
How to Apply Eye Serum the Right Way?
Here's our quick guide to applying the under-eye serum in the right way:
Step 1: Wash your face
Before applying eye serum, make sure your face is clean. You should wash your face with water to allow your skin to absorb the eye serum more easily.
Avoid washing your face with hot water because it can dry out your skin, causing it to become inflamed and red. Cold water is preferable because it thoroughly cleanses your skin.
Step 2: Use a cleanser
Now is the time to use a cleanser to keep your skin hydrated for a long time. To remove dirt and impurities from your skin, use a gentle cleanser. It also aids in the closing of open pores and the removal of dead skin cells.
Massage the cleanser into the skin in a circular motion. Rinse with water and pat dry with a clean, soft towel.
Step 3: Use a few drops of eye serums
Now, apply some eye serum to the under-eye area using the ring finger. Because the soft under-eye skin quickly absorbs eye serums, there is no need to rub them.
Step 4: Avoid too much pressure
Since your ring or fourth finger is the weakest (they exert the least pressure), you should always apply the serum with it. This will prevent you from applying too much pressure to the eye area.
To avoid damaging the sensitive skin around the eyes, avoid applying too much pressure to the skin.
Step 5: Cover the area properly
Apply the eye serum in a circular motion, covering the entire area. You can also use a sunglass post-application. Apply eye serum to the entire area of your face that is obscured by your sunglasses.
It's best to apply a thick layer of eye serum to ensure that it penetrates deep into the skin and promotes a brighter appearance.
Step 6: Apply at the right time
One of the most frequently asked questions by users is when to apply eye serum? Because anti-aging properties are present in eye serum, it should be applied 15 minutes before bedtime.
Your skin must absorb the eye serum to repair quickly. So if you want to use it first thing in the morning, mix some eye serum into the moisturizer and apply it.
Nurturing Care with Life & Pursuits
At Life & Pursuits, we believe in providing long-lasting skin care by addressing the source issues and giving your skin a boost of health and glow, one day at a time.
Our products are made up of organic-certified Ayurvedic herbs and oils that have been ethically sourced. All our products meet stringent quality control, so we're USDA-certified. So come along on this journey of nurturing care with us and reap the benefits of healthy hair and skin.