Skin Care
5 ways How Body Oil Will Give Nourished and Glowing Skin In Winters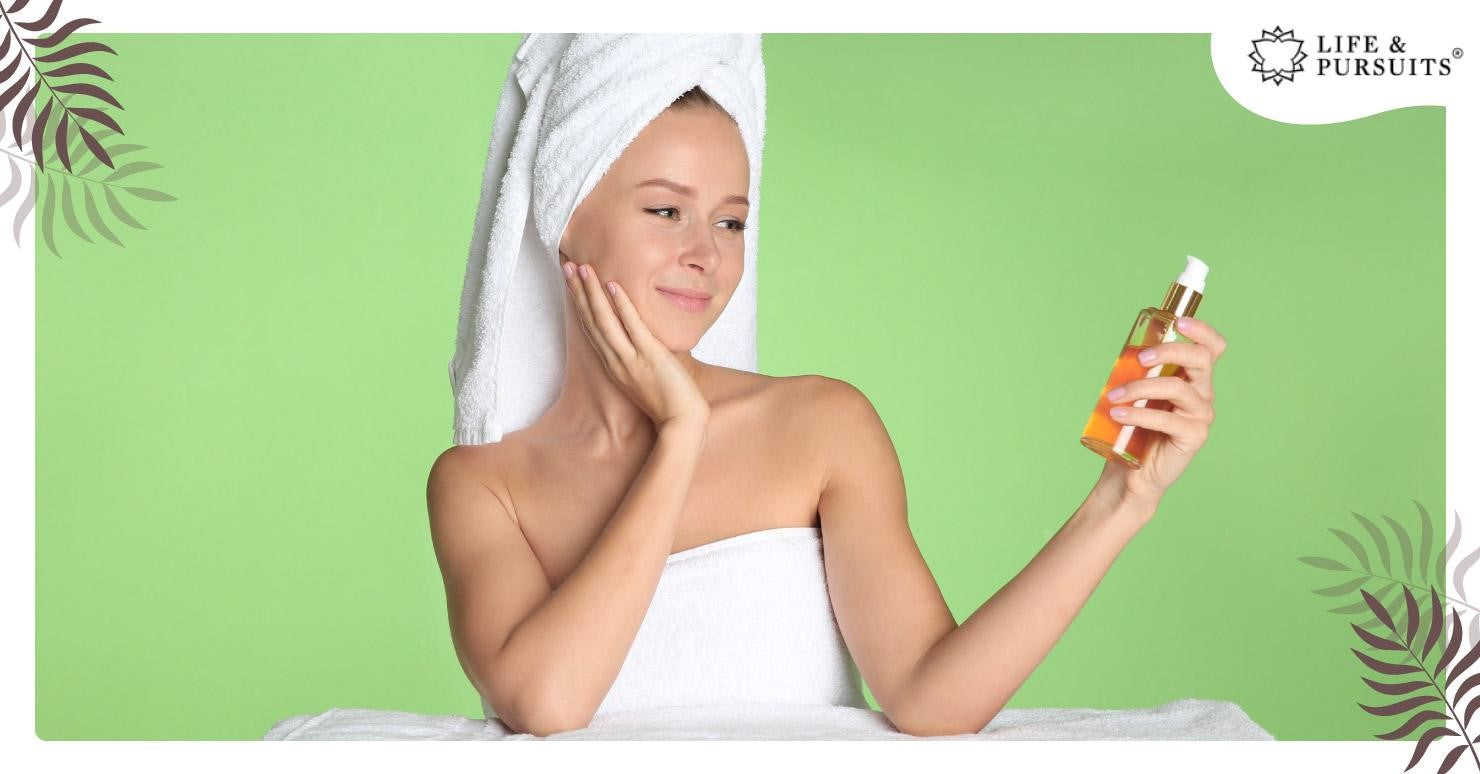 We all want to flaunt healthy and beautiful skin all year long. Isn't it? But, for most people, autumn and winter come with dry and itchy skin.
Wondering what the solution to this dry skin problem is?
Maintaining the skin's hydration is the only mantra for skin care. Body oil is one product that does this job perfectly, even in the harsh winter. In fact, for those who suffer from dry, flaky, irritated skin, a little bit of body oil might be just what the dermatologist would recommend.

So let's look into the best body oil for you and how you can use it to get nourished and glowing skin. 
How can body oils help keep your skin healthy and glowing in winter?
Wintertime's cold temperatures and low humidity levels produce extremely dry air, which draws moisture from the skin and leaves it dehydrated. Here's how a good body oil can help keep your skin healthy and glowing during winter:
Skin moisture retention: Body oil fortifies the skin's natural ability to retain moisture. Not only that, but it also penetrates the skin's protective barrier, which helps maintain a healthy glow throughout the day.
No flaky, dry skin: With the ability to retain skin moisture, body oil is an undeniably miraculous solution for people with dry skin to remain hydrated in the rough winter season. By oiling your skin correctly, you will be free from moisturizing it with lotions throughout the day.
Non-greasy or sticky: The term "oil" usually leads to the confusion of body oils being greasy, sticky, or hard to apply and carry all day long. But really, body oil is lighter than any hydration-boosting product and absorbs quickly into the skin without leaving a greasy or sticky feeling.
Natural glow: With regular use of body oil, your skin gets better every day. It will no longer be damaged or flake easily. When your skin is healthy, it will leave a natural glow without using any extra products.
Easy on your pocket: The right moisturizer can cost you more than a body oil. Also, unlike moisturizers, oil is required in a small amount to keep your skin hydrated. Hence, a small bottle can go a long way in keeping your skin healthy without burning a hole through your pocket.
Body oils can work wonders for your skin, and the only key is choosing the right product that suits your skin type.
What would be the best body oil for your skin?
Here are some of the best body oils to keep your skin healthy in winter:
Coconut oil: Some coconut oil can help combat dry skin and scaly patches this winter. Loaded with fatty acids, coconut oil replenishes lost moisture and keeps skin nourished for a long time.
Olive oil: Olive oil is high in healthy fats that are suitable for your body and your skin. Olive oil can be a lifesaver, especially in the winter when the skin is parched and is looking for an external source of moisture. This oil, when applied topically, will leave your skin soft, supple, and healthy.
Avocado oil: Avocado oil, which is high in omega-3 fatty acids and vitamin E, soothes irritated and dry skin by promoting skin cell function. This oil is deeply moisturizing yet quickly absorbed by the skin, and it may also be used on the face because it has anti-ageing effects. You can even mix a few drops into your lotion or moisturizer to boost the effectiveness of your skincare products.
Jojoba oil: The chemical composition of jojoba oil is remarkably similar to the natural oils on our skin. As a result, it absorbs quickly and deeply moisturizes the skin. Inflammation is frequent during this cold season, and jojoba oil helps reduce inflammation while relieving eczema and psoriasis.
Lavender oil: Lavender oil helps replenish skin moisture and repairs skin damage such as sunburn and dryness. Furthermore, it reduces stress and is anti-inflammatory.
5 Ways to use the best body oil for the best winter glow
Here are some ways to use body oil for glowing skin in winter:
Apply to damp skin: Lightly towel-dry your body after a bath, then massage some body oil into it while it's still slightly damp. This enhances absorption and promotes deeper penetration while preventing winter skin issues.
Mix it in your bathing water: You can add a few drops of your favorite body oil to your bathing water and use it. This will have a soothing effect as well as moisturize your skin.
Massage it: You can use it as a massage oil. This will help you relax and help lock in moisture in your skin, preventing it from drying during the bath.
Apply on dry areas: Simply rub a few drops on your palm and apply to the dry areas of the body whenever you feel the need.
Mix in with highlighter: Mix a little bit of highlighter with your body oil before applying, and you will get that extra gorgeous shine effortlessly. You can do this for a party, college or work event, or whenever you want, as it barely takes a few seconds to get that celebrity kind of body shine.
In conclusion
You now have the secret to nourished and glowing skin in winter. However, don't forget to check whether the body oil suits you or not. Also, be careful while picking a brand. Make sure you go for more natural and organic products that won't harm or irritate your skin.
You can check out Life & Pursuits if you want to get only natural, organic, and certified skin and body care products.