Hair Care
Your Guide to Using Natural Amla Hair Oil for Hair Growth and Strength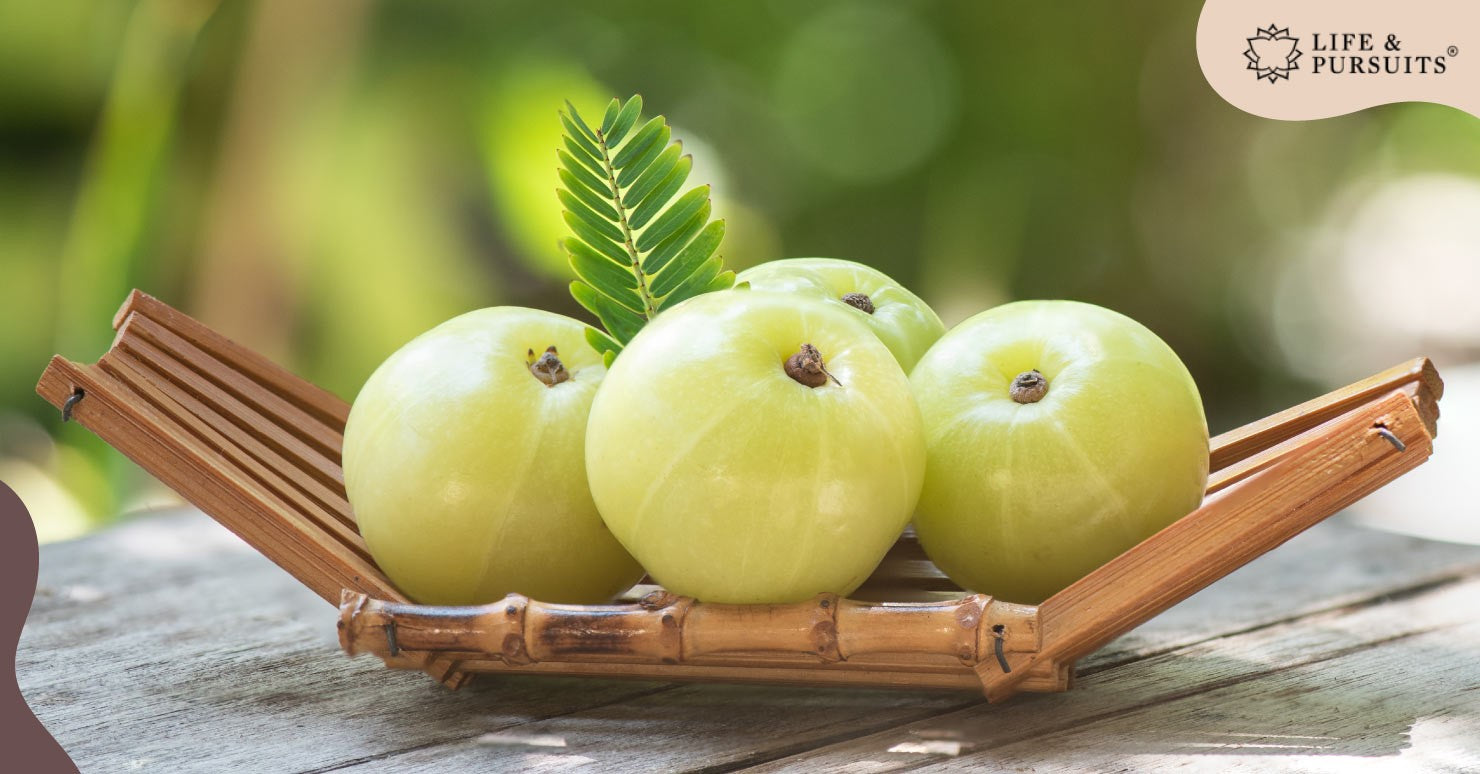 The herb Emblica Officinalis, better known as Amla or Indian gooseberry, is the name of a highly potent Ayurvedic herb known for its medicinal properties, a superfood, natural immune booster, detoxifier, skin rejuvenator, and an ingredient most synonymous with hair care.
Amla oil, derived from the fruit, is a powerhouse of antioxidants. Ayurveda recommends it as a great solution for a myriad of hair care woes. The oil contains many phenolic phytochemicals, including flavonoids, anthocyanins, as well as vitamin C and A. In this article, we look at various ways of incorporating Amla oil into your haircare routine.
How to achieve Thick, Long, and Lustrous Hair with Organic Amla Brahmi Hair Oil
Hair oiling has been there for centuries, so it's no surprise that this ancient ritual benefits your tresses in innumerable ways. At Life and Pursuits, we have formulated an Organic Amla Hair Oil that you can add to your haircare routine. This hair oil is a blend of base oils and active extracts to achieve maximum hair repair, promote hair health and strength, and get smooth, silky hair.
Using Amla hair oil on a regular basis will add natural gloss and shine to your hair    In addition, as a natural hair oil, it is both repairing and conditioning.
Ritual: In India, Amla oil has long been used for hair treatment, and there's good reason for it. Regularly massaging the scalp and hair with our Organic Amla Brahmi Hair Oil can help control hair loss, promote healthy growth, and prevent dandruff.
Here's what you can try to Boost Hair Growth and Strength:
You can use our Amla hair oil in a variety of ways. Here are some:
1. Hair massage
Amla oil can help improve your hair appearance and reduce hair breakage. For a revitalizing hair massage, follow these steps:
Put a few drops of

Amla oil onto your palm.

Massage it into your scalp and ha

ir and cover your head with a shower cap.

Allow it to sit for 15 minutes.
Then rinse it off with a mild shampoo.
Voilà!
2. Pre-shampoo treatment
To double for an intensive pre-shampoo scalp massage, warm the oil between your palms and gently massage the scalp. Finally, add a few drops to your hair's ends by scrunching and lightly dabbing them. You may choose to omit the scalp massage and apply just lightly to the ends of your hair for gentle conditioning.
3. Styling serum
To use it as a styling serum, take a few drops of the oil and gently run it through your hair for added luster and hydration. This technique can help prevent split ends and prevent moisture loss.
4. Pre-wash detangler
For a pre-wash detangler, prep unwashed hair by applying the oil before shampoo. Work the oil through your hair while using its hydrating properties to detangle it. Activate the oil with a hair dryer for a few seconds before shampooing if you do not have time to let it sit in your hair.
What makes the Amla Hair Oil a Perfect Hair Companion?
With a host of haircare benefits, Life & Pursuits' Amla Brahmi Hair Oil is a versatile treatment that takes care of your tresses and the overall health of your scalp.
A blend of potent oils and extracts gives your hair a soft and lustrous look. What's so super about this oil? Amla contains 20 times as much Vitamin C as other citrus fruits and contributes to a healthy scalp and hair by maintaining collagen and elastin levels. A blend of base oils like organic sunflower oil, coconut oil, sesame oil, and extracts of Gotu Kola, Bhringraj, and hibiscus, packed with powerful antioxidants and nutrients, help strengthen your hair follicle, prevent hair breakage, and calm an itchy scalp. 
Have you tried our Amla Brahmi Hair Oil yet? Let us know how it worked out for you.
Benefits of Amla Hair Oil
Here are some of the benefits of Amla oil for hair:
Hair growth: Amla packs a lot of goodness, such as antioxidants and vitamins that promote hair growth. Vitamin C in

Amla helps increase collagen and makes your hair grow longer and thicker.

Slows down greying: Greying is a condition associated with excessive pitta or heat, one of the doshas, in the body, according to Ayurveda. Amla cools the body and slows the greying process. The regular application of Amla hair oil is highly beneficial in preventing greying.
Treats dandruff: Applying

Amla hair oil hydrates the scalp and reduces dandruff. The oil has strong antibacterial and anti-inflammatory properties that prevent dandruff as well as scaling and itching.
Why choose Life & Pursuits? 
No artificial colors
No synthetic fragrance
No sulfates
No animal testing
No parabens
No animal derivatives
At Life & Pursuits, we use the best of India's Ayurvedic knowledge and ingredients, free from chemicals and toxins, and sourced responsibly from organic farms across India. The company also adheres to USDA, and India Organic guidelines and believes in maintaining complete transparency so that the customer knows exactly what goes into our products.
Check out our range of haircare products here.