Face Care
5 Reasons You Should Give Yourself a Face Oil Massage Regularly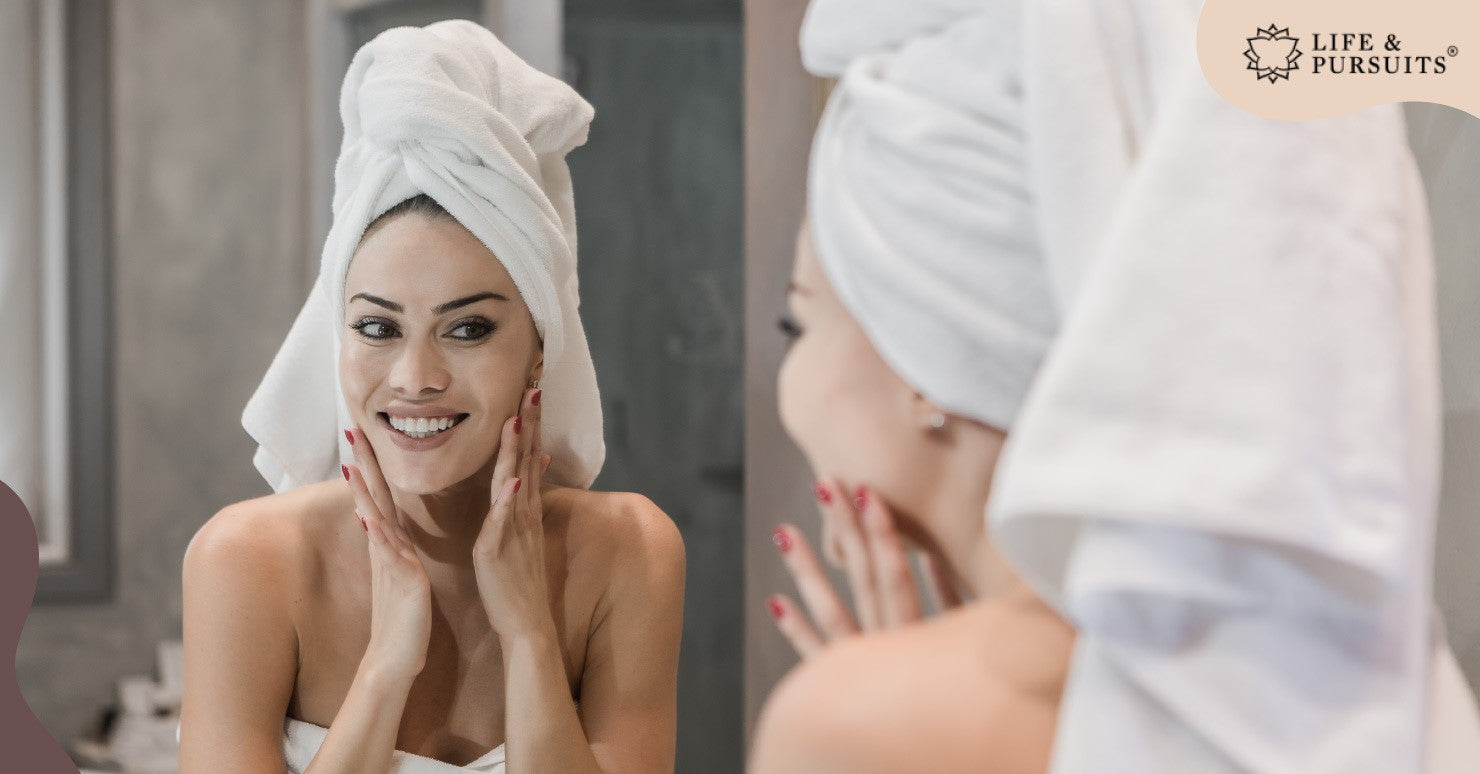 Admit it: a face massage is exactly what you need to unwind after a long and hectic day. If you don't get one quite often, you can at least imagine the feeling.
While for most people, a face massage is a tried and tested way to relax under the calming strokes of someone massaging the face, others do it for the therapeutic and purported benefits. 
Whatever reason you choose to get a face massage, the best part is that its good benefits don't judge, and you are entitled to a blissful state of skin post-massage.  
For instance, facial massage with oil promotes healthy skin while relaxing the muscles of the face. It also offers a soothing and revitalizing effect, making you look and feel better, among other benefits.
Continue reading to find out the surprising ways in which a face massage oil could benefit your skin in the short and long run. 
5 Benefits of Giving Yourself A Face Oil Massage
 
We've got five reasons ‌why face oil massage is the best way to give your skin the glow-up of its dreams:
1. Face oil massage promotes anti-aging and acne reduction
By massaging your face with nourishing face oil in a circular motion, you can
boost your blood circulation
on the face. In addition, you can further improve facial skin blood circulation if you use a face roller or Gua Sha. Improved blood circulation helps reduce puffiness, plumpness, fine lines, wrinkles, and even acne. All these can contribute to reduced signs of aging and increased skin elasticity.
2. Facial oil massage encourages cell regeneration 
The oil massage eliminates toxins and encourages your cells to repair themselves quickly by stimulating blood flow on the face. This helps loosen your tissues, flatten bumps, and repair wounds and scars such as acne scars. This also means overall healthier and clearer-looking skin. 
3. Facial oil massage opens your pores 
A face oil massage cleanses and tones your skin. It does this by opening pores and allowing them to release built-up dirt and sebum that would otherwise leave your skin looking dull and tired. This gives way to fresh, glowing skin.
4. Facial massage oil moisturizes your skin
A good oil massage will help your face absorb the moisturizing (and other therapeutic) benefits of the oil more deeply, which will leave you feeling smooth and nourished from the inside out.
5. Facial massage oil helps you unwind
 A face oil massage is the best way to help you relax and ease your woes. It is now widely accepted that the advantages of face massage extend far beyond bright skin and stress reduction. 
For instance, a face oil massage also offers numerous health benefits, including relieving facial pain and soothing and repairing the skin.
Face oil massage can calm your mind and body when done using gentle strokes that stimulate blood flow and break up any tension in your muscles. 
Pamper Yourself With Life & Pursuits Face Oils 
While face oil massage can give excellent results, you've got to be careful to choose which oil you use on your skin's thinner and sensitive skin. Life & Pursuits offers a range of 100% natural, made with organic ingredients, safe, toxin-free face massage oils that are super effective. In addition, all the face oils are free of chemicals and additives. 
Saffron Face Oil with Vitamin C and Turmeric 
Our saffron face oil at Life & Pursuits with vitamin C and turmeric is like liquid gold for your facial skin. It is a luxurious blend of moisturizing oils such as pomegranate oil, apricot oil, and natural Vitamin C, which helps brighten up your complexion. It also contains turmeric, which helps brighten skin tone and reduce uneven skin tone and wrinkles. 
Bakuchi face oil 
For the most luxurious skincare experience, you've got to try our Bakuchi Face Oil.
Bakuchi oil is truly a gift from nature. This anti-aging face oil is a blend of oils extracted from bakuchi seeds used in traditional Ayurvedic medicine. It contains natural retinol—a fat-soluble vitamin known to remove dead skin cells. 
Bakuchi oil is believed to stop the aging process by nourishing the skin's collagen levels. For centuries, women have used this oil to maintain youthful skin.
Let this golden potion work its magic on your skin and leave you with a radiant glow while the aroma transports you to a place of serenity.
How to Apply Our Face Oil For a Relaxing Experience
While experts can give you the best experience, what if we told you that you could have a face massage whenever you wanted? 
With these easy steps, you can, and it'll only take a couple of minutes. Get one of our face oils, and get started: 
Grab your face oil and apply about a dropper-full to your palms. 

Rub your hands together to warm the oil up and gently press your hands against your forehead.

Don't rub, just let the warmth of your hands help the oil absorb into your skin.

After 30 seconds, move on to your cheeks—the apples, specifically where your cheeks bulge when you smile. 

Press the oil (after rubbing your palm vigorously) into those spots with gentle pressure for 20 seconds.

Now transfer that pressure to the sides of your nose and hold for 10 seconds. 

Then move down to just below your lips, where it curves in as you smile. Again, gently press for another 10 seconds.

Do the same gentle pressing motion over each side of your chin for 10 more seconds each.
Bam! You've just given yourself a facial oil massage in two minutes. How are you feeling?
Facial massages are an excellent opportunity to treat oneself to some healing and renewing while also treating specific issues. Enjoy the discovery process as you learn to practice face oil massage on your own or receive professional treatments regularly.