Skin Care
A NATURAL & NOURISHING BATH ROUTINE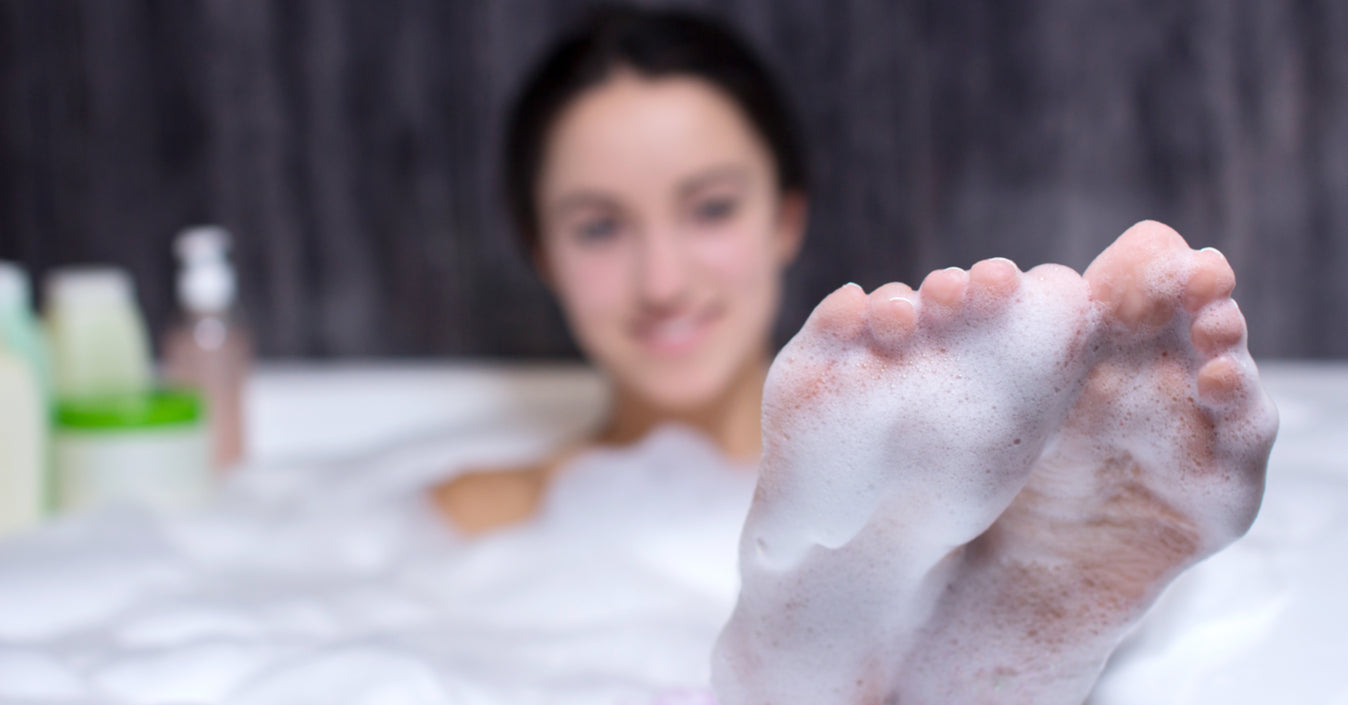 Natural bath routines are a must if one wishes to attain lovely, glowing skin, along with all-around beauty and wellness. Most skincare, haircare, and bath & body products are loaded with harmful toxins, chemicals, parabens, and synthetic fragrances, which have been linked to skin allergies and endocrine disruption when used for an extended amount of time. Resultantly, natural and organic is the way to go: once you adopt a bath routine, wherein natural ingredients and organic products are used, you will feel more pampered and refreshed, minus any side effects. You may adopt the following step-by-step bath routine for the purpose of a blemish-free skin, luscious locks, and effective self-care. 
Natural Pre-Bath Routine
Ideal shower routines must include full-fledged pre and post-bath self-care regimes, as they help you feel relax and pampered. You can start your pre-bath routine with:
1. Ayurvedic Self-Massage or Abhyanga
As per Ayurveda, Abhyanga boosts muscle toning and blood circulation, while nourishing the skin and soothing the mind. Choose a natural oil, such as organic Coconut Oil, and massage gently in upward, circular strokes, while applying gentle pressure on your joints. Massages also help slow down the aging process and grant intense moisturization to dry and damaged skin. You can also use Coconut Oil as a natural cleanser: pour a small amount of oil on your palm or a soft cotton ball, and apply it all over your face to remove dirt, makeup, and unclog pores.
2. Natural Face Mask
You can apply a natural face mask as a part of your pre-bath routine once in a week. Honey is a wonderful natural ingredient, owing to its hydrating properties and its ability to make skin soft. Apart from this, honey is also loaded with essential vitamins, antioxidants, antimicrobial and antibacterial agents. You can mix 2 teaspoons of natural honey with 1 tablespoon of organic rose water and apply it as a face mask. Allow it to dry for 10-15 minutes and rinse off with lukewarm water. Another natural face mask, comprising of a mixture of powdered Manjistha, honey, and natural yogurt can be applied once a week. This will rejuvenate your skin and grant it a healthy glow.
3. Organic Oil Massage for Hair/ Natural Hair Mask
Oil massages for hair are paramount for keeping the scalp healthy and moisturized; it also helps combat dandruff, dry & dull hair, hair fall, and split ends. Take 1-2 tablespoons of an Ayurvedic hair oil, such as Bhringraj Oil, Coconut Oil, or Sesame Oil, and massage gently into your scalp and roots. Leave it on for 45 minutes and wash off with a mild herbal shampoo when you bath. Natural hair masks are also extremely beneficial for hair health, as they help restore hydration and provide nourishment to dry and brittle hair strands. You can mix Coconut Oil with natural lemon juice and aloe vera gel. Leave it on for an hour and wash off with a mild herbal shampoo when you shower.

Natural and Nourishing Bath Routine
Your bath routine starts when you step into the shower: start off with gentle exfoliation and follow up with an organic body wash. Do not take a bath in extremely hot water, as this can lead to clogged pores and acute dryness.
1. Natural Exfoliator
Exfoliation is an important part of skin care, as it helps scrub off dead skin cells and makes skin soft and supple. You can concoct a homemade exfoliator with the help of natural ingredients, such as ground coffee, olive oil, and organic green tea leaves. Mix these ingredients together and apply all over your body. Exfoliate gently with your fingers or a soft loofah. Wash off with lukewarm water or an organic body wash.
2. Body Wash
Organic body washes are made with mild cleansers and have natural ingredients, such as Neem, Tulsi, Haldi, and Manjistha. Opt for a pH balanced, biodegradable formula capable of creating a rich, creamy lather and nourishing skin without making it dry. Avoid body washes that contain parabens and artificial fragrances; opt for ones that refresh the skin with a natural, fruity aroma.
3. Mild Herbal Shampoo
While shampooing is not an everyday occurrence, wash off your hair with an organic shampoo made with natural ingredients. Remember to massage your scalp thoroughly and rinse off with lukewarm water. Follow up with a natural conditioner.
Natural Post-Bath Routine
Dry off with a soft towel; pat your skin instead of rubbing it. Follow up with:
1. Organic Body Lotion/Moisturizer
A mild, non-greasy, and effective organic moisturizer will help seal in moisture inside the skin. This will help you feel pampered and refreshed, and impart a lovely, lingering smell.
2. Natural Lip Balm/ Eyelash Nourisher
Organic Castor Oil is an excellent hydrating agent, hence you can use it as a natural lip balm and eyebrow/eyelash nourisher. Apply a few drops of Castor Oil on your lips as a part of your post-bath routine: this will make your lips soft and beautiful. Also, applying Castor Oil on your eyebrows and eyelashes with a clean mascara brush will make them darker and thicker in texture and appearance.

We hope that this natural and nourishing bath routine will help you feel refreshed and beautiful, inside out. Adopt these steps and watch your stress and skin/hair issues wash away!
You Can Also Watch This Video

 

About

Natural & Nourishing Bath Routine

: