Hair Care
Herbal Hair Oil: Give Your Hair the Care It Deserves With the Goodness of Herbs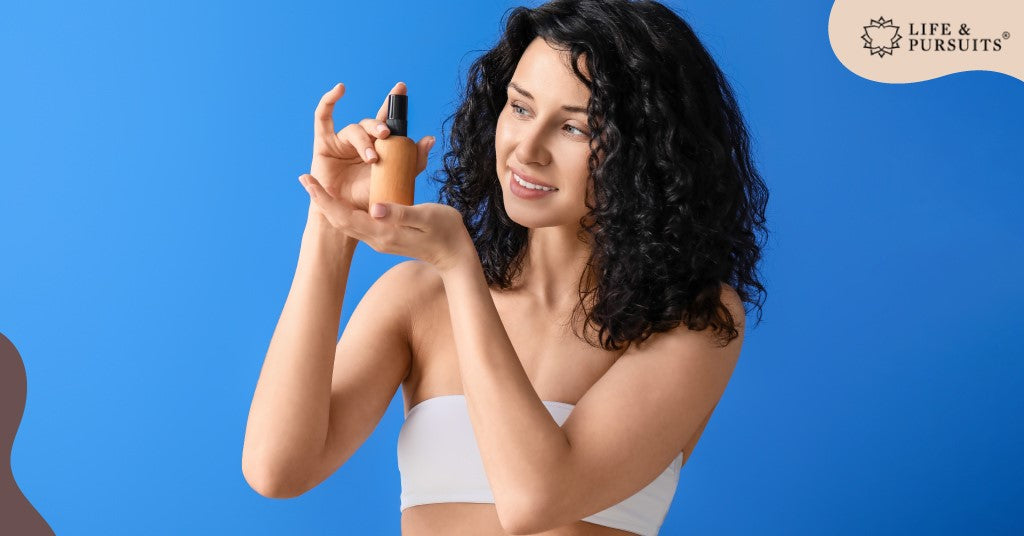 Let's face it; the pollution all around us doesn't make our hair feel welcome in this world. To fight hair loss and dandruff resulting from a hectic life, you need to take good care of your hair. Using a decent herbal hair oil like this could work wonders for your hair, slow hair loss, and help promote growth. 
Hair oils infused with herbs will also help provide strength to the hair shafts, reduce frizziness and dryness, minimize hair fall, and prevent hair breakage and split ends. 
Continue reading to see how herbal activities can help you grow your hair faster. However, we always suggest you see your doctor before incorporating herbs into your daily regimen, especially if a medical issue causes your hair loss. And don't forget to do a patch test 24 hours before the application. 
How Is Herbal Oil Made?
Making herbal hair oil starts with choosing a base oil or carrier oil in which the herbs are infused. 
Some good carrier oils are coconut oil, jojoba oil, olive oil, argan oil, etc. Then, herbs are selected to be infused in the oil, like hibiscus, Brahmi, Bhringaraj, and many more. 
But just putting oils and herbs together will not make it herbal hair oil. Herbs need to be properly infused with the oil to bring out goodness. Oils need to be heated up either on a stovetop or by setting them out in the sun and then infused with the herbs for the oils to work. 
Oiling your hair with herbal hair oil is probably the best way to care for and protect your hair. So, what could be even better? Herbal oil is made with natural and organic ingredients. There are many advantages of using organic hair oils as compared to non-organic, chemical hair oils.
So, when you choose the carrier oil for your herbal mix, ensure it is organically certified. 
Natural Ingredients That Make up the Perfect Organic Herbal Hair Oil
Why are herbs used, and what are the benefits of using those herbs? Read on below: 
1. Bhringaraj
Bhringaraj, also known as Kesharaj, which translates to 'King of hair,' is undoubtedly the most beneficial herb in the mix. This magic herb, when used in oil, helps in facilitating growth. In addition, it has numerous nutrients that provide much-needed nourishment to your hair.
2. Brahmi
In Ayurveda, Brahmi, also called bacopa, is said to soothe the Pitta, one of the three doshas or elemental issues of the human body (the other two being Vata and Kapha). Among other benefits of this herb, when used as hair oil, it is said to help decrease dandruff and reduce hair loss, Brahmi is said to contain alkaloids, which are active proteins responsible for hair growth. 
3. Hibiscus
Hibiscus rosa-Sinensis, or Chinese hibiscus, is a popular ingredient in herbal hair oils. Hibiscus has a lot of benefits, including reducing hair fall, making your hair look shiny and healthy, preventing the build-up of dandruff, preventing split ends, adding volume to your hair, and softening your hair.
4. Haritaki
Haritaki, or the 'King of Medicines', is a herb treasured for its benefits in improving the health of your hair. It's mainly used to treat dandruff, itchy scalp, and hair fall. Being an essential part of Triphala, it helps clear hair follicles by ridding them of dirt and dust. It also promotes hair growth.
5. Onion
Onion is naturally antimicrobial and anti-inflammatory. It is proven to provide more nutrients and nourishment to your hair follicles. Onion oil is also a great moisturizer for your scalp, especially for dry scalp, and aids in hair growth.
To achieve that all-year-round perfect glossy hair, you should also think about special summer and winter routines. Both seasons can be hard for our hair in different ways, so you must take special care of your hair during these seasons.
In Conclusion
Herbal hair oils can help you relax, boost your mood, and aid in better sleep. They will also combat hair damage and make your hair always look gorgeous. So, if you are looking to achieve the tresses of your dreams, you should go for Herbal hair oils.
Life & Pursuits offers Ayurvedic hair care products, made Organic, that do all the above jobs quite efficiently. 
Check out the Life & Pursuits range of hair care products today and reap the benefit of authenticity.