Skin Care
Saffron Face Oil: Royalty for The Skin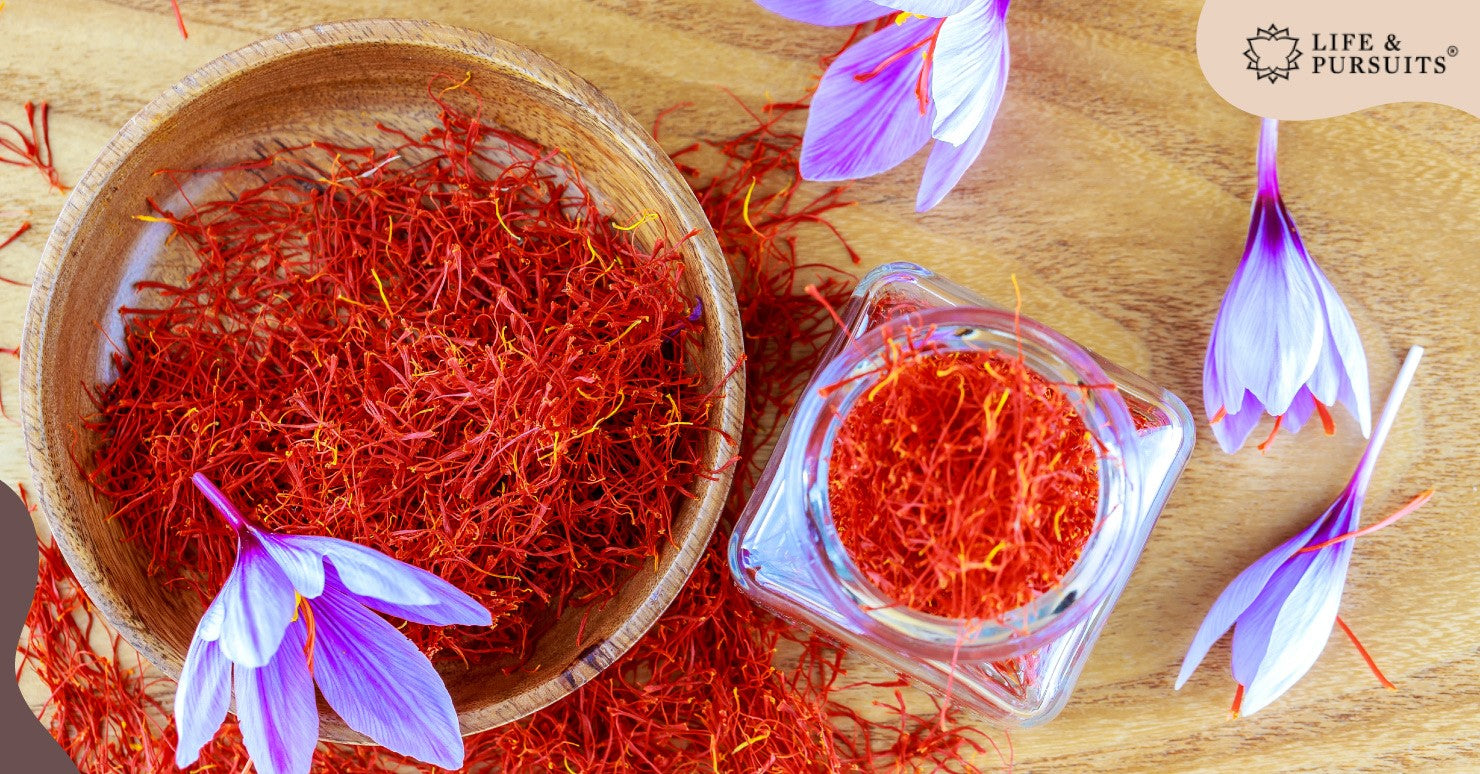 Rarely any spice has a trace of antiquity like saffron has: you can trace the use of these tiny but incredibly fragrant and colorful threads (styles and stigmas) of the Crocus Sativus flowers dating back to 1600-1700 BCE. 
History has it that Cleopatra, Egypt's sassy Queen, used saffron as a beauty product in her skincare regime. Other ancient accounts record people using saffron with donkey milk as an elixir of eternal youth. 
Saffron was one of the elements in a royal perfume commissioned by the Parthian Dynasty, which included a rejuvenating oil facial for monarchs and ceremonial leaders.
Cultures across the world, from Greek Iranian to India, have records of using saffron for various purposes, with food and beauty dominating the usage. 
In the 21st Century, these powerful threads (as saffron strands are called) make a comeback. Because of expanding public awareness of saffron's medicinal characteristics and health advantages, saffron demand has skyrocketed in the United States in recent years. 
Now in the form of ultra-luxe face oil, the Life & Pursuits' Saffron Face Oil with Vitamin C and Turmeric brings you a luxurious life that reflects on your skin. Learn more about it here. 
Saffron as a Skincare Ingredient: Proven Magic! 
Saffron is is the world's most expensive spice (at $5000/kg) for a reason–it does things for your skin that rarely any one product can do: 
It helps reduce hyperpigmentation. 

It enhances the brightness of your skin, giving you a youthful glow. 

It contains antioxidants and anti-inflammatory properties that help protect against free radical damage and promote healing. 

It increases cell turnover. 

It is excellent for sensitive skin. 

It smells amazing.  
Saffron is an excellent natural UV repellent. According to studies, a saffron lotion is a better sunscreen than homosalate (an organic compound used in sunscreens). As a result, saffron can be utilized as a natural UV absorber. 
Saffron's antioxidant capabilities and its antisolar and moisturizing characteristics can play a vital role in the prevention of skin malignancies such as some forms of skin cancer.
Moreover, saffron is known to reduce pigment melanin and works well as a skin lightening agent. Studies have found formulations containing saffron extract cause considerable depigmentation and an anti-rhythmic action on human skin. 
Several compounds found in saffron have strong antioxidant actions on the skin. In addition, these chemicals work by reducing the activity of tyrosinase (a phenomenon that causes spots on the skin), which reduces skin melanin and leads to brighter skin and reduced dark spots. 
Studies also revealed that clinical investigations on saffron's anti-pruritic (soothing) and skin-promoting benefits confirmed that saffron was more effective than placebo.
In many traditional practices, Saffron is soaked with a few basil leaves to heal skin conditions like acne. It is also known that a mixture of soaking saffron strands, virgin coconut oil, or olive oil, and a small amount of raw milk exfoliates and improves blood circulation in the facial skin. 
Saffron has also been shown to help with erythema—a skin condition marked by inflammation, redness, and rash. Saffron is high in antioxidants, which are thought to suppress the expression of inflammatory indicators. 
Last but certainly not least, saffron is world-famous for its perfume. When the spice is dried, it emits a delightful perfume that Aristophanes describes as a "sensual smell" that the Greeks adore.
This woody, sweet, and harmonic note can now be found in the formulation of various perfumes, both feminine and masculine.
Life & Pursuits' Saffron Face Oil with Vitamin C and Turmeric
At Life & Pursuits, our Saffron Face Oil is rich in antioxidants that promote healthy cell growth while protecting them from damage caused by free radicals. 
It also contains fatty acids that deeply moisturize your skin while preventing moisture loss throughout the day or night and giving your face a wondrous glow.  
Our Saffron Face Oil comprises the following:
Vitamin C - A natural antioxidant, vitamin C helps to even-tone the complexion, reduces dark spots, improves skin texture, and makes it look healthier and better. 
Turmeric - Ayurveda's most celebrated beauty herb goes deep into the skin to reduce inflammation and redness, soothing it while giving it an ethereal glow. It also even-tones your complexion while helping reduce fine lines and wrinkles. 
Saffron - Saffron is packed with vitamins and minerals that help promote cell renewal and elasticity in your skin, so you can wake up every morning looking refreshed and ready to take on the day. It also protects the skin against harmful UV rays and reduces pigmentation. 
How to Use Our Saffron Face Oil
If you want to treat yourself to something luxurious, don't look beyond our Saffron face oil. Achieve a studio-like glow naturally while leaving your skin soft and supple.
Our face oil is lightweight in consistency and texture, making it easy to spread and absorb so that you can get the full benefits of nature's offerings. Here's how you can use it:
Step 1: Take a few drops of the face oil and massage on cleansed skin. 
Step 2: Pat it lightly or use a Gua sha or Jade roller stone for enhanced absorption.
Step 3: Lock the moisture in with your daily moisturizer by adding a few drops of face oil to it. It works best with our Organic Rose Water and Organic Daily Moisturizing Lotion.
Why Choose Our Saffron Face Oil?
At Life & Pursuits, we're passionate about using only the best ingredients from nature in all of our products. This helps us deliver organic products that will help you look and feel your absolute best. Here are some features that make our face oil stand out: 
NO parabens, sulfates, and mineral oil:

Mineral oil and silicone are known to dilute the potency of turmeric and vitamin C, which is why our face oil is entirely free of them so you can harness the power of natural ingredients to their full capacity. 

Cruelty-free:

Our 100% vegan formulation is extracted from natural sources in the most ethical manners to give you guilt-free skincare indulgence. 

Synthetic fragrance-free:

Our face oil has a decadent natural fragrance instead of synthetic ones to protect your skin and prevent allergies. 

Free of artificial colors:

Saffron on its own imparts a vibrant color to the face oil, eradicating the need for artificial colors. 
Our Saffron Face Oil delivers hydration and glow-inducing nutrients directly onto your skin, so you can show up in the world feeling confident, glowing, and gorgeous. 
At Life & Pursuits, we believe in providing care that lasts by addressing concerns from roots and working over them gradually to give your skin a boost of health and glow, one day at a time. 
Our products comprise thoroughly researched Ayurveda herbs and oils ethically sourced from Indian farms. We are constantly pursuing creating a good life for skin, hair, and beyond. So join us in this journey of nurturing care.