Skin Care
The Best Body Oil Will Make Your Lotions And Creams Envious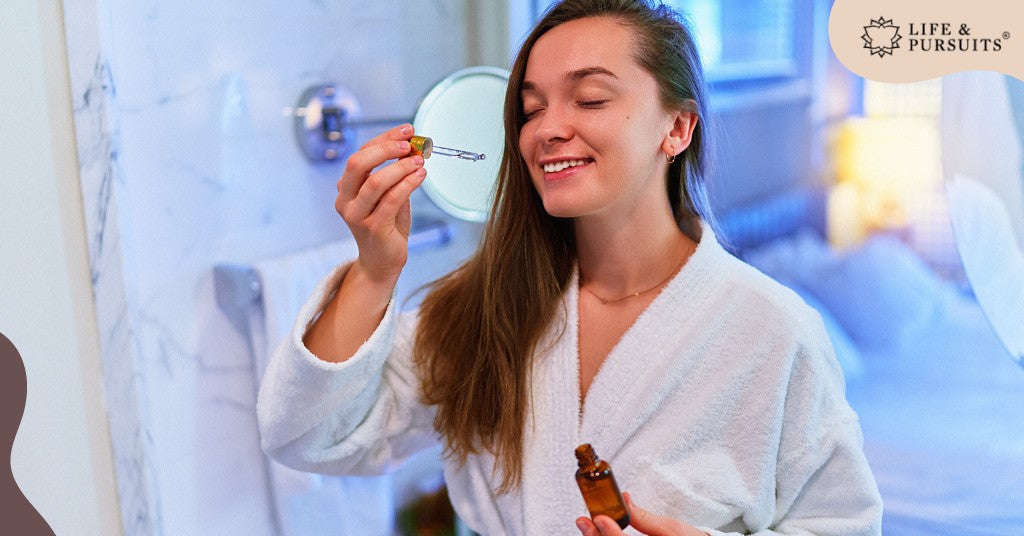 This question: is the best body oil better than creams and lotions, or vice-versa, is flawed (we don't ask which is better between apples and oranges!). So instead, the question is: which is better for my skin type?—body oil or creams and lotions? 
Experts often side with oils for a more penetrating, immediate, and luxurious benefit on the skin during dry spells and even for extreme skin conditions. Lotions and oily creams, on the other hand, are famous for quick, frequent, and lightweight hydration on the go for most people.  
In this article, we assume you're facing the winter's dry spell and are looking for the best body oil to replenish your dry, dehydrated, and sun-damaged skin. So let's see which are some of the best body oils you can get if you're not so much of a lotion or cream person. 
The Best Body Oil for Your Skin
Now for the best bit; we've narrowed down a couple of our favorite body oils to keep your skin silky-smooth and glowing:
1. Turmeric Body Oil
Turmeric is a potent ingredient for eliminating blemishes and providing a healthy glow to your skin. Turmeric extract oil, like turmeric powder, is derived from the roots of the turmeric plant and contains anti-microbial properties.
Life & Pursuits' Turmeric Body Oil deeply nourishes, moisturizes, and hydrates the skin. This beauty oil with natural vitamin E helps moisturize, tighten, and brighten the skin. 
To truly revive your bodily senses, this can be the best body oil for relaxing aromatherapy and head-to-toe massages as an alternative to lotions and creams. 
Usage:
Allow the oil to seep into the skin by gently massaging it in circular strokes. If necessary, remove it with a gentle cleanser. It is suggested to use it regularly for best results.
2. Lavender Body Oil
The lavender herb's blooms are used to make lavender oil; it is extracted using steam distillation like other flower oils. It's the best oil for aromatherapy and has proven to be a great help for treating acne.
Relax with the soothing properties of pure and organic Lavender oil. Life & Pursuits' Lavender Body Oil perfectly complements your skin and beauty care routine because it contains a robust blend of Ayurvedic herbs, essential oils, and Vitamin E. 
This Lavender oil hydrates the skin while also repairing sunburn and dryness. This moisturizing oil can be used as a massage oil before showering or as a post-shower moisturizer. In addition, it efficiently reduces dryness and softens hard nails when massaged into your hands.
The lovely scent of this soothing Life & Pursuits' Lavender Body Oil will transport you into a spa-like experience at home. Relax your mind and body with a relaxing massage of this nutritious oil that is naturally calming.
Usage:
Allow the oil to absorb into the skin by rubbing it lightly in circular strokes. Remove the excess with a soft cleanser if necessary. Use it frequently for the best results. 
3. Moringa Oil
It's no surprise that the Moringa tree is known as the "miracle tree." This is because every portion of the Moringa tree is loaded with health advantages. 
However, the Moringa oil derived from the Moringa tree seeds is at the top of the tree's most helpful products list. This oil also has the intriguing and unique capacity to penetrate and detoxify the skin with its light, dry, fluidic, and sharp traits, making it one of the best body oils out there.
Life & Pursuits' Moringa Oil contains emollient characteristics, making it ideal for deeply moisturizing and smoothing dull and dry skin. It also possesses anti-aging effects that help minimize fine lines and wrinkles for a more youthful appearance.
Usage:
Allow the oil to seep into your skin by gently rubbing it in circular motions. You should use it regularly for the best results.
4. Vitamin E Oil
You must have witnessed many skincare products, particularly those with anti-aging properties, often including vitamin E in their compositions. In addition, many moisturizers contain it, and the oil can be used to prevent or treat dry, flaky skin.
Life & Pursuits' Vitamin E Oil is devoid of synthetic tocopherol acetate, mineral oil, and perfumes and is made using organic sunflower oil and almond oil. 
Its all-natural recipe is perfect for hydrating and nourishing your skin. The conditioning oil also helps relieve dryness and irritation even after applying creams and lotions. 
Life & Pursuits' Vitamin E oil helps fade acne scars, stretch marks, fine lines, and wrinkles, which are indicators of aging. In addition, this skin-conditioning oil is a holistic wellness gift for your skin as it gives total skin nourishment. To soften and strengthen your hands and nails, gently massage them with this excellent body oil.
Usage:
Rub the body oil gently in a circular motion until absorbed into the skin. Use it regularly for the best results.
All you have to do is allow the goodness of these herbal extracts to shine through on your skin. So, what do you prefer more now? Lotion or creams, or body oil as a moisturizer. Let us know in the comments. 
Life & Pursuits is your one-stop shop for made with organic skin, hair, and face care products. So, explore our gentle and genuine best body oils today.