Skin Care
Want Soft, Glowing Skin? Give These 5 Best Body Oils a Chance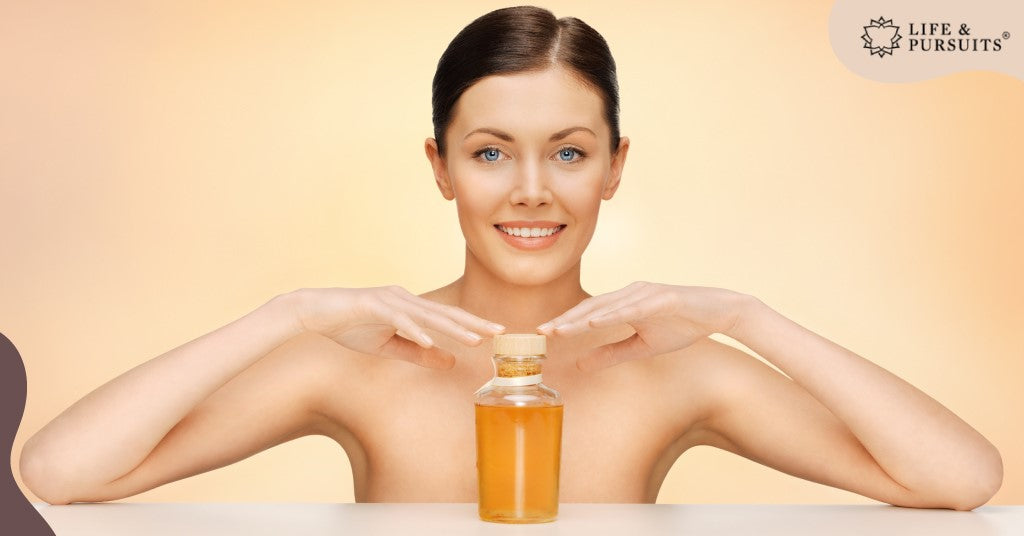 We have numerous face and hair care products to discuss regarding hydrating or moisturizing, but what about the body? Did you know that your body's skin loses moisture and natural oils after showering? And, on occasion, body milk and lotions may not be sufficient to recover the lost nutrients required to keep the skin soft and supple.
Many people mistakenly believe applying body lotions to hydrate the body is sufficient. On the contrary, body oils are thicker than facial oils but lighter in weight, and they do not become greasy when applied.
So if you are looking for the best body oils for glowing and soft skin, you're in the right place.
How are Body Oils Different from Body Lotions?
Body oils are used to restore moisture into the skin; they penetrate deep into the skin and work on the moisture level, whereas body lotions, which come in a variety of forms, are intended to address a specific condition. The other, and most significant, distinction is in their ingredient composition. Body oils are derived from nuts and vegetables such as almond, coconut, avocado, and jojoba. While lotions are classified as either water-in-oil or oil-in-water based, both are intended to hydrate or moisturise the skin.
Body oils are composed entirely of concentrated oils that absorb deeply and build an occlusive lipid barrier on the skin, trapping in moisture and protecting the skin from environmental stressors.
Oils are effective because they mimic the natural lipids found in our skin's barrier. Lipids repair gaps between our skin cells caused by dryness or flaking, resulting in a smoother surface. We require these lipids to help trap moisture in our skin; without them, we are more prone to dry or scaly spells.
Which Are the Best Body Oils for You to Have That Glowing Skin?
Before applying any oils to your skin, consult your doctor or perform an allergy test. But, to get you started, here are some of the most common types of body oils:
1. Sesame oil
Sesame oil is extracted from sesame seeds, also known as gingelly or til oil. It is used extensively in Asian cuisine as well as alternative medicine. Sesame oil is extracted from sesame seeds by crushing them or toasting them. The first approach makes use of cold-pressed sesame oil. Cold-pressed sesame oil is pale yellow, whereas hot-processed sesame oils have darker hues and a distinct flavor.
Sesame oil can be one of the best body oils for most people. However, a patch test is recommended because any drug can produce a reaction, especially if you have sensitive skin.
Benefits:
Protects against UV rays.

Helps heal wounds and burns.

Good as a moisturizer.

It contains antioxidants that can protect against free radical damage.

Its antibacterial properties can either kill or inhibit the growth of hazardous microbes.

Reduces inflammation and swelling.
 2. Organic turmeric body oil
Turmeric is a wonderful beauty component for anything from reducing blemishes to adding a glow to your complexion and combating hair loss. Turmeric essential oil, or Organic Turmeric Oil like turmeric powder, is extracted from the roots of the turmeric plant and contains anti-allergic, anti-bacterial, anti-microbial, anti-fungal, and anti-parasitic properties. It is also high in antioxidants.
Do not apply turmeric oil directly to your skin. Instead, before being used, combine it with a carrier oil such as coconut, olive, jojoba, or apricot oil.
Benefits:
Eliminates signs of aging.

For drying acne.

Reduces inflammation.

Eases sunburns.

It can be used as a skin rejuvenator.
3. Organic vitamin E oil
Vitamin E has long been recognized for its numerous health and cosmetic advantages. Vitamin E oil is a nutrient as well as an antioxidant. Vitamin E oil is a potent fat-soluble antioxidant that can help to revitalize your skin and general health.
It is often made up of different chemicals, including tocopherols and tocotrienols. However, Organic Vitamin E Oil, derived from plant-based sources like sunflower, is arguably superior to chemical-based. 
Vitamin E oil is incredibly versatile in its purest form. Put a couple of drops of Vitamin E oil into your regular moisturizer lotion or virgin olive oil and apply it on your skin at bedtime for results.
Benefits:
Restores and rejuvenates dull skin.

Reverses signs of premature aging of the skin.

Treats sunburns.

Lightens dark spots.

It can be used as a cleansing agent.

Helps in fading stretch marks.
 4. Organic lavender body oil
Lavender oil has long been a favorite among essential oil enthusiasts. The oil is extracted using a steam distillation technique, which involves steaming the flowers, capturing the steam, then separating and collecting the oil from the water.
The benefits of Lavender Body Oil for stress management and anxiety reduction are well documented. Unsurprisingly, it has the same relaxing effects on your skin. 
Calming lavender oil can be used on the skin to help minimize redness, blotchy spots, and acne scarring. In addition, because of its anti-inflammatory characteristics, lavender oil is ideal for soothing and mending skin that has been inflamed or reddened by the sun, bug bites, or bacteria.
Benefits:
Soothes eczema and dry skin conditions.

Fights acne.

Detoxifies skin.

Heals injured skin.

Helps prevent wrinkles.

Gives you a natural glow.
 5. Organic moringa oil
Moringa oil is derived from the seeds of the Moringa Oleifera tree. The best Moringa Oil is extracted using a cold-press method, and it has a pale-yellow, lightweight texture and a subtle, nutty odor. Because of its light, dry, fluid, and sharp properties, this oil has the mysterious and one-of-a-kind capacity to enter and purify the skin, thanks to oleic acid.
Organic Moringa Oil is also resistant to rancidity – aerial oxidation of unsaturated fats – and can last for many years without any unpleasant odor. It is a key element in reviving shampoos, anti-aging lotions, and various other cosmetic and health products.
Benefits:
Creates a protective barrier for the skin.

Repairs skin from damage.

Works as an anti-aging oil.

Soothes dry cuticles and hands.

Prevents and minimizes sunspots.

Controls oily skin.

Reduces stretch marks.
About Life & Pursuits
So you are looking out for that shiny, glowing, and soft skin, aren't you? We are here to help you out!
Organic Ayurveda, health, and personal care items free of chemicals are available at Life & Pursuits. 
Our products combine the traditional wisdom of Indian Ayurveda with the West's most recent and scientific quality standards. The result, products that can make you feel a difference right from the first use. 
And do
check out our range of 100% toxin-free selection of skin-care oil
.