Skin Care
Why Saffron Face Oil is Perfect for Your Skin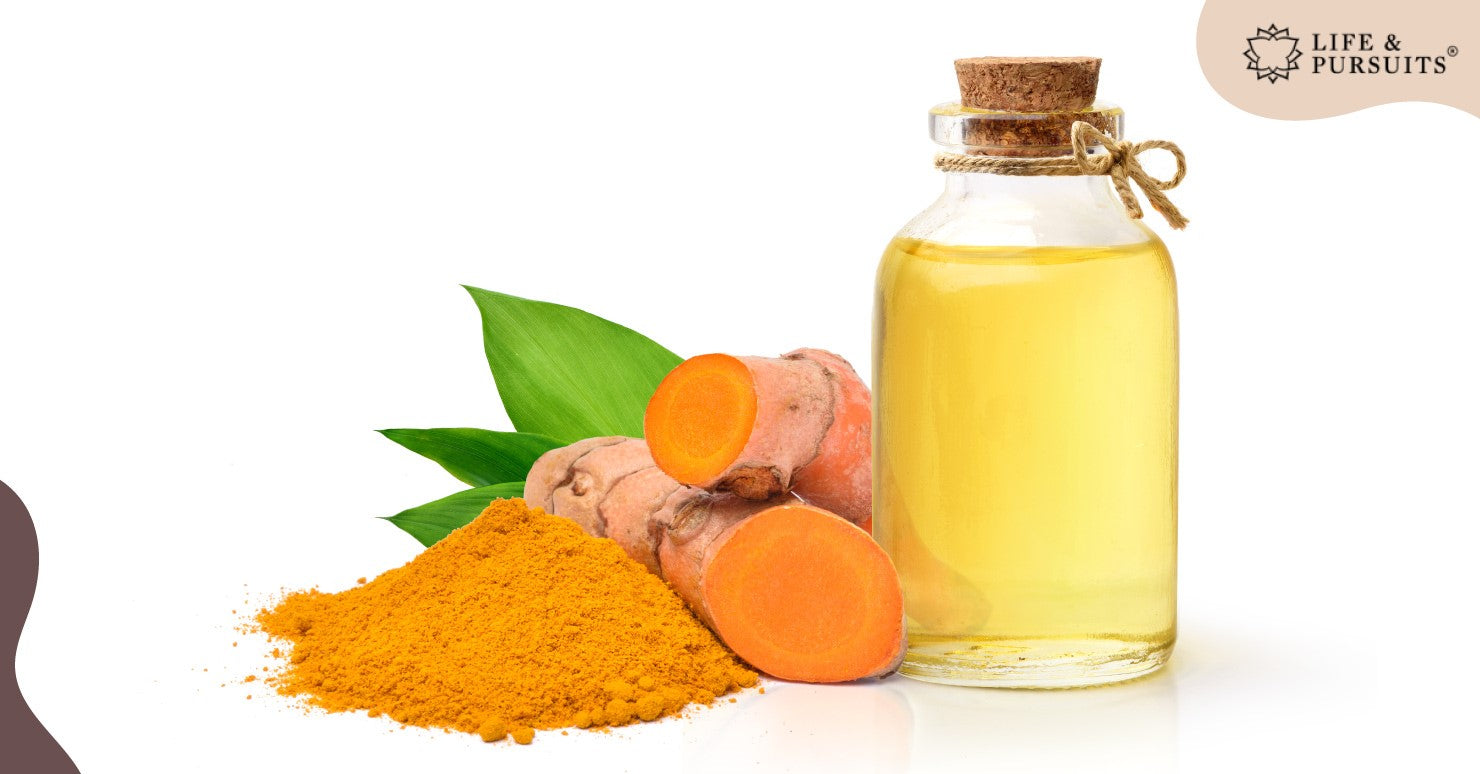 Life & Pursuits' Saffron Face Oil enriched with the goodness of golden turmeric and brightening properties of Vitamin C to recharge your skin from within.
Saffron threads & turmeric extract to help reduce hyperpigmentation

Vitamin C to brighten the skin and prevent photoaging

Pomegranate oil to hydrate and promote healthy and bouncy skin

Olive Squalane to restore skin moisture, protect against pollutants, and add nourishment 

Apricot oil to maintain skin elasticity, and help soothe damaged skin 
Benefits of the Saffron Face Oil
Reduces dark spots:

A combination of age-old natural ingredients like saffron and turmeric helps to reduce the appearance of dark spots. 

Evens out skin tone:

Pure Vit C helps in brightening the skin and evens out the complexion. 

Reduces early signs of aging:

With this

all-encompassing elixir, we have sought out pure, organic saffron and other key ingredients that complement one another to reduce fine lines and wrinkles.

Absorbs easily:

The light, non-greasy formula is nourishing for the skin and gets easily absorbed. 
Ingredients 
Saffron
Derived from the most prized spice in the world—saffron, this beautiful fiery orange red oil owes its color to the hand-picked saffron, packed with, vitamins, minerals, and antioxidants. 
With a strong exotic scent, the benefits of saffron are countless:
Improves acne:

Saffron's anti-bacterial and anti-inflammatory qualities help in treating breakouts.

Removes suntan:

The tan-removing properties of saffron make it a popular skin ingredient.

Because of the soothing effect of saffron, it is an excellent tan remover. 

Provides a healthy glow:

The use of saffron in skincare gives a dewy glow and diminishes dark spots and redness. 
Vitamin C
Backed with science, our Saffron Face Oil is enriched with potent oil-soluble vitamin C, which helps in slowing early skin aging, preventing sun damage, and improving the appearance of dark spots. According to a study, the usage of vitamin C for nearly three months can improve the appearance of wrinkles and fine lines, improving the overall texture. 
Additionally, topical vitamin C has skin brightening properties and helps in removing post-inflammatory hyperpigmentation. 
Turmeric Extract
Our 100% pure and natural turmeric extract aids in brightening up your skin and helps lighten dark marks and scars. Benefits of turmeric extract include: 
Helps with inflammatory skin conditions:

The antioxidant, anti-microbial, and anti-inflammatory properties of turmeric help in fighting skin disorders.
Improves skin complexion:

Besides being antioxidant, curcumin, the principal component of turmeric, is also anti-inflammatory and has pigment-lightening properties.
Pomegranate Oil
Our concentrated pomegranate oil contains no artificial color and has numerous benefits for your skin such as:
Promotes collagen production:

The presence of omega-5 in pomegranate boosts collagen in the skin and reduces the effects of aging.
Clears up acne:

The restorative properties of pomegranate oil helps in diminishing acne and clearing out pores without any irritation. 
Olive Squalane
Another star ingredient in our face oil is olive squalane which helps plump your skin for a refreshing look. We use 100% plant-derived squalane that's ultra-hydrating for your skin. Benefits of squalane include: 
Soothes inflammation:

This non-comedogenic oil helps soothe inflammation, congested pores, and redness. 

Suits all skin types:

Squalane is gentle and light. It's ideal for all skin types and leaves a luxurious feel on the skin. 

Protects skin barrier:

It helps protect your skin barrier by deeply nourishing it from within.
Apricot Oil
Extracted from the cold-pressed method, apricot oil is packed with omega-3 and omega-6 fatty acids. Some of the benefits include:
Anti-aging:

Apricot oil is deeply nourishing and helps reduce the appearance of early signs of aging like fine lines.
Anti-inflammatory:

Apricot oil helps soothe painful skin issues such as rosacea, psoriasis, and acne. 
Promotes radiance:

Being high in Vitamin E, the oil improves skin elasticity and protects it from free radicals. This adds a radiant glow to your face. 
How to use
Step 1: Take a few drops of the face oil and apply to cleansed, damp skin. Pat it in until fully absorbed.
Step 2: Apply your daily moisturizer to lock the benefits in.
Tip: The oil complements beautifully with Organic Rose Water and Organic Daily Moisturizing Lotion. 
Why choose Life & Pursuits? 
No artificial colors

No synthetic fragrance

No parabens

No sulfates

No animal testing

No animal derivatives
All Life & Pursuits products are backed with research and are made from pure Ayurveda herbs and oils, ethically sourced from organic farms across India. Our formulations are based on the proven science of Ayurveda to give you toxicity-free skincare that lasts.
We believe life is a pursuit. Be a part of holistic skincare with high-performance products.