Hair Care
What Makes Bhringraj Hair Oil So Compelling That You MUST Switch?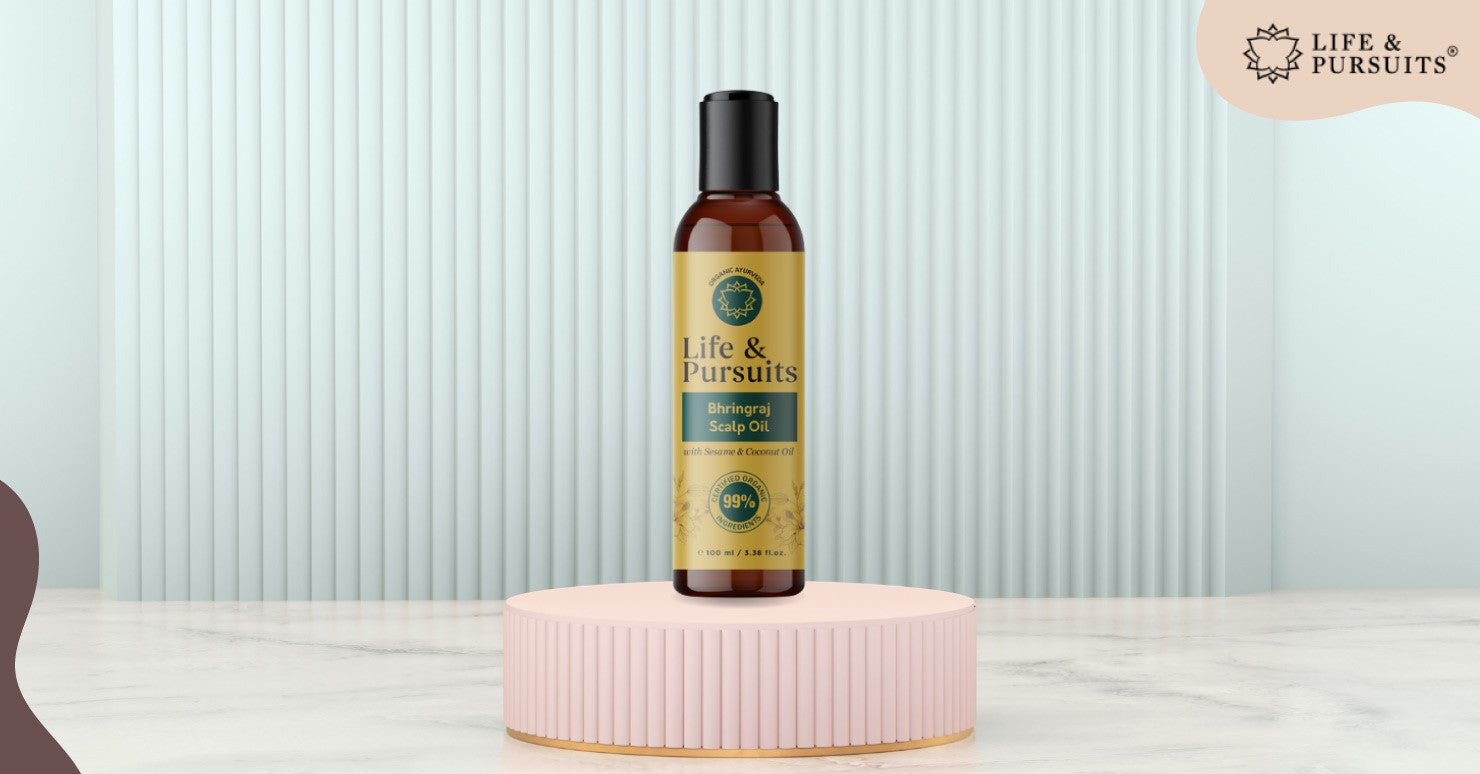 Mixing those uncountable concoctions, packs, and masks to attain the dream hair is perhaps everyone's story. And why not: who doesn't want thick, shiny, and healthy hair? You must have also tried a lot of different treatments, serums, vitamin supplements, and shampoos in your pursuit of the perfect hair. But you're still not there, are you? 
Maybe you're now closer to the hair you desire! And the fairy wand to your dream tresses could be—what is considered weeds by farmers in India and Bangladesh—Eclipta Alba, a.k.a False Daisy in English and Bhringraj in Sanskrit. 
Bhringraj is a wonder herb laced with medicinal properties that could reverse several of your hair-related woes, including dryness and shedding. 
An age-old ethnomedicinal ingredient in the ancient Ayurveda tradition, Bhringraj delivers high doses of vital nutrition and helps combat problems such as dryness and dandruff. This article sees why you MUST apply Bhringhraj hair oil for the gorgeous hair you always wanted.
What is Bhringraj Hair Oil?
Bhringraj, the Sanskrit term, is translated as the king of hair in English. The oil is derived from the leaves of bhringraj plants grown in humid tropical areas like India, China, and Thailand, among other South Asian regions.
It is a natural treatment used to balance the doshas in Ayurveda (Indian traditional medicine). Ayurvedic practitioners also recommend taking Bhringraj oil orally to heal various ailments.
The extracts of the Bhringhraj plus an inert carrier oil (such as sesame or coconut oil) are often found in all Bhringraj oil compositions. Other constituents may include Amla oil, Castor oil, Hibiscus, and Curry Leaves, depending on the manufacturer's preparation.
Why Bhringraj Hair Oil?
Bhringraj oil stimulates the scalp and causes dead follicles to reactivate, resulting in thicker hair.
Bhringraj oil is high in antioxidants, phytoconstituents, vitamins, proteins, and nutrients, including magnesium, vitamin D, and iron, to name a few. As a result, this oil is a potent treatment for hair loss. It provides the best nourishment for your hair scalp and increases hair strength, giving your hair a beautiful shine and luster. 
Benefits for Using Bhringraj Hair Oil
Amazed to learn how the little leaves of Bhringraj may benefit your hair so much? Don't be too taken aback just yet, since we're about to show you a lot more hair benefits for Bhringraj hair oil:
1. Best hair growth booster
Bhringraj oil produces vasodilation when massaged on your scalp. Vasodilation improves blood flow to the roots and hair from widening blood vessels. As a result, your hair gets the essential nutrients it needs from increased blood circulation, accelerating growth. Leave the oil on for at least an hour after massaging it in a circulatory motion for 10 minutes for best results.
2. Prevents hair from graying
Bhringraj oil maintains your original hair color. Before going to bed, mix some amla oil with Bhringraj oil and massage it into your scalp. Allow it to sit overnight and wash it later. Oiling aids in the prevention of hair graying.
3. Prevents excessive hair loss
This fantastic oil works to reverse hair loss, regardless of the cause (stress or lack of nourishment). Regular massages with Bhringraj oil will help soothe your mind and prevent stress-related hair loss.
If you have hair loss due to a lack of nutrients, Bhringraj oil treatment could help you get all the minerals and nutrients you need. In addition, extracts of Bhringraj oil have shown signs to boost hair growth activities and reduce hair growth time by half in lab settings. 
4. Prevents dandruff
Bhringraj oil has antifungal and anti-inflammatory characteristics that can help you get rid of dandruff—one of the causes of hair loss. In addition, it nourishes and hydrates the scalp while reducing itching caused by dry scalp—the oil's anti-inflammatory qualities aid in relieving psoriasis symptoms on the scalp.
5. Protects from external threats
Hair can become dull and dry due to a lack of nutrients, a poor hair care routine, and external factors such as pollution and extreme humidity. Bhringraj oil nourishes your hair thoroughly while also giving the nutrients and protein it needs to fight dullness and dryness from environmental factors. A massage with the oil stimulates the blood circulation to the hair, giving it the healthy shine you desire.
How To Use Bhringraj Oil?
Apply Life & Pursuits' Organic Bhringraj Hair Oil onto your hair by parting it in portions and applying in the middle: work your way down to your tresses, starting with the scalp. 
Massage the oil into your scalp carefully and leave it on for 45-60 minutes, best overnight. Use it 2-3 times each week for at least 3-4 months for optimal effects.
Our Organic Bhringraj Hair Oil uses Ayurveda's age-old wisdom to revitalize your locks. 
In addition, our's is free of parabens, silicones, sulfates, colors, BHT/BHA, and any other hazardous ingredient. Furthermore, it contains several Ayurvedic herbs such as Brahmi, Amla, Hibiscus, and Neem, in addition to Bhringraj.
This year, obtain beautiful, healthy hair that looks flawless each day and is the best version of yourself that you can be!