Hair Care
Bhringraj Oil: The Not-so-Secret Ingredient to Hair Growth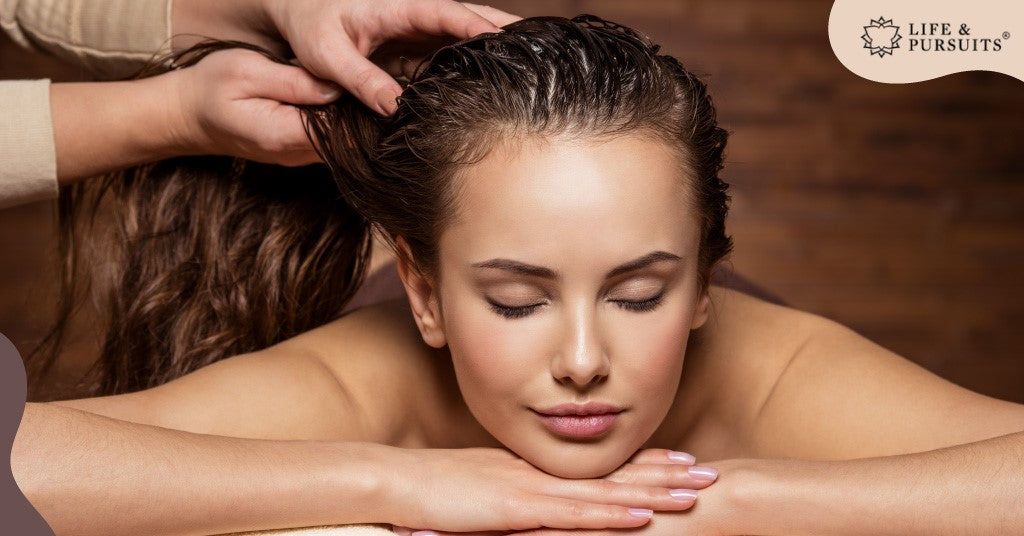 When it comes to healthy skin, haircare, energy, and functionality, herbs have long been in use because of their medicinal and invigorating qualities. And rightfully so for hair care. From boosting hair growth to treating numerous hair-related issues, herb-infused hair oils like bhringraj oil are an integral part of hair care for centuries. 
Bhringraj, also known as False Daisy, has numerous health advantages for the human body as a whole and boosts hair health.
All You Need to Know About Bhringraj Oil - the Elixir of Hair Growth
A sunflower family member, Bhringraj contains minerals including iron, vitamin E, magnesium, polypeptides, calcium, and vitamin D that promote hair growth and nourish the scalp.   
Understanding more about the benefits of Bhringraj oil would help to make an informed choice on effective and restorative hair care, which would be highly beneficial in the long run. 
1. It promotes Hair Growth 
Bhringraj oil is known for vasodilation - widening of blood vessels caused by relaxation of muscle cells layering the veins. Therefore, gently massaging your hair with Bhringraj oil would improve blood circulation to roots, thus enabling hair growth and increasing volume and luster. 
2. It Prevents Dandruff and Dry Scalp
Because of higher density and specific gravity than other hair oils, Bhringraj oil can treat dandruff and dryness by balancing sebum secretion and retaining essential moisture. It also controls the itchiness and flaking of the scalp caused by dandruff. 
3. It Controls Hair Fall 
Poor hygiene, changes in weather, humidity, stress, and medical conditions primarily affect hair growth and cause moderate to severe hair fall. However, regular massage with Bhringraj Oil soothes the scalp and helps reduce stress-induced hair fall.  
Research further elaborates that owing to its healing properties, comforting fragrance, and potent qualities, applying Bhringraj oil can also treat bacterial and fungal infections.  
Since Bhringraj oil stimulates the growth of new hair follicles, regular application and massage will enhance hair health.    
4. It Has Soothing Properties 
When it comes to skincare and haircare, hydration is crucial. A healthy and supple-looking skin or a voluminous mane is nothing if not hydrated. Bhringraj Oil has hydrating and anti-inflammatory qualities which can cure dry skin and treat hair-related infections.   
Bhringraj Oil by Life & Pursuits 
At Life & Pursuits, we strive to create a nourishing solution to all your hair and skin-related woes. We all want healthy, voluminous, and silky hair which we could swoosh and swish like in the ads. So, no, it's not a pipe dream. Not anymore. 
Our Organic Bhringraj Scalp Oil infused with the goodness of Hibiscus and Sesame is made wholesome with the healing properties of castor oil. 
Key Ingredients:
Bhringraj (

Eclipta Alba

) - Stimulates hair growth and promotes healthy hair. 

Hibiscus - Reduces hair fall and nourishes hair. 

Sesame Oil - Conditions hair and promotes a healthy scalp. 

Castor Oil - Heals and regulates body temperature. 
Directions for Use: 
All you have to do is massage the scalp gently with the oil and leave it on for at least 40-60 mins or, if feasible, overnight. You may also cover your hair with a warm towel during that time. 
Recommended period of use is 2-3 times a week for 3-4 months for best results. Regular use nourishes hair and prevents hair damage and aging. You can also read this article to learn more about the right ways to use bhringraj for optimal effect. 
Why Life & Pursuits? 
Formulated with tried and tested Ayurvedic ingredients, our products are natural and free of toxins like pesticides and heavy metals, which can cause permanent damage in the long run. 
At Life & Pursuits, we seek to imbibe nature in every way possible. From our skin care range, hair care to face care, all our products have the footprint of nature evident from their efficacy, soothing fragrance, and skin-friendly composition. 
We are at peace when surrounded by nature. Our products aim to give you the same experience - of being amidst nature. Healing. Refreshing. Rejuvenating. 
When you try out our Organic Bhringraj Oil, you will find that it is not a temporary solution to control hair fall or treat dandruff but a tryst with the organic way of life.