Skin Care
Troubled by Dry & Flaky Skin in Winter? Pick the Right Body Oil For Dry Skin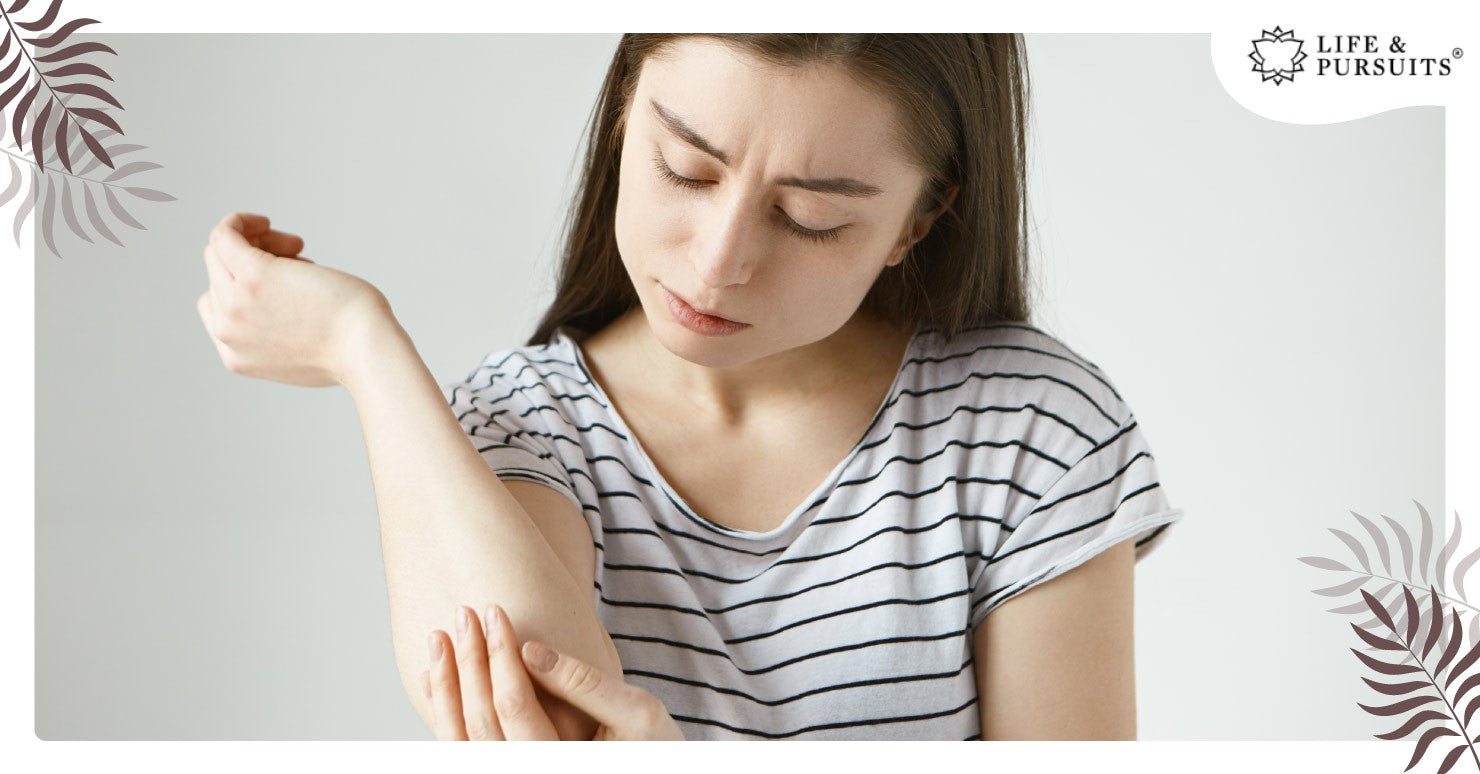 As the leaves turn orange and shrivel up every year, it can feel like our skin is also drying up as the winter comes closer. We apply various serums, humectants, and occlusives to our faces. But as usual, our bodies remain neglected, with only generic lotions slapped on, instead of what's needed - body oil for dry skin. 
Well, it's time to change that. The skin on your body has fewer sebaceous glands than the face, which means that it is even more prone to dryness and dehydration. This is especially true of parts like the elbows, knees, hands, and feet, where the skin can break and tend to become inflamed due to extreme dryness. This winter, stop all of this damage in its tracks by moisturizing with an all-natural, nourishing Ayurvedic body oil for dry skin.
Finding the Perfect Body Oil For Dry Skin
The best body oils leave your skin glowing while locking in hydration to keep it soft and moisturized. They also form a protective barrier over the skin to ensure that cold, dry winds and the general lack of moisture in the atmosphere don't strip away the skin's natural oils.
Here are some of the most potent oils you can choose and exactly what they'll do for you:
Sesame Oil
There's no way we could have started this list other than with the MVP of body oil for dry skin—sesame oil. Known in Ayurveda for its warming and invigorating effects on the body, it has been used in the Eastern tradition as a winter morning ritual for thousands of years. In addition to applying it to your entire body, consider a double coat for areas prone to the cold. For instance, rub it into your feet before you sleep to ensure you never wake up with freezing feet again.
The body's muscles tend to stiffen up in response to the winter cold, leading to some unpleasant body aches. A regular application of sesame oil has been proven to relieve body pain significantly, so make sure to massage some into afflicted parts of the body.
Coconut Oil
Coconut oil is not the most obvious choice for the winter, as it is known for having cooling properties that soothe overheated skin in the summer. However, its comparatively lighter texture is still perfect for you if you have oily skin or just don't enjoy the feeling of heavier oils on your skin. Additionally, it is a proven anti-inflammatory and contains lauric acid, which fights all kinds of microbes to keep skin infections in check.
If the dryness of winter air makes your dry skin crack or even bleed, layering the anti-inflammatory coconut oil with a more powerful occlusive, like sesame oil, can be the perfect combination to create custom body oil for dry skin.
Sunflower-Almond Oil
This power-packed combo is known for its high content of Vitamin E. From eczema to psoriasis, this oil can help relieve a wide variety of skin conditions that often worsen in cold weather. The anti-oxidants abundant in the oil also help deal with oxidative stress, i.e., the imbalance between damaging free radicals and anti-oxidants that comes with many of them. And, of course, the viscous oil forms a protective layer over the skin to ensure all of this goodness stays in and keeps dirt, dust, microbes, and any other irritants out.
Almond Oil
Almond oil is a true multi-tasker. It is an anti-inflammatory and contains Omega-3 fatty acids. In addition to softening and nourishing the skin like nothing else, it can help you maintain healthy cholesterol levels and improve memory (when incorporated into your diet).
As it contains plenty of Vitamin E, it can perform many of the same functions as Vitamin E oil. This includes soothing minor wounds and mild cases of psoriasis and eczema. It can even help calm down the bodily acne that we completely ignore, even while waging war on any spot that appears on our face.
Essential Oils
Contrary to popular belief, it's not just regular oils like the one mentioned above that can be used as body oil for dry skin, but also essential oils. They must be mixed with carrier oils, i.e., neutral oils (e.g., Olive oil, Coconut oil, Sesame oil, etc.), for application, as they are very potent and can even harm the skin otherwise. Mixing essential oils with carrier oils will also combine their benefits and result in a wonderful aroma-therapy experience at home.
Peppermint oil, for instance, is an excellent treatment for coughs and colds always in the air in the winter. Moringa oil helps soothe eczema and psoriasis.
How to Apply Body Oil For Dry Skin
Once you've selected your body oils for the season, it's time to set up your winter body care ritual. You can, of course, just apply the oil to slightly damp skin after your daily showers and keep it at that. Your skin will be perfectly supple & luminous all day and beyond.
But if you're looking for a little extra TLC, you can instead use the oils in the ancient Ayurvedic ritual of Abhyanga. After a bath and thorough exfoliation, Abhyanga involves gently massaging warm oil into your body using specific techniques. Click here to learn more about this powerful therapy, which is especially effective in cold weather.
If you're not quite used to the feeling of oil on your skin yet, you can start out by mixing the body oil for dry skin into a light body lotion like this one to make it more nourishing while still retaining the comfortable texture.
To start your body oil journey, check out Life & Pursuit's extensive range of all-natural body oil for dry skin.